11beta,13-Dihydrolactucin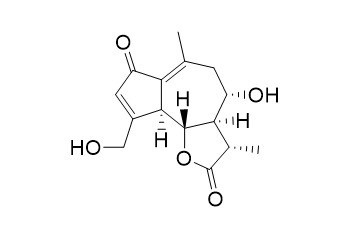 11beta,13-Dihydrolactucin has analgesic effect and anti-inflammatory potential .
Inquire / Order: manager@chemfaces.com
Technical Inquiries: service@chemfaces.com
Tel: +86-27-84237783
Fax: +86-27-84254680

Address:
1 Building, No. 83, CheCheng Rd., Wuhan Economic and Technological Development Zone, Wuhan, Hubei 430056, PRC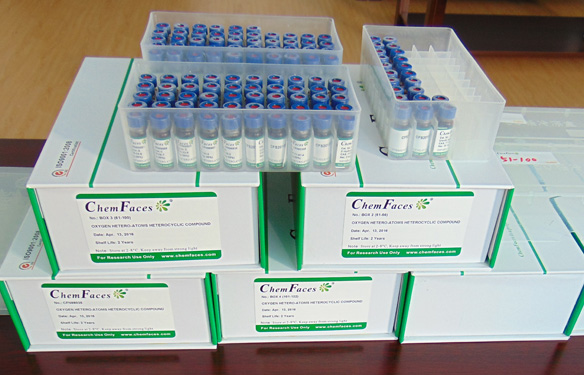 Providing storage is as stated on the product vial and the vial is kept tightly sealed, the product can be stored for up to
24 months(2-8C)
.
Wherever possible, you should prepare and use solutions on the same day. However, if you need to make up stock solutions in advance, we recommend that you store the solution as aliquots in tightly sealed vials at -20C. Generally, these will be useable for up to two weeks. Before use, and prior to opening the vial we recommend that you allow your product to equilibrate to room temperature for at least 1 hour.
Need more advice on solubility, usage and handling? Please email to: service@chemfaces.com
The packaging of the product may have turned upside down during transportation, resulting in the natural compounds adhering to the neck or cap of the vial. take the vial out of its packaging and gently shake to let the compounds fall to the bottom of the vial. for liquid products, centrifuge at 200-500 RPM to gather the liquid at the bottom of the vial. try to avoid loss or contamination during handling.
Asian Pac J Tropical Bio.2020, 10(6):239-247
Sci Rep.2019, 9(1):4342
Phytomedicine.2022, 96:153877.
Food Research2021, 5(1):65-71
Natural Product Communications2020, doi: 10.1177.
Separations2021, 8(7),90.
Phytomedicine.2019, 61:152813
Indian J Pharm Sci.2022, 84(4): 874-882.
Research Square2022, rs.3.rs-1948239
The Journal of Agromedicine and Medical Sciences2018, 4(1)
Nutrients . 2020 Nov 19;12(11):3547.
Assessing the Intestinal Permeability and Anti-Inflammatory Potential of Sesquiterpene Lactones from Chicory[Pubmed:
33228214
]
Cichorium intybus L. has recently gained major attention due to large quantities of health-promoting compounds in its roots, such as inulin and sesquiterpene lactones (SLs). Chicory is the main dietary source of SLs, which have underexplored bioactive potential. In this study, we assessed the capacity of SLs to permeate the intestinal barrier to become physiologically available, using in silico predictions and in vitro studies with the well-established cell model of the human intestinal mucosa (differentiated Caco-2 cells). The potential of SLs to modulate inflammatory responses through modulation of the nuclear factor of activated T-cells (NFAT) pathway was also evaluated, using a yeast reporter system. Lactucopicrin was revealed as the most permeable chicory SL in the intestinal barrier model, but it had low anti-inflammatory potential. The SL with the highest anti-inflammatory potential was 11β,13-dihydrolactucin, which inhibited up to 54% of Calcineurin-responsive zinc finger (Crz1) activation, concomitantly with the impairment of the nuclear accumulation of Crz1, the yeast orthologue of human NFAT.
J Ethnopharmacol . 2006 Sep 19;107(2):254-258.
Analgesic and sedative activities of lactucin and some lactucin-like guaianolides in mice[Pubmed:
16621374
]
Lactucin (1) and its derivatives lactucopicrin (2) and 11beta,13-Dihydrolactucin (3), which are characteristic bitter sesquiterpene lactones of Lactuca virosa and Cichorium intybus, were evaluated for analgesic and sedative properties in mice. The compounds showed analgesic effects at doses of 15 and 30 mg/kg in the hot plate test similar to that of ibuprofen, used as a standard drug, at a dose of 30 mg/kg. The analgesic activities of the compounds at a dose of 30 mg/kg in the tail-flick test were comparable to that of ibuprofen given at a dose of 60 mg/kg. Lactucopicrin appeared to be the most potent analgetic of the three tested compounds. Lactucin and lactucopicrin, but not 11beta,13-Dihydrolactucin, also showed sedative properties in the spontaneous locomotor activity test.
Nutrients . 2020 Nov 28;12(12):3675.
Low Oral Bioavailability and Partial Gut Microbiotic and Phase II Metabolism of Brussels/Witloof Chicory Sesquiterpene Lactones in Healthy Humans[Pubmed:
33260567
]
Free and glycosylated sesquiterpene lactones (SLs), which are abundant in leafy vegetables including Brussels/witloof chicory, possess health-promoting effects in vivo. However, the pharmacokinetics of dietary source of SLs remain largely unknown. In this open-label and single-dose trial, sixteen healthy volunteers consumed 150 g of Brussels/witloof chicory juice containing 48.77 μmol SLs in 5 min. Blood, urine, and fecal samples were collected before and after chicory consumption in 24 h. No SLs were detected in the serum, urine, and fecal samples before chicory consumption in all of the participants. Chicory consumption increased lactucin, 11β,13-dihydrolactucin, and their glucuronide/sulfate conjugates, rather than lactucopicrin and 11β,13-dihydrolactucopicrin, as well as glycosylated SLs in biological samples. The peak concentration of total SLs in serum reached 284.46 nmol/L at 1 h, while, in urine, this peak was 220.3 nmol between 2 and 6 h. The recovery of total SLs in blood, urine, and feces was 7.03%, 1.13%, and 43.76% of the ingested dose, respectively. Human fecal suspensions with intestinal microbiota degraded glycosylated SLs in chicory, and converted lactucopicrin and 11β,13-dihydrolactucopicrin to lactucin and 11β,13-dihydrolactucin, respectively. Collectively, Brussels/witloof chicory SLs are poorly bioavailable and they undergo partial gut microbial and phase II metabolism in humans.
Magn Reson Chem . 2011 Nov;49(11):753-756.
Complete NMR spectral assignments of two lactucin-type sesquiterpene lactone glycosides from Picris conyzoides[Pubmed:
22002327
]
Complete (1)H and (13)C NMR signal assignments of two lactucin-type sesquiterpene lactone glycosides, derivatives of 11β,13-dihydrolactucin, isolated from roots of Picris conyzoides, were achieved by one- and two-dimensional NMR experiments, allowing the correction of previously published data for cichorioside B and the structure elucidation of its new ester with 3-hydroxy-2-methylpropanoic acid. In addition, seven known sesquiterpene lactones and three phenolic compounds were isolated from the plant material.
Nat Prod Res . 2021 May 8;1-5.
Chemical constituents from Lactuca plumieri (L.) Gren. & Godr. (Asteraceae)[Pubmed:
33969755
]
This is the first report concerning the natural products of the hitherto unstudied Lactuca plumieri (L.) Gren. & Godr., a member of the tribe Cichorieae (Asteraceae). From aerial parts and roots of this plant, five sesquiterpene lactones and one coumarin were isolated. The compounds were identified as sonchuside A, 11β,13-dihydrolactucin-8-O-acetate, 11β,13-dihydrolactucin, cichorioside B, 11β,13-dihydrolactucin-8-O-acetate-15-O-β-glucopyranoside and coumarin - cichoriin. Their structures were established by 1H NMR. Moreover, HPLC/PAD analysis of a hydroalcoholic extract from the aerial parts of the plant revealed the presence of caffeic acid derivatives, coumarins and flavonoids commonly found in lettuces.