(-)-Epigallocatechin(EGC)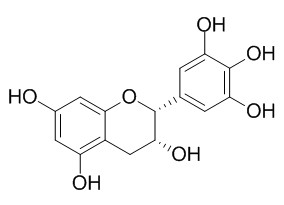 (-)-Epigallocatechin exhibits antiplatelet,anticoagulation,anti-tumor,anti-cancer and anti-inflammatory functions. Epigallocatechin activates haem oxygenase-1 expression via protein kinase Cdelta and Nrf2. Cu(2+) with (-)-epigallocatechin (EGC) facilitated DNA cleavage, while Ag+ with EGC showed a strong repressive effect.
Inquire / Order: manager@chemfaces.com
Technical Inquiries: service@chemfaces.com
Tel: +86-27-84237783
Fax: +86-27-84254680

Address:
1 Building, No. 83, CheCheng Rd., Wuhan Economic and Technological Development Zone, Wuhan, Hubei 430056, PRC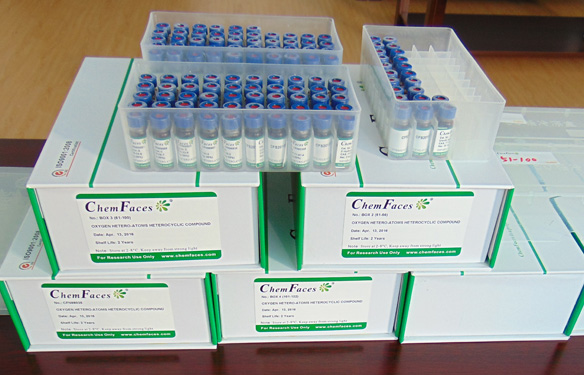 Providing storage is as stated on the product vial and the vial is kept tightly sealed, the product can be stored for up to
24 months(2-8C)
.
Wherever possible, you should prepare and use solutions on the same day. However, if you need to make up stock solutions in advance, we recommend that you store the solution as aliquots in tightly sealed vials at -20C. Generally, these will be useable for up to two weeks. Before use, and prior to opening the vial we recommend that you allow your product to equilibrate to room temperature for at least 1 hour.
Need more advice on solubility, usage and handling? Please email to: service@chemfaces.com
The packaging of the product may have turned upside down during transportation, resulting in the natural compounds adhering to the neck or cap of the vial. take the vial out of its packaging and gently shake to let the compounds fall to the bottom of the vial. for liquid products, centrifuge at 200-500 RPM to gather the liquid at the bottom of the vial. try to avoid loss or contamination during handling.
Nutrients.2021, 13(8):2901.
Sci Rep.2019, 9(1):4342
Molecules.2020, 25(18):4283.
Phytomedicine.2020, 79, 153351
Journal of Functional Foods2017, 30:30-38
Int J Oncol.2016, 49(4):1497-504
Phytochem Anal.2013, 24(5):493-503
Toxicol In Vitro.2019, 59:161-178
Chem Biol Interact.2020, 328:109200.
ACS Chem Biol.2019, 14(5):873-881
Arch Microbiol. 2014 Oct;196(10):681-95.
Isolation and characterization of rat intestinal bacteria involved in biotransformation of (-)-epigallocatechin.[Pubmed:
24947740
]
Two intestinal bacterial strains MT4s-5 and MT42 involved in the degradation of (-)-Epigallocatechin(EGC) were isolated from rat feces.
METHODS AND RESULTS:
Strain MT4s-5 was tentatively identified as Adlercreutzia equolifaciens. This strain converted (-)-Epigallocatechin(EGC) into not only 1-(3, 4, 5-trihydroxyphenyl)-3-(2, 4, 6-trihydroxyphenyl)propan-2-ol (1), but also 1-(3, 5-dihydroxyphenyl)-3-(2, 4, 6-trihydroxyphenyl)propan-2-ol (2), and 4'-dehydroxylated (-)-Epigallocatechin(EGC) (7). Type strain (JCM 9979) of Eggerthella lenta was also found to convert (-)-Epigallocatechin(EGC) into 1. Strain MT42 was identified as Flavonifractor plautii and converted 1 into 4-hydroxy-5-(3, 4, 5-trihydroxyphenyl)valeric acid (3) and 5-(3, 4, 5-trihydroxyphenyl)-γ-valerolactone (4) simultaneously. Strain MT42 also converted 2 into 4-hydroxy-5-(3, 5-dihydroxyphenyl)valeric acid (5), and 5-(3, 5-dihydroxyphenyl)-γ-valerolactone (6). Furthermore, F. plautii strains ATCC 29863 and ATCC 49531 were found to catalyze the same reactions as strain MT42. Interestingly, formation of 2 from (-)-Epigallocatechin(EGC) by strain MT4s-5 occurred rapidly in the presence of hydrogen supplied by syntrophic bacteria. Strain JCM 9979 also formed 2 in the presence of the hydrogen or formate. Strain MT4s-5 converted 1, 3, and 4 to 2, 5, and 6, respectively, and the conversion was stimulated by hydrogen, whereas strain JCM 9979 could catalyze the conversion only in the presence of hydrogen or formate.
CONCLUSIONS:
On the basis of the above results together with previous reports, the principal metabolic pathway of (-)-Epigallocatechin(EGC) and EGCg by catechin-degrading bacteria in gut tract is proposed.
Febs Letters, 1997, 401(2-3):230-234.
Green tea catechins suh α(–)-epicatechin and (–)-epigallocatechin accelerate Cu2+-induced low density lipoprotein in propagation phase[Reference:
WebLink
]

METHODS AND RESULTS:
Effects of (-)-epicatechin (EC) and (-)-Epigallocatechin(EGC) on Cu2+-induced low density lipoprotein (LDL) oxidation were studied in initiation and propagation phases. When 1.5 microM EC or EGC was added to the mixture of isolated human LDL and Cu2+ in the initiation phase, the oxidation of LDL was inhibited in agreement with previous findings. In contrast, in the propagation phase, 1.5 microM of EC or EGC worked as an accelerator of the oxidation, and acceleration ratios (maximum about 6 times) were modified depending on the concentrations of catechin used and the oxidation process in the propagation phase. The evidence was obtained from formation of thiobarbituric acid reactive substances (TBARS), detecting conjugated diene measured by absorbance at 234 nm and investigating fragmentation of apoprotein B (apo B) in LDL. Even in the propagation phase of LDL oxidation, the elevated concentrations of EC or EGC worked as inhibitors: after 40 min incubation of LDL with Cu2+, 10.0 microM EC or 2.0 microM EGC inhibited LDL oxidation. Yet, nitric oxide (NO) released from 5 microM zwitterionic polyamine/NO adducts had an inhibitory in all phases of LDL oxidation.
CONCLUSIONS:
These results indicate that catechins such as EC and EGC can act as free radical terminators (reducing agents) or accelerators (oxidizing agents) under oxidation circumstances, which is a different character from NO. From the above evidence, further investigations are needed on many natural flavonoids, the most potent antioxidative compounds in foods.
Biosci Biotechnol Biochem. 1999 Sep;63(9):1654-6.
DNA cleavage activities of (-)-epigallocatechin, (-)-epicatechin, (+)-catechin, and (-)-epigallocatechin gallate with various kinds of metal ions.[Pubmed:
10610127
]
The DNA cleavage activities of (+)-catechin (C), (-)-epicatechin (EC), (-)-Epigallocatechin(EGC), and (-)-epigallocatechin gallate (EGCg) were examined with 16 different metal ions. Cu(2+) with all the catechins facilitated DNA cleavage, while Ag+ with EGC and EC showed a strong repressive effect. The other metal ions examined showed little effect.
J Agric Food Chem . 2015 Feb 11;63(5):1347-51.
(-)-epigallocatechin-3-gallate inhibits fibrillogenesis of chicken cystatin[Pubmed:
25620201
]
Previous studies have reported that (-)-epigallocatechin-3-gallate (EGCG), the most abundant flavonoid in green tea, can bind to unfolded native polypeptides and prevent conversion to amyloid fibrils. To elucidate whether this antifibril activity is specific to disease-related target proteins or is more generic, we investigated the ability of EGCG to inhibit amyloid fibril formation of amyloidogenic mutant chicken cystatin I66Q, a generic amyloid-forming model protein that undergoes fibril formation through a domain swapping mechanism. We demonstrated that EGCG was a potent inhibitor of amyloidogenic cystatin I66Q amyloid fibril formation in vitro. Computational analysis suggested that EGCG prevented amyloidogenic cystatin fibril formation by stabilizing the molecule in its native-like state as opposed to redirecting aggregation toward disordered and amorphous aggregates. Therefore, although EGCG appears to be a generic inhibitor of amyloid-fibril formation, the mechanism by which it achieves such inhibition may be specific to the target fibril-forming polypeptide.
Anticancer Res . 2015 Jan;35(1):39-46.
Curcumin and epigallocatechin gallate inhibit the cancer stem cell phenotype via down-regulation of STAT3-NFκB signaling[Pubmed:
25550533
]
Abstract Background/aim: The cancer stem cell (CSC) model postulates the existence of a small proportion of cancer cells capable of sustaining tumor formation, self-renewal and differentiation. Signal Transducer and Activator of Transcription 3 (STAT3) signaling is known to be selectively activated in breast CSC populations. However, it is yet to be determined which molecular mechanisms regulate STAT3 signaling in CSCs and what chemopreventive agents are effective for suppressing CSC growth. The aim of this study was to examine the potential efficacy of curcumin and epigallocatechin gallate (EGCG) against CSC and to uncover the molecular mechanisms of their anticancer effects. Materials and methods: To suppress the CSC phenotype, two breast cancer cell lines (MDA-MB-231 cells and MCF7 cells transfected with HER2) were treated with curcumin (10 μM) with or without EGCG (10 μM) for 48 h. We used tumor-sphere formation and wound-healing assays to determine CSC phenotype. To quantify CSC populations, Fluorescence-activated cell sorting profiling was monitored. STAT3 phosphorylation and interaction with Nuclear Factor-kB (NFkB) were analyzed by performing western blot and immunoprecipitation assays. Results: Combined curcumin and EGCG treatment reduced the cancer stem-like Cluster of differentiation 44 (CD44)-positive cell population. Western blot and immunoprecipitation analyses revealed that curcumin and EGCG specifically inhibited STAT3 phosphorylation and STAT3-NFkB interaction was retained. Conclusion: This study suggests that curcumin and EGCG function as antitumor agents for suppressing breast CSCs. STAT3 and NFκB signaling pathways could serve as targets for reducing CSCs leading to novel targeted-therapy for treating breast cancer.
Arch Oral Biol . 2015 Mar;60(3):393-9.
Effects of Epigallocatechin gallate against Enterococcus faecalis biofilm and virulence[Pubmed:
25526623
]
Abstract Objective: Epigallocatechin-3-gallate (EGCG), the most abundant polyphenol in green tea (Camellia sinesis) has been shown to exert antimicrobial effects on numerous bacterial pathogens. However its efficacy against Enterococcus faecalis biofilm, which is associated with persistent root canal infection is unknown. The aims of this study were to investigate the effects of EGCG against E. faecalis biofilm and virulence. Design: Minimum inhibitory concentration (MIC) and minimum bactericidal concentration (MBC) of EGCG on E. faecalis were determined. The efficacy of EGCG on E. faecalis biofilms was tested by exposing 7-day old E. faecalis biofilm to EGCG. Flow cytometry analysis of hydroxyphenyl fluorescein (HPF) labelled E. faecalis was used to determine if EGCG induced intracellular hydroxyl radical formation. Co-treatment of EGCG with the iron chelator 2,2-dipyridyl (DIP) was carried out to determine if hydroxyl radical generated through Fenton reaction played a role in EGCG-mediated killing of E. faecalis. Furthermore, the effects of EGCG on the expression of virulence genes in E. faecalis were evaluated by quantitative polymerase chain reaction. Results: EGCG exhibited a MIC and MBC of 5 μg/mL and 20 μg/mL respectively and effectively eradicated E. faecalis biofilms. EGCG induced the formation of hydroxyl radicals in E. faecalis. The addition of DIP protected E. faecalis against EGCG-mediated antibacterial effects. At sub-MIC, EGCG induced significant down-regulation of E. faecalis virulence genes. Conclusions: EGCG is an effective antimicrobial agent against both the planktonic and biofilm forms of E. faecalis, inhibiting bacterial growth and suppressing the expression of specific genes related to virulence and biofilm formation. The antimicrobial action of EGCG on E. faecalis occurred through the generation of hydroxyl radical.
Food Funct. 2013 Oct;4(10):1521-5.
Blood anticoagulation and antiplatelet activity of green tea (-)-epigallocatechin (EGC) in mice.[Pubmed:
24056410
]
(-)-Epigallocatechin(EGC) was prepared from green tea polyphenols through column chromatography of a polyamide (3.6 × 40 cm).
METHODS AND RESULTS:
Three dosages of EGC (0.25, 0.5, 1.0 g kg(-1) d(-1)) were ingested respectively by ICR mice via gavage. Compared with the control group, group (-)-Epigallocatechin(EGC) 0.5 (dosage, 0. 5 g kg(-1) d(-1)) and group (-)-Epigallocatechin(EGC) 1.0 (dosage, 1.0 g kg(-1) d(-1)) presented significant inhibition on platelet aggregation in mice accompanied by 18.4 and 25.6% of inhibition ratio, respectively. The bleeding times (BT) of mice in group (-)-Epigallocatechin(EGC) 0.5 and group EGC1.0 were significantly prolonged (P < 0.01) as well as blood clotting time (BCT) in group (-)-Epigallocatechin(EGC) 1.0 (P < 0.05). All three dosages of EGC prolonged activated partial thromboplastin time (APTT) significantly (P < 0.01), but had no prominent effect on prothrombin time (PT) and fibrinogen level which indicated that the anticoagulation of (-)-Epigallocatechin(EGC) could not be attributed to the level decrease of coagulation factor such as fibrinogen.
CONCLUSIONS:
The results demonstrated that EGC had prominent antiplatelet activity and blood anticoagulation in a dose-dependent manner.