(-)-Epicatechin-3-(3''-O-methyl) gallate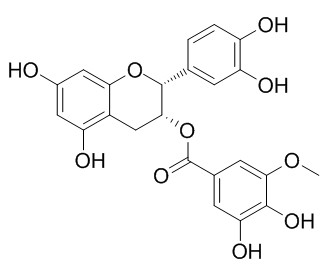 (-)-Epicatechin-3-(3''-O-methyl) gallate is a natural product from Acacia catechu (L.F.) Willd.
Inquire / Order: manager@chemfaces.com
Technical Inquiries: service@chemfaces.com
Tel: +86-27-84237783
Fax: +86-27-84254680

Address:
1 Building, No. 83, CheCheng Rd., Wuhan Economic and Technological Development Zone, Wuhan, Hubei 430056, PRC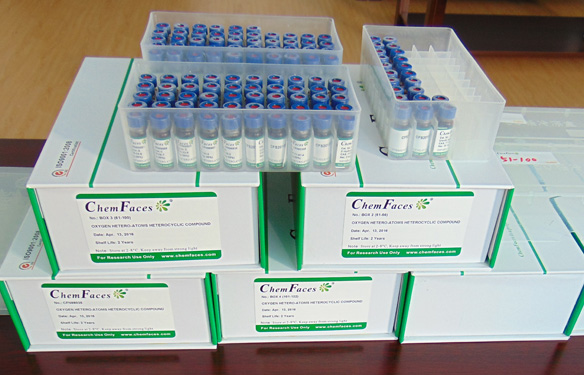 Providing storage is as stated on the product vial and the vial is kept tightly sealed, the product can be stored for up to
24 months(2-8C)
.
Wherever possible, you should prepare and use solutions on the same day. However, if you need to make up stock solutions in advance, we recommend that you store the solution as aliquots in tightly sealed vials at -20C. Generally, these will be useable for up to two weeks. Before use, and prior to opening the vial we recommend that you allow your product to equilibrate to room temperature for at least 1 hour.
Need more advice on solubility, usage and handling? Please email to: service@chemfaces.com
The packaging of the product may have turned upside down during transportation, resulting in the natural compounds adhering to the neck or cap of the vial. take the vial out of its packaging and gently shake to let the compounds fall to the bottom of the vial. for liquid products, centrifuge at 200-500 RPM to gather the liquid at the bottom of the vial. try to avoid loss or contamination during handling.
Phytother Res.2019, 33(5):1490-1500
Biomed Pharmacother.2020, 125:109784.
Semyung University2017, 149407
J Chromatogr B Analyt Technol Biomed Life Sci.2022, 1203:123307.
Anticancer Res.2018, 38(4):2127-2135
J Biomol Struct Dyn.2022, 5;1-17.
Integr Med Res.2017, 6(4):395-403
Int J Mol Sci.2018, 19(9):E2681
JAOCS2021, 98(7):779-794.
Arch Pharm Res.2015, 38(6):1080-9
Nippon Shokuhin Kogyo Gakkaishi》 , 1999 , 46 (3) :138-147.
HPLC Analysis of Catechins in Various Kinds of Green Teas Produced in Japan and Abroad[Reference:
WebLink
]

METHODS AND RESULTS:
In Japanese green teas such as Matcha (powdered green tea or ceremony tea), high quality Sencha (Sencha : a ordinary Japanese green tea), medium Sencha, Bancha (coarse type green tea) and Hojicha (roasted green tea), the sum of four major catechins, i.e. (-)-epigallocatechin-3-gallate, (-)-epicatechin-3-gallate, (-)-epigallocatechin and (-)-epicatechin were dominant in the total catechin contents. In addition, those teas contained the heat-converted catechins, i.e. (-)-gallocatechin-3-gallate, (-)-catechin-3-gallate, (-)-gallocatechin and (-)-catechin in a small amount. A somewhat large amounts of the heat-converted catechins were observed to appear in Hojicha. Chinese green teas such as Lung Ching tea, Yunnan tea and gun powder, Vietnamese green tea and Indian green teas such as Darjeeling green tea and Darjeeling silver tip contained much more total catechin contents and in those (-)-epigallocatechin-3-gallate showed a especially higher content in comparison with the Japanese ones.
CONCLUSIONS:
(-)-Epigallocatechin-3-(3′-O-methyl) gallate, (-)-Epicatechin-3-(3''-O-methyl) gallate, (-)-epigallocatechin-3,5-digallate and (-)-epicatechin-3,5-digallate were found in Chinese, Vietnamese and Indian green teas. The two catechin-(O-methyl) gallates and the two catechin-digallates were presumably characteristic constituents of China variety (Camellia sinensis var. sinensis) and Assam variety (Camellia sinensis var. assamica), respectively.