Epicatechin pentaacetate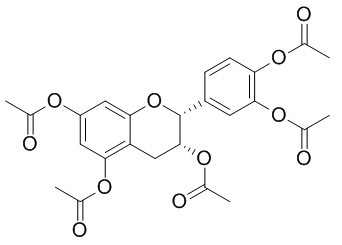 Epicatechin pentaacetate is a phenolic compound from the V. mullaha fruit extracts, the utilization of V. mullaha fruit as functional food with prospective pharmaceutical, nutraceuticals and cosmeceutical properties.
Inquire / Order: manager@chemfaces.com
Technical Inquiries: service@chemfaces.com
Tel: +86-27-84237783
Fax: +86-27-84254680

Address:
1 Building, No. 83, CheCheng Rd., Wuhan Economic and Technological Development Zone, Wuhan, Hubei 430056, PRC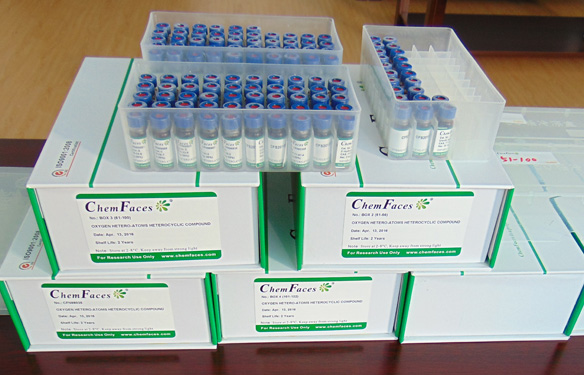 Providing storage is as stated on the product vial and the vial is kept tightly sealed, the product can be stored for up to
24 months(2-8C)
.
Wherever possible, you should prepare and use solutions on the same day. However, if you need to make up stock solutions in advance, we recommend that you store the solution as aliquots in tightly sealed vials at -20C. Generally, these will be useable for up to two weeks. Before use, and prior to opening the vial we recommend that you allow your product to equilibrate to room temperature for at least 1 hour.
Need more advice on solubility, usage and handling? Please email to: service@chemfaces.com
The packaging of the product may have turned upside down during transportation, resulting in the natural compounds adhering to the neck or cap of the vial. take the vial out of its packaging and gently shake to let the compounds fall to the bottom of the vial. for liquid products, centrifuge at 200-500 RPM to gather the liquid at the bottom of the vial. try to avoid loss or contamination during handling.
Int. J of Herbal Med.2023, 11(1): 06-14
J Ethnopharmacol.2020, 269:113752.
Cells.2022, 11(8), 1311.
Applied Biological Chemistry2022, 65(85).
Planta Med.2018, 84(6-07):465-474
Food Chem.2022, 378:131975.
Separation Science Plus2022, sscp.202200048.
Korean J Acupunct2020, 37:104-121
Vietnam Journal of Food Control.2022, 5(3):pp.488-497.
Korean J. Food Preserv. 2021, 28(6):846-856.
International Journal of Food Properties,2017,20(8).
Viburnum mullaha D.DON fruit (Indian Cranberry): A Potential Source of Polyphenol with rich antioxidant, anti-elastase, anti-collagenase and anti-tyrosinase activities[Reference:
WebLink
]
Viburnum mullaha (Buch.-Ham. Ex D. Don), is an underexplored wild edible fruit of Indian Himalayan region, analysed for total polyphenol contents, antioxidant, anti-elastase, anticollagenase, anti-tyrosinase activities using in-vitro assays.
METHODS AND RESULTS:
High values of total phenolic contents of 1257±40 mg gallic acid equivalents/100 g fruit weight (FW) and total flavonoid contents of 3501±203 mg catechin equivalents/100 g FW were observed. V. mullaha fruit extracts showed outstanding antioxidant activities (ABTS+, DPPH, superoxide anion, linoleate Accepted Manuscript peroxyl radicals scavenging and ferric reducing activities) and remarkable anti-elastase, anticollagenase and anti-tyrosinase activities. High resolution liquid chromatography–mass spectroscopy (HR-LC-MS) analysis revealed presence of fifteen phenolic compounds namely chlorogenic acid, acetyl salicylic acid, dihydrorobinetin, dihydromyricetin, 2-isoprenylemodin, rutin, cosmosiin hexaacetate, pectolinarin, dihydroquercetin, eriodictyol, iriginol hexaacetate, theaflavin, Epicatechin pentaacetate, lomatin and peucenin in fruit extracts.
CONCLUSIONS:
This study recommends utilization of V. mullaha fruit as functional food with prospective pharmaceutical, nutraceuticals and cosmeceutical properties.