(-)-Epicatechin gallate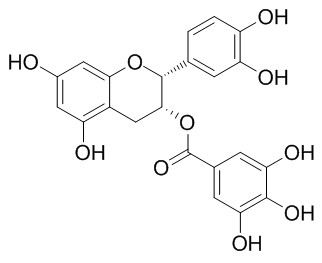 (-)-Epicatechin gallate can effectively stimulates osteoblast differentiation, it has antioxidative effect against lipid peroxidation when phospholipid bilayers are exposed to aqueous oxygen radicals.
Inquire / Order: manager@chemfaces.com
Technical Inquiries: service@chemfaces.com
Tel: +86-27-84237783
Fax: +86-27-84254680

Address:
1 Building, No. 83, CheCheng Rd., Wuhan Economic and Technological Development Zone, Wuhan, Hubei 430056, PRC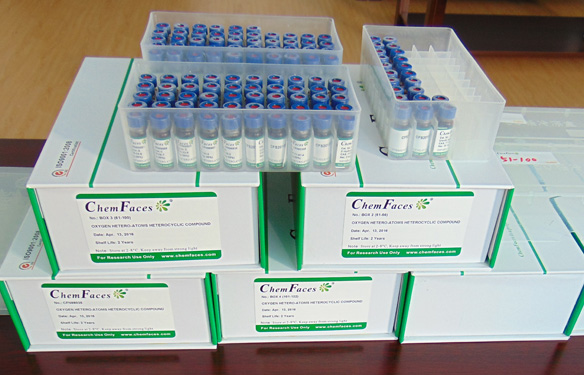 Providing storage is as stated on the product vial and the vial is kept tightly sealed, the product can be stored for up to
24 months(2-8C)
.
Wherever possible, you should prepare and use solutions on the same day. However, if you need to make up stock solutions in advance, we recommend that you store the solution as aliquots in tightly sealed vials at -20C. Generally, these will be useable for up to two weeks. Before use, and prior to opening the vial we recommend that you allow your product to equilibrate to room temperature for at least 1 hour.
Need more advice on solubility, usage and handling? Please email to: service@chemfaces.com
The packaging of the product may have turned upside down during transportation, resulting in the natural compounds adhering to the neck or cap of the vial. take the vial out of its packaging and gently shake to let the compounds fall to the bottom of the vial. for liquid products, centrifuge at 200-500 RPM to gather the liquid at the bottom of the vial. try to avoid loss or contamination during handling.
Arch Toxicol.2017, 91(10):3225-3245
Int J Mol Sci.2018, 19(2)
Drug Invention Today2019, 12(6):1303-1306
Food Funct.2022, doi: 10.1039
Metabolites.2020, 10(12):497.
Biomed Chromatogr.2016, 30(10):1573-81
Oncol Lett.2020, 20(4):122.
Pharmaceutics.2022, 14(3):564.
Food Res Int.2020, 128:108778
J Chem Inf Model.2021, 61(11):5708-5718.
J Biol Chem. 2014 Apr 4;289(14):9926-35.
(-)-Epicatechin gallate (ECG) stimulates osteoblast differentiation via Runt-related transcription factor 2 (RUNX2) and transcriptional coactivator with PDZ-binding motif (TAZ)-mediated transcriptional activation.[Pubmed:
24515112
]
Osteoporosis is a degenerative bone disease characterized by low bone mass and is caused by an imbalance between osteoblastic bone formation and osteoclastic bone resorption. It is known that the bioactive compounds present in green tea increase osteogenic activity and decrease the risk of fracture by improving bone mineral density. However, the detailed mechanism underlying these beneficial effects has yet to be elucidated.
METHODS AND RESULTS:
In this study, we investigated the osteogenic effect of (-)-Epicatechin gallate (ECG), a major bioactive compound found in green tea. We found that ECG effectively stimulates osteoblast differentiation, indicated by the increased expression of osteoblastic marker genes. Up-regulation of osteoblast marker genes is mediated by increased expression and interaction of the transcriptional coactivator with PDZ-binding motif (TAZ) and Runt-related transcription factor 2 (RUNX2). ECG facilitates nuclear localization of TAZ through PP1A. PP1A is essential for osteoblast differentiation because inhibition of PP1A activity was shown to suppress ECG-mediated osteogenic differentiation.
CONCLUSIONS:
Taken together, the results showed that ECG stimulates osteoblast differentiation through the activation of TAZ and RUNX2, revealing a novel mechanism for green tea-stimulated osteoblast differentiation.
Biol Pharm Bull . 2003 May;26(5):608-12.
Pharmacokinetics of (-)-epicatechin-3-O-gallate, an active component of Onpi-to, in rats[Pubmed:
12736498
]
Abstract (-)-Epicatechin-3-O-gallate (ECG), a component of Rhei Rhizoma, is one of the active components of Onpi-to, a herbal medicine composed of five crude drugs (Rhei Rhizome, Glycyrrhizae Radix, Ginseng Radix, Zingiberis Rhizoma and Aconiti Tuber), which has been used in patients with chronic renal failure. Pharmacokinetics of ECG was investigated in male rats employing an HPLC-electrochemical detection method. 1. Following oral administration of ECG, ECG plasma levels revealed curves characterized by peaks at 0.065, 0.063 and 0.085 h corresponding to dosages of 12.5, 25.0 and 50.0 mg/kg at mean concentrations of 49.62, 212.89 and 464.04 ng/ml, respectively. Plasma levels subsequently declined bi-exponentially. ECG demonstrated nonlinear pharmacokinetics in terms of C(max) and AUC(0-inf). 2. The absolute bioavailability values (F) were 1.02, 1.47 and 3.30% at doses of 12.5, 25.0, and 50.0 mg/kg, respectively. 3. Following intravenous injection of ECG, plasma levels of ECG decreased with the gamma-elimination half-life (t(1/2gamma)) of 4.03 h. 4. Following oral administration of ECG, urinary levels of ECG were lower than the quantitation limit. Moreover, cumulative excretion of the metabolites, delta-(3,4-dihydroxyphenyl)-gamma-valerolactone and delta-(3-methoxy-4-hydroxyphenyl)-gamma-valerolactone, was 2.45 and 0.23% of dose, respectively, up to 30 h after dosing.
Int J Biol Macromol. 2013 Mar;54:90-8.
(-)-Epicatechin gallate prevents alkali-salt mediated fibrillogenesis of hen egg white lysozyme.[Pubmed:
23219698
]
Green tea polyphenols (GTPs) are found to be potent inhibitors of amyloid fibril formation. We report the effective inhibitory property of (-)-Epicatechin gallate (ECG) during the alkali-salt induced fibrillogenesis of hen egg white lysozyme (HEWL) at 37 °C. Spectroscopic techniques such as fluorescence, circular dichroism and microscopic images show that (-)-epigallocatechin (EGC), (-)-Epicatechin gallate (ECG), and (-)-epigallocatechin gallate (EGCG) show moderate inhibition of fibrillation with (-)-Epicatechin gallate as the most potent polyphenol. Aromatic interactions, hydrophobic interactions, the radical scavenging activity and autoxidation of polyphenols are likely to be the major reasons for (-)-Epicatechin gallate being the most effective inhibitor.
Tetrahedron. 2014 May 27;70(21):3485-3490.
Improved synthesis of structural analogues of (-)-epicatechin gallate for modulation of staphylococcal β-lactam resistance.[Pubmed:
24876661
]
The high-yielding synthesis of enantiomerically pure (-)-Epicatechin gallate analogues where the A and/or B-ring hydroxylation is reduced or altered has been achieved by optimising routes to the catechin stereochemistry. The B-ring analogues were synthesised by using an electrophilic ring closure onto an enantiomerically enriched epoxide as a key step. The A and B-ring hydroxyl-deleted analogues were synthesised through a Mitsunobu cyclisation. For the B-ring analogues, the anti- (catechin) stereochemistry was converted to the syn- (epicatechin) stereochemistry by a known oxidation/reduction protocol. Absolute stereochemistry was derived from either a Sharpless epoxidation or asymmetric dihydroxylation.
Bioorg Med Chem Lett. 2011 Dec 1;21(23):6996-7000.
Anti-staphylococcal activity and β-lactam resistance attenuating capacity of structural analogues of (-)-epicatechin gallate.[Pubmed:
22030031
]
We examined the impact of gradual removal of hydroxyl groups from the A- and B-rings of (-)-Epicatechin gallate on antibacterial activity and oxacillin resistance attenuation of an epidemic strain of methicillin resistant Staphylococcus aureus. Removal of both hydroxyls from the B-ring effected a large reduction in oxacillin MIC (from 512 to 0.25 mg/mL at a concentration of 12.5 mg/L); further hydroxyl deletion of the A-ring reduced the oxacillin effect but increased intrinsic anti-staphylococcal activity.