Epigallocatechin gallate octaacetate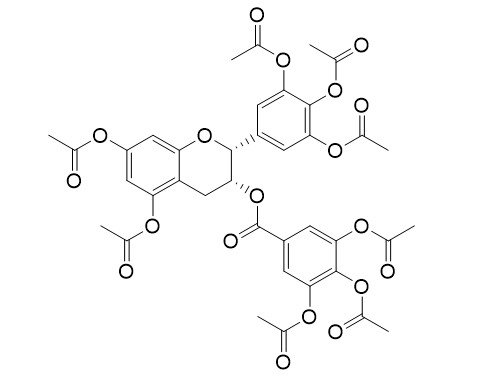 Epigallocatechin gallate octaacetate (AcEGCG) is a prodrug of Green tea epigallocatechin-3-gallate (EGCG). EGCG Octaacetate decreases the proinflammatory mediator levels by down-regulating of PI3K/Akt/NFκB phosphorylation and p65 acetylation. EGCG Octaacetate reduces colitis-driven colon cancer in mice. EGCG octaacetate is the potential antibacterial compound for gram-positive bacteria (GPB) and gram-negative bacteria (GNB)
Inquire / Order: manager@chemfaces.com
Technical Inquiries: service@chemfaces.com
Tel: +86-27-84237783
Fax: +86-27-84254680

Address:
1 Building, No. 83, CheCheng Rd., Wuhan Economic and Technological Development Zone, Wuhan, Hubei 430056, PRC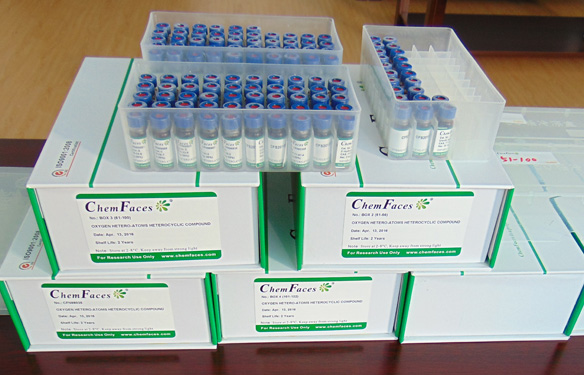 Providing storage is as stated on the product vial and the vial is kept tightly sealed, the product can be stored for up to
24 months(2-8C)
.
Wherever possible, you should prepare and use solutions on the same day. However, if you need to make up stock solutions in advance, we recommend that you store the solution as aliquots in tightly sealed vials at -20C. Generally, these will be useable for up to two weeks. Before use, and prior to opening the vial we recommend that you allow your product to equilibrate to room temperature for at least 1 hour.
Need more advice on solubility, usage and handling? Please email to: service@chemfaces.com
The packaging of the product may have turned upside down during transportation, resulting in the natural compounds adhering to the neck or cap of the vial. take the vial out of its packaging and gently shake to let the compounds fall to the bottom of the vial. for liquid products, centrifuge at 200-500 RPM to gather the liquid at the bottom of the vial. try to avoid loss or contamination during handling.
Journal of Plant Growth Regulation2022, 10705-2.
Korean J. Food Sci. & Technol.2022, 54(2):241-246
Process Biochemistry2019, 85:106-115
J Mass Spectrom.2022, 57(2):e4810.
Chemistry of Plant Materials.2019, 215-222
Vojnosanit Pregl2016, 75(00):391-391
Current Traditional Medicine, 2021, 7:326-335(10).
Int. J. of Food Properties2017, S108-S118
Asian J Beauty Cosmetol2016, 14(3):249-257
J Pharm Biomed Anal2016, 118:183-194
Volume 105, May 2019, Pages 103-109.
Enhanced bioaccessibility of green tea polyphenols and lipophilic activity of EGCG octaacetate on gram-negative bacteria[Reference:
WebLink
]
The polyphenol acetates derived from green tea (Camellia sinensis. L) catechins, effectively increases the bioaccessibility as evaluated by simulated invitro enzymatic digestion method. The acetylated polyphenols showed significantly higher bioaccessibility (60.13 ± 0.3%) with respect to their precursors (31.80 ± 0.7%). The antibacterial activity of major catechins and their acetates on food-borne pathogens indicated the minimum inhibitory concentration (MIC) and minimum bactericidal concentration (MBC) respectively for gram-positive bacteria (GPB)– Bacillus subtilis (EGCG, 130 μg/mL and 150 μg/mL; EGCG octaacetate 100 μg/mL and 120 μg/mL), Staphylococcus aureus (EGCG, 200 μg/mL and 250 μg/mL; EGCG octaacetate 150 μg/mL and 200 μg/mL) and the gram-negative bacteria (GNB)- Escherichia coli (EGCG, 580 μg/mL and 700 μg/mL; EGCG octaacetate 250 μg/mL and 300 μg/mL) and Yersinia enterocolitica (EGCG, 620 μg/mL and 740 μg/mL; EGCG octaacetate 280 μg/mL and 330 μg/mL). The prepared EGCG octaacetate had higher inhibitory effect against both GNB and GPB, than EGCG, which showed moderate activity on GPB and less effect on GNB. This is attributed to its lipophilic nature, a distinctive property, as evaluated by lipophilicity test. It is further substantiated with membrane permeability assay using fluorescent microscopy and the morphological alterations on E. coli cells by scanning electron microscopy (SEM) studies.
Int J Mol Med . 2008 Dec;22(6):841-845.
In vitro cytotoxicity of (-)-EGCG octaacetate on MDAMB-231 and SKHep-1 human carcinoma cells: a pharmacological consideration on prodrug design[Pubmed:
19020784
]
Esterification of acetate with generic pharmaceutical compound has been commonly employed to produce ester prodrug for improving its potency when compared with the mother compound. Acetate, on the other hand, has been recognized to have inhibitory effect on the respiratory biochemistry. Here we demonstrate that acetate at a concentration of 400 microM exhibited significant growth inhibitory activity on two human cancer cell lines, the MDAMB-231 breast cancer and the SKHep-1 hepatoma cell lines. To establish the ester prodrug with multi-acetate ester conjugates as our experimental model, one molecule of (-)-epigallocatechin gallate was required to conjugate with eight molecules of acetate forming the corresponding (-)-Epigallocatechin gallate octaacetate prodrug. Chemical structure of this Epigallocatechin gallate octaacetate ester prodrug was confirmed by both 13C and 1H nuclear magnetic resonance spectra and mass spectrometry. Further cytotoxic assay using both MDAMB-231 and SKHep-1 human carcinoma cell lines showed that acetate at a concentration of 400 microM exhibits an additional cytotoxic effect with (-)-epigallocatechin gallate at a concentration of 50 microM, although the additional effect was not as high as (-)-Epigallocatechin gallate octaacetate ester prodrug alone at a concentration of 50 microM. Our results thus raise a pharmacological consideration of using multi-acetate conjugate as the ester prodrug where the release of free acetate by esterase could be part of the explanation for the improved in vitro cytotoxicity.
Nutrients . 2018 Nov 3;10(11):1644.
Targeting the DNA Repair Endonuclease ERCC1-XPF with Green Tea Polyphenol Epigallocatechin-3-Gallate (EGCG) and Its Prodrug to Enhance Cisplatin Efficacy in Human Cancer Cells[Pubmed:
30400270
]
The 5'-3' structure-specific endonuclease ERCC1/XPF (Excision Repair Cross-Complementation Group 1/Xeroderma Pigmentosum group F) plays critical roles in the repair of cisplatin-induced DNA damage. As such, it has been identified as a potential pharmacological target for enhancing clinical response to platinum-based chemotherapy. The goal of this study was to follow up on our previous identification of the compound NSC143099 as a potent inhibitor of ERCC1/XPF activity by performing an in silico screen to identify structural analogues that could inhibit ERCC1/XPF activity in vitro and in vivo. Using a fluorescence-based DNA-endonuclease incision assay, we identified the green tea polyphenol (-)-epigallocatechin-3-gallate (EGCG) as a potent inhibitor of ERCC1/XPF activity with an IC50 (half maximal inhibitory concentration) in the nanomolar range in biochemical assays. Using DNA repair assays and clonogenic survival assays, we show that EGCG can inhibit DNA repair and enhance cisplatin sensitivity in human cancer cells. Finally, we show that a prodrug of EGCG, Pro-EGCG (EGCG octaacetate), can enhance response to platinum-based chemotherapy in vivo. Together these data support a novel target of EGCG in cancer cells, namely ERCC1/XPF. Our studies also corroborate previous observations that EGCG enhances sensitivity to cisplatin in multiple cancer types. Thus, EGCG or its prodrug makes an ideal candidate for further pharmacological development with the goal of enhancing cisplatin response in human tumors.
Angiogenesis . 2013 Jan;16(1):59-69.
Prodrug of green tea epigallocatechin-3-gallate (Pro-EGCG) as a potent anti-angiogenesis agent for endometriosis in mice[Pubmed:
22948799
]
Green tea epigallocatechin-3-gallate (EGCG) can inhibit angiogenesis and development of an experimental endometriosis model in mice, but it suffers from poor bioavailability. A prodrug of EGCG (pro-EGCG, EGCG octaacetate) is utilized to enhance the stability and bioavailability of EGCG in vivo. In this study, the potential of pro-EGCG as a potent anti-angiogenesis agent for endometriosis in mice was investigated. Homologous endometrium was subcutaneously transplanted into mice to receive either saline, vitamin E, EGCG or pro-EGCG treatment for 4 weeks. The growth of the endometrial implants were monitored by IVIS(®) non-invasive in vivo imaging during the interventions. Angiogenesis of the endometriotic lesions was determined by Cellvizio(®) in vivo imaging and SCANCO(®) Microfil microtomography. The bioavailability, anti-oxidation and anti-angiogenesis capacities of the treatments were measured in plasma and lesions. The implants with adjacent outer subcutaneous and inner abdominal muscle layers were collected for histological, microvessel and apoptosis examinations. The result showed that EGCG and pro-EGCG significantly decreased the growth of endometrial implants from the 2nd week to the 4th week of intervention. EGCG and pro-EGCG significantly reduced the lesion size and weight, inhibited functional and structural microvessels in the lesions, and enhanced lesion apoptosis at the end of interventions. The inhibition by pro-EGCG in all the angiogenesis parameters was significantly greater than that by EGCG, and pro-EGCG also had better bioavailability and greater anti-oxidation and anti-angiogenesis capacities than EGCG. Ovarian follicles and uterine endometrial glands were not affected by either EGCG or pro-EGCG. Vitamin E had no effect on endometriosis. In conclusion, pro-EGCG significantly inhibited the development, growth and angiogenesis of experimental endometriosis in mice with high efficacy, bioavailability, anti-oxidation and anti-angiogenesis capacities. Pro-EGCG could be a potent anti-angiogenesis agent for endometriosis.
J Agric Food Chem . 2012 Apr 4;60(13):3441-51.
Peracetylated (-)-epigallocatechin-3-gallate (AcEGCG) potently suppresses dextran sulfate sodium-induced colitis and colon tumorigenesis in mice[Pubmed:
22409325
]
Previous studies reported that peracetylated (-)-epigallocatechin-3-gallate (AcEGCG) has antiproliferative and anti-inflammatory activities. Here, we evaluated the chemopreventive effects and underlying molecular mechanisms of dietary administration of AcEGCG and EGCG in dextran sulfate sodium (DSS)-induced colitis in mice. The mice were fed a diet supplemented with either AcEGCG or EGCG prior to DSS induction. Our results indicated that AcEGCG administration was more effective than EGCG in preventing the shortening of colon length and the formation of aberrant crypt foci (ACF) and lymphoid nodules (LN) in mouse colon stimulated by DSS. Our study observes that AcEGCG treatment inhibited histone 3 lysine 9 (H3K9) acetylation but did not affect histone acetyltransferase (HAT) activity and acetyl- CREB-binding protein (CBP)/p300 levels. In addition, pretreatment with AcEGCG decreased the proinflammatory mediator levels by down-regulating of PI3K/Akt/NFκB phosphorylation and p65 acetylation. We also found that treatment with AcEGCG increased heme oxygenase-1(HO-1) expression via activation of extracellular signal-regulated protein kinase (ERK)1/2 signaling and acetylation of NF-E2-related factor 2 (Nrf2), thereby abating DSS-induced colitis. Moreover, dietary feeding with AcEGCG markedly reduced colitis-driven colon cancer in mice. Taken together, these results demonstrated for the first time the in vivo chemopreventive efficacy and molecular mechanisms of dietary AcEGCG against inflammatory bowel disease (IBD) and potentially colon cancer associated with colitis. These findings provide insight into the biological actions of AcEGCG and might establish a molecular basis for the development of new cancer chemopreventive agents.