Alnustone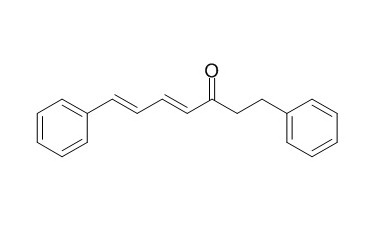 Alnustone has anti-inflammatory, antihepatotoxic and antiemetic activities,
Inquire / Order: manager@chemfaces.com
Technical Inquiries: service@chemfaces.com
Tel: +86-27-84237783
Fax: +86-27-84254680

Address:
1 Building, No. 83, CheCheng Rd., Wuhan Economic and Technological Development Zone, Wuhan, Hubei 430056, PRC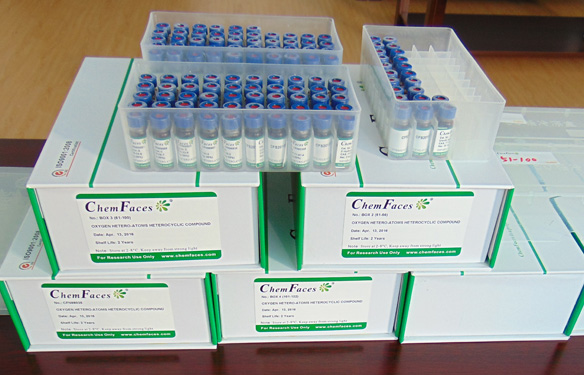 Providing storage is as stated on the product vial and the vial is kept tightly sealed, the product can be stored for up to
24 months(2-8C)
.
Wherever possible, you should prepare and use solutions on the same day. However, if you need to make up stock solutions in advance, we recommend that you store the solution as aliquots in tightly sealed vials at -20C. Generally, these will be useable for up to two weeks. Before use, and prior to opening the vial we recommend that you allow your product to equilibrate to room temperature for at least 1 hour.
Need more advice on solubility, usage and handling? Please email to: service@chemfaces.com
The packaging of the product may have turned upside down during transportation, resulting in the natural compounds adhering to the neck or cap of the vial. take the vial out of its packaging and gently shake to let the compounds fall to the bottom of the vial. for liquid products, centrifuge at 200-500 RPM to gather the liquid at the bottom of the vial. try to avoid loss or contamination during handling.
Neuropharmacology2019, 151437
Biomolecules.2020, 10(2):E184
BMC Complement Altern Med.2014, 14:352
Microb Biotechnol.2021, 14(5):2009-2024.
Int J Mol Sci.2020, 21(19):7209.
Industrial Food Engineering2015, 19(4):408-413
Vietnam Journal of Science2022, 64(2), 69-75.
Molecules.2018, 23(7):E1817
Industrial Crops and Products2019, 140:111612
Molecules.2021, 26(2):313.
Planta Med. 1993 Oct;59(5):451-4.
Three non-phenolic diarylheptanoids with anti-inflammatory activity from Curcuma xanthorrhiza.[Pubmed:
8255938
]

METHODS AND RESULTS:
Bioassay-guided fractionation of a hexane extract of the rhizomes of Curcuma xanthorrhiza Roxb. (Zingiberaceae) led to the isolation of three non-phenolic diarylheptanoids, identified mainly by high-field 1H-NMR as trans-trans-1,7-diphenyl-1,3-heptadien-4-one (Alnustone), trans-1,7-diphenyl-1-hepten-5-ol, and trans,trans-1,7-diphenyl-1,3-heptadien-5-ol. The latter is reported for the first time as a plant constituent. Germacrone, curzerenone, and cinnamaldehyde were also isolated and identified.
CONCLUSIONS:
The three diarylheptanoids all exerted significant anti-inflammatory activity in the assay of carrageenin-induced hind paw edema in rats.
Zhongguo Zhong Yao Za Zhi. 2010 Aug;35(16):2091-4.
Qualitative and quantitative methods for Alpiniae Katsumadai semen[Pubmed:
21046736
]
The qualitative and quantitative methods for the quality evaluation of Alpiniae Katsumadai Semen were established. Alpinetin, pinocembrin, cardamonin and Alnustone in the sample were identified by TLC.
METHODS AND RESULTS:
The contents of them were determined by HPLC. The separation was performed on a Ultimate XB-C18 column (4.6 mm x 250 mm, 5 microm) at 30 degrees C using a gradient elution consisting of mobile phase A (water) and mobile phase B (MeOH). The detection wavelength was 300 nm. The TLC method was suitable for the identification of alpinetin, pinocembrin, cardamonin and Alnustone. The linear ranges of the four reference compounds were 25.5-509 (r = 0.9999), 24.9-498 (r = 0.9999), 26.1-521 (r = 0.9999), 50.2-1003 ng (r = 0.9999), respectively. The average recoveries (n=9) of the four components were 97.95%, 97.36%, 97.50%, 98.02%, RSD < 1.9%. Nine samples were analyzed by the established methods.
CONCLUSIONS:
The results indicate that, the methods are simple, accurate, sensitive and reliable for quality evaluation of Alpiniae Katsumadai Semen.