6'-Feruloylnodakenin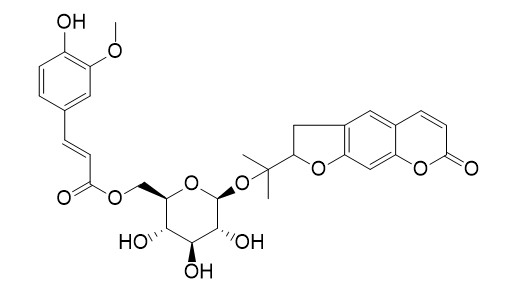 Reference standards.
Inquire / Order: manager@chemfaces.com
Technical Inquiries: service@chemfaces.com
Tel: +86-27-84237783
Fax: +86-27-84254680

Address:
1 Building, No. 83, CheCheng Rd., Wuhan Economic and Technological Development Zone, Wuhan, Hubei 430056, PRC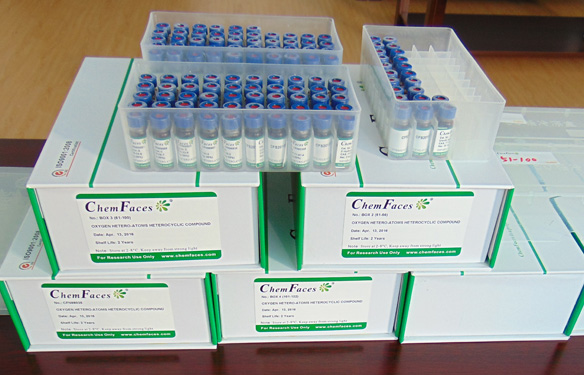 Providing storage is as stated on the product vial and the vial is kept tightly sealed, the product can be stored for up to
24 months(2-8C)
.
Wherever possible, you should prepare and use solutions on the same day. However, if you need to make up stock solutions in advance, we recommend that you store the solution as aliquots in tightly sealed vials at -20C. Generally, these will be useable for up to two weeks. Before use, and prior to opening the vial we recommend that you allow your product to equilibrate to room temperature for at least 1 hour.
Need more advice on solubility, usage and handling? Please email to: service@chemfaces.com
The packaging of the product may have turned upside down during transportation, resulting in the natural compounds adhering to the neck or cap of the vial. take the vial out of its packaging and gently shake to let the compounds fall to the bottom of the vial. for liquid products, centrifuge at 200-500 RPM to gather the liquid at the bottom of the vial. try to avoid loss or contamination during handling.
Molecules.2019, 24(9):E1719
Foods.2021, 10(11):2627.
Research J. Pharm. and Tech.2020, 13(7):3059-3064.
Cell Rep.2020, 32(11):108158.
Nat Commun.2019, 10(1):2745
Planta Med.2022, a-1876-3009.
Plant J.2021, 107(6):1711-1723.
Postharvest Biol Tec2019, 149:18-26
J Appl Microbiol.2022, 132(2):949-963.
American Association for Anatomy2020, doi: 10.1002.
Chem Pharm Bull (Tokyo). 1990 Sep;38(9):2498-502.
Isolation of two new coumarin glycosides from Notopterygium forbesii and evaluation of a Chinese crude drug, qiang-huo, the underground parts of N. incisum and N. forbesii, by high-performance liquid chromatography.[Pubmed:
2285981
]

METHODS AND RESULTS:
From the ether extract of the underground part of Notopterygium forbesii, two new coumarin glycosides, bergaptol-O-beta-D-glucopyranoside and 6'-O-trans-feruloylnodakenin(6'-Feruloylnodakenin), were isolated along with known compounds including seven furanocoumarins, two dihydrofuranocoumarins, a sterol glucoside and two phenolic compounds. Analysis of their contents by high-performance liquid chromatography (HPLC) revealed that the underground part of N. forbesii contained large amounts of p-hydroxphenethyl anisate (0.7%), bergaptol glucoside (0.2%), nodakenin (2%) and 6'-O-trans-feruloylnodakenin (0.7%) and a lesser amount of notopterol (0.08%), while that of N. incisum contained a large amount of notopterol (1.2%) and less amounts of the others.
CONCLUSIONS:
The characteristic difference in chemical composition between the two species enabled us to identify the respective botanical sources of a Chinese crude drug, Qiang-huo derived from N. incisum and N. forbesii by HPLC.
Chinese Traditional and Herbal Drugs, 2009.
Absorption and transportation characteristic of dihydrofurocoumarins from Rhizome et Radix Notopterygii in a model of Caco-2 cell monolayers.[Reference:
WebLink
]
To study the absorption and transportation characteristic of nodakenetin (NANI), nodakenin (ND), decuroside V (DEV), and forbesoside [6′-O-(trans-feruloyl)-nodakenin, 6'-Feruloylnodakenin FDE] isolated from Rhizome et Radix Notopterygii, which were classified four linear dihydrofurocouma-rins, in human intestinal epithelium.
METHODS AND RESULTS:
Caco-2 (the human colon adenocarcinoma cell lines) cell monolayers were used as an intestinal epithelial cell model. The permeability of the four coumarins from apical side (AP side) to basolateral side (BL side) or from BL side to AP side was evaluated. The concentration of the four coumarins was measured by HPLC coupled with UV detector. Transportation parameters and permeability coefficients (Papp) were then calculated, and Papp values were compared with the reported values for model compounds, propranolol, and atenolol. The Papp values of NANI in the bi-directional transportation were quantitative degree of 1×106cm/s, which laid between propranolol often used as a control substance for high permeability and Atenolol often used as a control substance for poor permeability. Whereas Papp values of ND, DEV, and FDE were quantitative degree of 1×107cm/s, which was comparable with the Papp values of atenolol. The absorption and transportation of four coumarins were positive correlation to the concentration of 25-400 μmol/L.
CONCLUSIONS:
Four linear dihydrofurocoumarins can be absorbed across intestinal epithelial cells by passive diffusion mechanism. The NANI is moderately, while ND, DEV, and FDE are poorly absorbed compounds.