Sativanone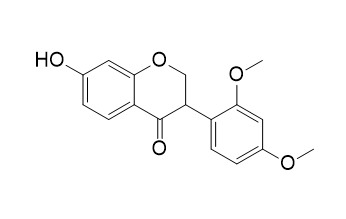 Sativanone has anti-inflammatory, anti-aging,anti Hyal-1 and antioxidant properties as well as antibacterial activity against Ralstonia solanacearum. Sativaone inhibits yeast alpha-glucosidase.
Inquire / Order: manager@chemfaces.com
Technical Inquiries: service@chemfaces.com
Tel: +86-27-84237783
Fax: +86-27-84254680

Address:
1 Building, No. 83, CheCheng Rd., Wuhan Economic and Technological Development Zone, Wuhan, Hubei 430056, PRC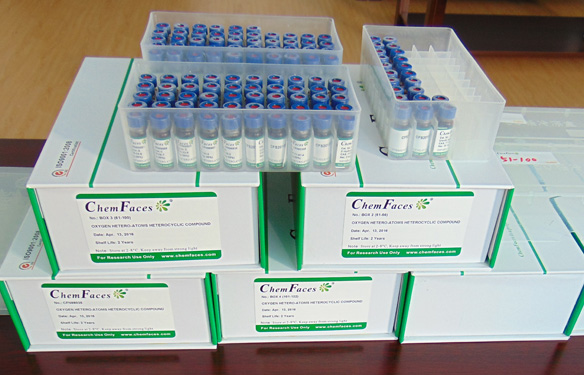 Providing storage is as stated on the product vial and the vial is kept tightly sealed, the product can be stored for up to
24 months(2-8C)
.
Wherever possible, you should prepare and use solutions on the same day. However, if you need to make up stock solutions in advance, we recommend that you store the solution as aliquots in tightly sealed vials at -20C. Generally, these will be useable for up to two weeks. Before use, and prior to opening the vial we recommend that you allow your product to equilibrate to room temperature for at least 1 hour.
Need more advice on solubility, usage and handling? Please email to: service@chemfaces.com
The packaging of the product may have turned upside down during transportation, resulting in the natural compounds adhering to the neck or cap of the vial. take the vial out of its packaging and gently shake to let the compounds fall to the bottom of the vial. for liquid products, centrifuge at 200-500 RPM to gather the liquid at the bottom of the vial. try to avoid loss or contamination during handling.
Scientific World Journal.2014, 2014:654193
Front Plant Sci.2022, 13: 905275.
Analytical sci. & Tech2016, 186-193
Agronomy2020, 10(10),1489
Metab Eng.2022, 75:143-152.
Bioorg Med Chem.2018, 26(14):4201-4208
Drug Chem Toxicol.2020, 1-12.
Vietnam Journal of Science2022, 64(2), 69-75.
Chemistry of Natural Compounds2018, 54(3):572-576
Evid Based Complement Alternat Med.2022, 9767292,2.
Xi Bao Yu Fen Zi Mian Yi Xue Za Zhi . 2013 Jul;29(7):681-684.
[Anti-inflammation of flavonoid compounds from Dalbergia odorifera T. Chen in lipopolysaccharide stimulated RAW264.7 macrophages][Pubmed:
23837974
]
Objective: To screen, isolate and identify the compounds with anti-inflammatory activity from Dalbergia odorifera T. Chen. Methods: Lipopolysaccharide (LPS) was used to stimulate RAW264.7 macrophages, and this model was further used to screen and separate active compounds from Dalbergia odorifera T. Chen, followed by compound chemical structure identification using mass spectrometry and nuclear magnetic resonance. Griess assay was performed to measure the released nitric oxide (NO), and ELISA was applied to detect TNF-α content. Results: Compound I (Sativanone) showed strong anti-inflammatory activity (IC50;=12.48 g/mL). Isoliquiritigenin (compound III), naringenin (compound IV) and liquiritigenin (compound V) had moderate anti-inflammatory activity, with IC50; value at 18.33, 42.59, 29.43 g/mL, respectively. Compound II and compound VI had no anti-inflammatory activity with concentration at 50 g/mL. Sativanone, isoliquiritigenin, liquiritigenin and naringenin at their concentrations ranging from 3.125-50 g/mL, could inhibit NO release in RAW264.7 cells stimulated by LPS. Sativanone (compound I) could also inhibit TNF-α secretion from LPS stimulated RAW264.7 cells. Conclusion: Liquiritigenin, isoliquiritigenin, naringenin and Sativanone isolated from Dalbergia odorifera T. Chen, could reduce NO release from LPS-stimulated macrophage cell line (RAW264.7), at a dose-dependent manner. What's more, Sativanone play an anti-inflammatory role also through inhibiting inflammatory cytokine TNF-α.
Fitoterapia . 2018 Oct;130:169-174.
Isoflavonoids with inhibiting effects on human hyaluronidase-1 and norneolignan clitorienolactone B from Ononis spinosa L. root extract[Pubmed:
30176279
]
Human hyaluronidase-1 (Hyal-1) is one of the main enzymes in the homeostasis of hyaluronic acid (HA), the main polysaccharide of extracellular matrix. Development of specific Hyal-1 inhibitors might be a promising target for improved wound healing, tissue regeneration, and looking at renal function for diuresis. By using surface-displayed Hyal-1 on Escherichia coli F470 cells, HA as substrate and stains-all method for quantification of undegraded HA, the respective enzyme activity can be determined easily. Based on the traditional use of extracts from the roots from Ononis spinosa L. (Restharrow root) as a weak diuretic to achieve flushing of the urinary tract and as an adjuvant in minor urinary complaints the herbal material was selected for bioactivity guided fractionation for compounds with Hyal-1 inhibition activity. Hot water and hydroalcoholic extracts showed moderate inhibiting effects (IC50 1.36 resp. 0.73 mg/mL) while dichloromethane extract exerted an IC50 of 190 μg/mL. Bioassay guided fractionation of the dichloromethane extract yielded four isoflavonoids with anti Hyal-1 activity: onogenin 1, Sativanone 2, medicarpin 3 and calycosin-D 4 with inhibition rates of 25.4, 61.2, 22.4 and 23.0%, respectively at test concentration level of 250 μM. The norneolignan clitorienolactone B 5, the first time described for the genus Ononis, was inactive. The IC50 of Sativanone, the most active compound was determined with 1501 μM, which was better than that of the positive control glycyrrhizinic acid (177 μM). Thus, a possible explanation for diuretic properties of Ononis spinosa L. root extract may be postulated from the results so far obtained.
Molecules . 2011 Nov 25;16(12):9775-9782.
Antibacterial activity of the flavonoids from Dalbergia odorifera on Ralstonia solanacearum[Pubmed:
22117168
]
Phytohemical investigation on the heartwood of Dalbergia odorifera resulted in the isolation of nine flavonoids. Their structures were elucidated as Sativanone (1), (3R)-vestitone (2), (3R)-2',3',7-trihydroxy-4'-methoxyisoflavanone (3), (3R)-4'-methoxy-2',3,7-trihydroxyisoflavanone (4), carthamidin (5), liquiritigenin (6), isoliquiritigenin (7), (3R)-vestitol (8), and sulfuretin (9) based on their spectral data. All compounds were evaluated for their inhibitory activity against Ralstonia solanacearum. This is the first report about anti-R. solanacearum activity of the compounds from D. odorifera.
Planta Med . 1998 Mar;64(2):153-158.
Three new flavonoids and antiallergic, anti-inflammatory constituents from the heartwood of Dalbergia odorifera[Pubmed:
9525107
]
Three new flavonoids, (3R)-4'-methoxy-2',3,7-trihydroxyisoflavanone (11), 7-methoxy-3,3',4',6-tetrahydroxyflavone (18), and 2',7-dihydroxy-4',5'-dimethoxyisoflavone (22), were isolated from the heartwood of Dalbergia odorifera T. Chen. (Leguminosae), together with twenty-two known compounds, (S)-4-methoxydalbergione (1), cearoin (2), medicarpin (3), formononetin (4), Sativanone (5), 3-hydroxy-9-methoxy-coumestan (6), meliotocarpan A (7), isoliquiritigenin (8), stevein (9), liquiritigenin (10), 3',4',7-trihydroxyflavanone (12), butein (13), 3'-hydroxymelanettin (14), koparin (15), bowdichione (16), fisetin (17), melanettin (19), sulfuretin (20), 3'-hydroxydaidzein (21), 3'-O-methylviolanone (23), xenognosin B (24), and dalbergin (25). These flavonoids were evaluated in antiallergic and anti-inflammatory tests. The results showed that (S)-4-methoxydalbergione (1) and cearoin (2) exhibited antiallergic activity while (S)-4-methoxydalbergione (1), cearoin (2), butein (13), koparin (15), bowdichione (16), 3'-O-methylviolanone (23), and xenognosin B (24) showed significant anti-inflammatory activity.
Biosci Biotechnol Biochem . 2015;79(5):760-766.
Ethanol extract of Dalbergia odorifera protects skin keratinocytes against ultraviolet B-induced photoaging by suppressing production of reactive oxygen speciesEthanol extract of Dalbergia odorifera protects skin keratinocytes against ultraviolet B-induced photoaging by suppressing production of reactive oxygen species[Pubmed:
25560618
]
Dalbergia odorifera T. Chen (Leguminosae), an indigenous medicinal herb, has been widely used in northern and eastern Asia to treat diverse diseases. Here, we investigated the anti-senescent effects of ethanolic extracts of Dalbergia odorifera (EEDO) in ultraviolet (UV) B-irradiated skin cells. EEDO significantly inhibited UVB-induced senescence of human keratinocytes in a concentration-dependent manner, concomitant with inhibition of reactive oxygen species (ROS) generation. UVB-induced increases in the levels of p53 and p21, biomarkers of cellular senescence, were almost completely abolished in the presence of EEDO. Sativanone, a major constituent of EEDO, also attenuated UVB-induced senescence and ROS generation in keratinocytes, indicating that Sativanone is an indexing (marker) molecule for the anti-senescence properties of EEDO. Finally, treatment of EEDO to mice exposed to UVB significantly reduced ROS levels and the number of senescent cells in the skin. Thus, EEDO confers resistance to UVB-induced cellular senescence by inhibiting ROS generation in skin cells.
Drug Dev Res . 2015 Feb;76(1):48-56.
Dalbergia odorifera Extract Ameliorates UVB-Induced Wrinkle Formation by Modulating Expression of Extracellular Matrix Proteins[Pubmed:
25620496
]
Preclinical Research Emerging evidence suggests that Dalbergia odorifera T. Chen (Leguminosae), an indigenous medicinal herb, has therapeutic potential. This study examined the antiwrinkle effects of ethanol extracts of D. odorifera in UVB-irradiated human skin cells. Ethanol extracts of D. odorifera and thier constituents, dalbergin and Sativanone, induced expression of collagen type I and transforming growth factor (TGF)-β1 in human dermal fibroblasts. In HR-1 hairless mice exposed to UVB, the ethanol extract reduced wrinkle formation and skin thickness. This inhibitory effect of ethanol extract was associated with the restoration of collagen type I, TGF-β1, and elastin to levels approaching those in skin tissues not exposed to UVB, which was accompanied by the reduction of matrix metalloproteinase-2 and upregulation of tissue inhibitors of metalloproteinase (TIMP)-2 and TIMP-3 in skin tissue exposed to UVB. These results suggest that the ethanol extracts prevent some effects of photoaging and maintain skin integrity by regulating the degradation of the extracellular matrix proteins.
J Chromatogr B Analyt Technol Biomed Life Sci . 2005 Dec 27;829(1-2):35-44.
Identification and determination of major flavonoids in rat serum by HPLC-UV and HPLC-MS methods following oral administration of Dalbergiaodorifera extract[Pubmed:
16233995
]
The major flavonoids in rat serum after oral administration of Dalbergia odorifera extract were analyzed qualitatively and quantitatively by high performance liquid chromatography (HPLC) and its coupling to mass spectrometry (HPLC-MS). Utilizing HPLC-MS technique, 18 flavonoids including five isoflavones, four isoflavanones, four neoflavones, two flavanones, two chalcones, one isoflavanonol were identified in free form in serum sample based on comparison with the authentic standards. Furthermore, the amounts of the four prominent flavonoids, (3R)-4'-methoxy-2',3,7-trihydroxyisoflavanone, vestitone, formononetin and Sativanone were determined in serum by HPLC-UV with internal standard method. The method was validated and utilized in pharmacokinetic studies of these four analytes. This is the first report on identification and determination of the major flavonoids in rat serum after oral administration of D. odorifera extract and the results provided a firm basis for clarifying the pharmacological effect of D. odorifera and evaluating the clinical applications of this medicinal herb.
Molecules . 2018 Jun 29;23(7):1589.
New Records of Potent In-Vitro Antidiabetic Properties of Dalbergia tonkinensis Heartwood and the Bioactivity-Guided Isolation of Active Compounds[Pubmed:
29966279
]
Alpha-glucosidase inhibitory activity has been commonly used for the evaluation of antidiabetic property in vitro. The aim of this study is to investigate and characterize Dalbergia tonkinensis as a potential source of antidiabetic compounds. The screening of the active parts used, such as trunk bark, heartwood, and the leaves of Dalbergia tonkinensis indicated that all these extracted parts used with methanol demonstrated potent α-glucosidase inhibitory activity. The in vitro antidiabetic property of Dalbergia tonkinensis was notably recorded for the first time and showed activity (EC50 = 0.17⁻0.78 mg/mL) comparable to those of reported potent herbal extracts (EC50 = 0.25⁻4.0 mg/mL) and higher activity than that of acarbose, a commercial antidiabetic drug (EC50 = 1.21 mg/mL). The stability tests revealed that the heartwood of Dalbergia tonkinensis extract (HDT) possesses high pH stability with relative activity in the range of 80⁻98%. Further bioassay-guided purification led to the isolation of 2 active compounds identified as Sativanone and formononetin from the ethyl acetate fraction and water fraction of HDT, respectively. These α-glucosidase inhibitors (aGIs) show promising inhibition against various types of α-glucosidases. Remarkably, these inhibitors were determined as new mammalian aGIs, showing good effect on rat α-glucosidase. The results suggest that Dalbergia tonkinensis is a potent source of aGIs and suggest promise in being developed as functional food with antidiabetic efficacy. The results of this study also enrich our knowledge concerning current biological activity and constituents of Dalbergia tonkinensis species.
J Chromatogr B Analyt Technol Biomed Life Sci . 2018 Aug 1;1091:21-28.
Separation and characterization of homopipecolic acid isoflavonoid ester derivatives isolated from Ononis spinosa L. root[Pubmed:
29803686
]
Spiny restharrow root (Ononis spinosa L.) and its preparations are mainly used for the treatment of urinary infections or bladder stones in numerous countries. Spiny restharrow root is rich in isoflavonoids (formononetin, calycosin and pseudobaptigenin), pterocarpans (medicarpin and maackiain) and dihydroisoflavonoids (onogenin and Sativanone), which metabolites are present as glucosides, glucoside malonates, glucoside acetates and free aglycones in the root. The in-depth analysis of tandem mass spectrometric (MS) and high-resolution MS (HR-MS) data revealed the presence of nitrogen-containing compounds in the root extracts. An ion-exchange-based purification and a preparative-scale reversed phase chromatographic isolation procedure was developed for the characterization of these new natural products. For the unambiguous identification of the isolated compounds NMR experiments were carried out. The thorough characterization confirmed the presence of six piperidin-2-yl-acetic acid (homopipecolic acid) esters of isoflavonoid glucosides. This is the first report of homopipecolic acid esters isolated from higher plants.
J Pharm Biomed Anal . 2016 May 10;123:74-81.
Characterization and identification of isoflavonoid glycosides in the root of Spiny restharrow (Ononis spinosa L.) by HPLC-QTOF-MS, HPLC-MS/MS and NMR[Pubmed:
26874257
]
Restharrow root has been used in traditional medicine for thousands of years; however, the active ingredients responsible for the diuretic effect are still unknown. Previous studies have proved that the root extract contains isoflavonoids, however only few derivatives were identified, mostly relying on retention times or UV data. The aim of our work was to perform a detailed structural characterization of the complete isoflavonoid profile in the aqueous-methanolic extract of Ononis spinosa root by high-performance liquid chromatography coupled with electrospray ionization accurate-mass quadrupole time-of-flight and tandem mass spectrometry in positive ionization mode (HPLC-ESI-QTOF-MS, HPLC-ESI-MS/MS) and nuclear magnetic resonance spectroscopy (NMR). On the basis of the accurate masses and fragmentation patterns isoflavones (formononetin, calycosin and pseudobaptigenin) and pterocarpans (maackiain and medicarpin) were identified. Two further dihydroisoflavone aglycones, namely onogenin and Sativanone and a unique glucoside were isolated and their structures were elucidated by NMR experiments. Calycosin, onogenin and Sativanone were detected in this plant for the first time. In contrast to previous works, the presence of biochanin A could not be confirmed, however its regioisomer calycosin and its derivatives were identified. Similarly, neither tectorigenin derivatives could be detected, however the isobar compound Sativanone and its various glucosides were elucidated. The presence of genistein and daidzein could not be confirmed in the extract. Fragmentation pathways for onogenin and Sativanone are presented. In the aqueous-methanolic extract 9 glucosides, 6 minor and 8 major glucoside malonates, 4 glucoside acetates and 7 aglycones were found. In total, 34 compounds were successfully identified.