4',7-Dihydroxyflavone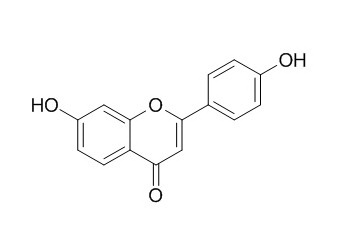 4',7-Dihydroxyflavone can induce transcription of nodulation (nod) genes in Rhizobium meliloti. It has inhibitory activities against COX-2.
Inquire / Order: manager@chemfaces.com
Technical Inquiries: service@chemfaces.com
Tel: +86-27-84237783
Fax: +86-27-84254680

Address:
1 Building, No. 83, CheCheng Rd., Wuhan Economic and Technological Development Zone, Wuhan, Hubei 430056, PRC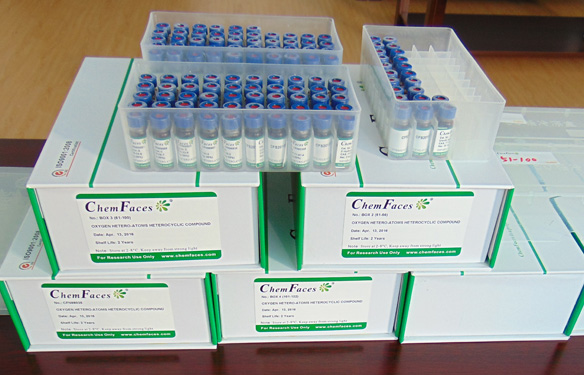 Providing storage is as stated on the product vial and the vial is kept tightly sealed, the product can be stored for up to
24 months(2-8C)
.
Wherever possible, you should prepare and use solutions on the same day. However, if you need to make up stock solutions in advance, we recommend that you store the solution as aliquots in tightly sealed vials at -20C. Generally, these will be useable for up to two weeks. Before use, and prior to opening the vial we recommend that you allow your product to equilibrate to room temperature for at least 1 hour.
Need more advice on solubility, usage and handling? Please email to: service@chemfaces.com
The packaging of the product may have turned upside down during transportation, resulting in the natural compounds adhering to the neck or cap of the vial. take the vial out of its packaging and gently shake to let the compounds fall to the bottom of the vial. for liquid products, centrifuge at 200-500 RPM to gather the liquid at the bottom of the vial. try to avoid loss or contamination during handling.
Molecules.2015, 20(10):19172-88
Int J Mol Sci.2017, 18(12)
Analytical Methods2018, 10(27)
J Breast Cancer.2015, 18(2):112-118
Molecules.2019, 24(21):E3834
Appl. Sci.2020, 10(8),2804
J Ethnopharmacol.2017, 197:157-164
Curr Eye Res.2018, 43(1):27-34
Molecules.2019, 24(9):E1719
J Neuroinflammation.2020, 17(1):75.
Plant Physiol., 1989, 91(3):842-7.
A Chalcone and Two Related Flavonoids Released from Alfalfa Roots Induce nod Genes of Rhizobium meliloti.[Pubmed:
16667146
]
Flavonoid signals from alfalfa (Medicago sativa L.) induce transcription of nodulation (nod) genes in Rhizobium meliloti. Previous investigations identified the flavone luteolin as an active inducer in alfalfa seed extracts, but the nature of nod inducers released from roots has not been reported.
METHODS AND RESULTS:
Root exudate from 3-day-old alfalfa seedlings was purified and then assayed for biological activity with a nodABC-lacZ fusion in R. meliloti. Indentities of major nod inducers were established by spectroscopic analyses (ultraviolet/visible, proton nuclear magnetic resonance, and mass spectroscopy) and comparison with authentic standards. Major nod inducers, which were identified as 4',7-Dihydroxyflavone, 4'-7-dihydroxyflavanone, and 4,4'-dihydroxy-2'-methoxychalcone, were released from seedling roots at 54, 22, and 20 picomole.plant(-1).day(-1), respectively. Luteolin was not found in these root exudates.
CONCLUSIONS:
The 4,4'-dihydroxy-2'-methoxychalcone induced nod genes at a concentration one order of magnitude lower than luteolin and is the first naturally released chalcone reported to have this function. Moderate and weak nod-inducing activity was associated, respectively, with 4',7-Dihydroxyflavone and 4',7-dihydroxyflavanone.
Molecules, 2008, 13(8):1530-7.
Isolation and characterization of phenolic compounds from the leaves of Salix matsudana.[Pubmed:
18794770
]
A bioassay-guided in vitro screen has revealed that a 70% methanol extract of the leaves of Salix matsudana shows considerable inhibitory activity against cyclooxygenases (COX-1 and COX-2).
METHODS AND RESULTS:
A subsequent phytochemical study led to the isolation of a new flavonoid, matsudone A (1), together with five known flavonoids--luteolin (2), isoquercitrin (3), 7-methoxyflavone (4), luteolin 7-O-glucoside (5), 4',7-Dihydroxyflavone (6)--and two phenolic glycosides, leonuriside A (7) and piceoside (8). Their structures were elucidated on the basis of extensive 1D- and 2D-NMR studies, high resolution ESI mass spectroscopic analyses and comparisons with literature data. The isolated compounds 1-8 were tested for their inhibitory activities against COX-1 and COX-2.
CONCLUSIONS:
Compounds 1, 5 and 6 were found to have potent inhibitory effect on COX-2 and compounds 3-5 exhibited moderate inhibition against COX-1.