Dehydrojuncusol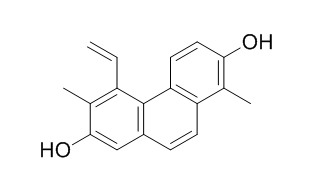 Dehydrojuncusol, a new inhibitor of hepatitis C virus RNA replication, it inhibits infection of different HCV genotypes by targeting the NS5A protein and is active against resistant HCV variants frequently found in patients with treatment failure.
Inquire / Order: manager@chemfaces.com
Technical Inquiries: service@chemfaces.com
Tel: +86-27-84237783
Fax: +86-27-84254680

Address:
1 Building, No. 83, CheCheng Rd., Wuhan Economic and Technological Development Zone, Wuhan, Hubei 430056, PRC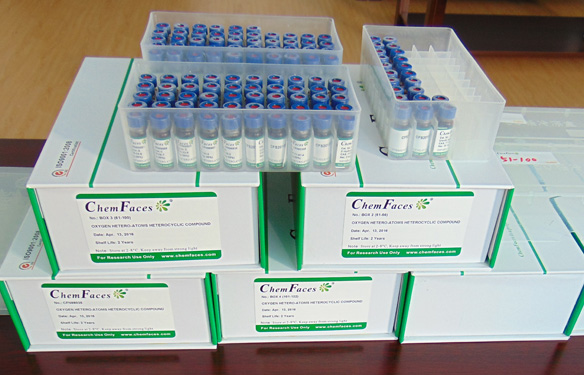 Providing storage is as stated on the product vial and the vial is kept tightly sealed, the product can be stored for up to
24 months(2-8C)
.
Wherever possible, you should prepare and use solutions on the same day. However, if you need to make up stock solutions in advance, we recommend that you store the solution as aliquots in tightly sealed vials at -20C. Generally, these will be useable for up to two weeks. Before use, and prior to opening the vial we recommend that you allow your product to equilibrate to room temperature for at least 1 hour.
Need more advice on solubility, usage and handling? Please email to: service@chemfaces.com
The packaging of the product may have turned upside down during transportation, resulting in the natural compounds adhering to the neck or cap of the vial. take the vial out of its packaging and gently shake to let the compounds fall to the bottom of the vial. for liquid products, centrifuge at 200-500 RPM to gather the liquid at the bottom of the vial. try to avoid loss or contamination during handling.
Nutrients.2018, 10(7)
Planta Med.2016, 82(13):1208-16
Pharmacogn Mag.2015, 11:S585-91
Evid Based Complement Alternat Med.2015, 2015:165457
Analytical sci. & Tech2016, 186-193
LWT-Food Science and Technology2017, 75:488-496
Arch Toxicol.2017, 91(10):3225-3245
Mol Microbiol.2019, 112(1):317-332
Exp Neurobiol.2018, 27(3):200-209
Phytother Res.2016, 30(12):2020-2026
Chem Pharm Bull (Tokyo). 2007 Aug;55(8):1264-6.
Phenanthrenoids from Juncus acutus L., new natural lipopolysaccharide-inducible nitric oxide synthase inhibitors.[Pubmed:
17666857
]

METHODS AND RESULTS:
The novel natural product juncutol (1), 1,4,7-trimethyl-8,9-dihydro-4H-cyclopenta[def]phenanthrene-2,6-diol, along with the three related metabolites juncusol (2), Dehydrojuncusol (3), and 6-hydroxymethyl-1-methyl-5-vinyl-9,10-dihydrophenanthrene-2-ol (4), were isolated from the rhizomes of Juncus acutus L. (Juncaceae) growing in Egypt. The structural identity of 1 was determined on the basis of spectroscopic analyses, including 2D NMR spectroscopy. The inhibitory effect of these natural products on the expression of inducible nitric oxide synthase (iNOS) in lipopolysaccharide-stimulated RAW264.7 macrophage cells was determined for the first time.
CONCLUSIONS:
The unprecedented symmetrical compound juncutol (1) was found to be the most potent inhibitor against the induction of the proinflammatory iNOS protein.
Fitoterapia. 2019 Apr;134:165-171.
Anxiolytic effect of a novel 9,10-dihydrophenanthrene, juncuenin H, is associated with metabolic changes in cortical serotonin/dopamine levels in mice.[Pubmed:
30825572
]
Recent emergence of direct-acting antivirals (DAAs) targeting hepatitis C virus (HCV) proteins has considerably enhanced the success of antiviral therapy. However, the appearance of DAA-resistant-associated variants is a cause of treatment failure, and the high cost of DAAs renders the therapy not accessible in countries with inadequate medical infrastructures. Therefore, the search for new inhibitors with a lower cost of production should be pursued.
METHODS AND RESULTS:
In this context, the crude extract of Juncus maritimus Lam. was shown to exhibit high antiviral activity against HCV in cell culture. Bio-guided fractionation allowed the isolation and identification of the active compound, Dehydrojuncusol. A time-of-addition assay showed that Dehydrojuncusol significantly inhibited HCV infection when added after virus inoculation of HCV genotype 2a (50% effective concentration [EC50] = 1.35 µM). This antiviral activity was confirmed with an HCV subgenomic replicon, and no effect on HCV pseudoparticle entry was observed. Antiviral activity of Dehydrojuncusol was also demonstrated in primary human hepatocytes. No in vitro toxicity was observed at active concentrations. Dehydrojuncusol is also efficient on HCV genotype 3a and can be used in combination with sofosbuvir. Interestingly, Dehydrojuncusol was able to inhibit RNA replication of two frequent daclatasvir-resistant mutants (L31M or Y93H in NS5A). Finally, mutants resistant to Dehydrojuncusol were obtained and showed that the HCV NS5A protein is the target of the molecule.
CONCLUSIONS:
In conclusion, Dehydrojuncusol, a natural compound extracted from J. maritimus, inhibits infection of different HCV genotypes by targeting the NS5A protein and is active against resistant HCV variants frequently found in patients with treatment failure.IMPORTANCE Tens of millions of people are infected with hepatitis C virus (HCV) worldwide. Recently marketed direct-acting antivirals (DAAs) targeting HCV proteins have enhanced the efficacy of treatment. However, due to its high cost, this new therapy is not accessible