Gardenin D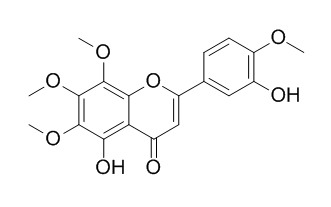 Gardenin D has antioxidant, and antiproliferative activities.
Inquire / Order: manager@chemfaces.com
Technical Inquiries: service@chemfaces.com
Tel: +86-27-84237783
Fax: +86-27-84254680

Address:
1 Building, No. 83, CheCheng Rd., Wuhan Economic and Technological Development Zone, Wuhan, Hubei 430056, PRC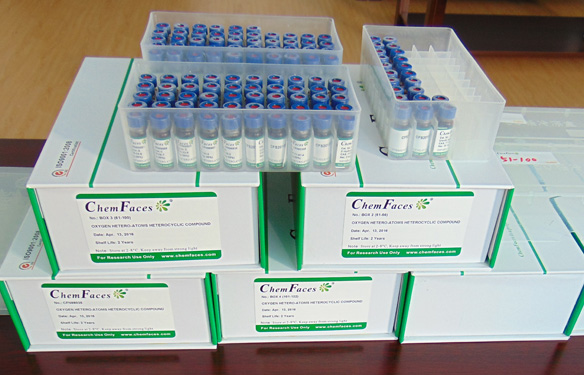 Providing storage is as stated on the product vial and the vial is kept tightly sealed, the product can be stored for up to
24 months(2-8C)
.
Wherever possible, you should prepare and use solutions on the same day. However, if you need to make up stock solutions in advance, we recommend that you store the solution as aliquots in tightly sealed vials at -20C. Generally, these will be useable for up to two weeks. Before use, and prior to opening the vial we recommend that you allow your product to equilibrate to room temperature for at least 1 hour.
Need more advice on solubility, usage and handling? Please email to: service@chemfaces.com
The packaging of the product may have turned upside down during transportation, resulting in the natural compounds adhering to the neck or cap of the vial. take the vial out of its packaging and gently shake to let the compounds fall to the bottom of the vial. for liquid products, centrifuge at 200-500 RPM to gather the liquid at the bottom of the vial. try to avoid loss or contamination during handling.
Curr Issues Mol Biol.2022, 44(10):5106-5116.
Bull. Pharm. Sci., Assiut University2020, 43(2):149-155.
Journal of Oil Palm Research2019, 31(2):238-247
J. Soc. Cosmet. Sci. Korea2021, 47(1):57-63
Molecules.2020, 25(7):1625.
Evid Based Complement Alternat Med.2022, 2022:1307173.
J Agric Food Chem.2019, 67(27):7748-7754
Revista Brasileira de Farmacognosia2021, 31:794-804.
Mol Immunol. 2016, 78:121-132
Korean J. Medicinal Crop Sci2021, 10:345-352.
Biomed Pharmacother. 2017 Jan;85:444-456.
Characterization of bioactive constituents from the gum resin of Gardenia lucida and its pharmacological potential.[Pubmed:
27899258
]

METHODS AND RESULTS:
In the present study we mined the information on Gardenia lucida (Dikamali) and identified seven polymethoxyflavones from its gum resin. We also investigated its antiproliferative and antioxidant potential. Xanthomicrol (8) found as potent DPPH scavenger (85.86±1.3%) along with strong ferric plummeting ability (53.60±2.0 FSE) and reducing potential (1.07±0.01) as compared to ascorbic acid. Gardenin B (5) strongly inhibit biochemical production of nitric oxide (IC50 10.59±0.4μg/mL) followed by 5-Desmethylnobiletin (7) and Gardenin E (10, IC5011.01±0.7-34.53±2.7μg/mL). Methanol extract, chloroform fraction and Acerosin (11), Gardenin D (9) and Gardenin B (5) exhibited superior antiproliferative activity against lung, breast, colon, hepatic and leukaemia cell lines as well as in keratinocytes (IC50 12.82±0.67-94.63±1.27μg/mL) whereas other fractions and isolated compounds moderately affect the cell proliferation (21.40±0.12-48.12±0.47%) with least and non-specific interaction against succinate dehydrogenase. Except compound 2, 3, 6, 8 and 11, others were found as a significant inhibitor of ODC (IC50 2.36±0.7-8.53±0.32μg/mL) with respect to DFMO (IC50 10.85±0.28μg/mL). In silico analysis also revealed enervated binding energy (-4.30 to -5.02kcal/mol) and inhibition constant (704.18-210.26μM) wherein 5, 7, 8, 9 and 10 showed specific interaction with the receptor while rest were non-specific. Except butanol fraction and Gardenin E, others were potently inhibited the cathepsin D activity with non-specific interaction and better binding energy (-5.78 to -7.24kcal/mol) and inhibition constant (57.87-4.90μM).
CONCLUSIONS:
In conclusion, it can be interpreted that isolated polymethoxyflavones (Gardenin B, 5-Desmethylnobiletin, Gardenin E) could be taken up as a lead for target specific studies. Methanol extract and chloroform fraction prevails in all the tested activity therefore cumulative and composite intervention of polymethoxyflavones present in it reveals its pharmacological attributes and traditional value.
Experientia. 1991 Feb 15;47(2):195-9.
Inhibitory effects of phenolic compounds on CCl4-induced microsomal lipid peroxidation.[Pubmed:
2001725
]

METHODS AND RESULTS:
The antiperoxidative effects of 35 phenolic compounds, most of them belonging to the flavonoid class, were investigated using CCl4-induced peroxidation of rat liver microsomes. This system was rather insensitive to gallic acid, methyl gallate and ellagic acid. Nevertheless it was inhibited by flavonoids and structure/activity relationships were established. The most potent compounds were Gardenin D, luteolin, apigenin (flavones), datiscetin, morin, galangin (flavonols), eriodictyol (flavanone), amentoflavone (biflavone) and the reference compound, (+)-catechin. The natural polymethoxyflavone Gardenin D has shown a potency comparable to that of (+)-catechin and higher than that of silybin.
CONCLUSIONS:
Thus, it may be considered as a new type of natural antioxidant with potential therapeutical applications.
Biochem Pharmacol. 1990 Aug 15;40(4):793-7.
Structure-activity relationships of polymethoxyflavones and other flavonoids as inhibitors of non-enzymic lipid peroxidation.[Pubmed:
2386548
]

METHODS AND RESULTS:
Polymethoxylated flavones and C-glycosyl derivatives isolated from medicinal plants besides other flavonoid compounds were studied for their influence on lipid peroxidation induced by FeSO4+ cysteine in rat liver microsomes. A number of hydroxyflavones (e.g. luteolin); C-glycosyl-flavones (e.g. orientin); methoxyflavones (e.g. Gardenin D) and flavonols (e.g. datiscetin), as well as the flavanol leucocyanidol and the biflavone amentoflavone behaved as inhibitors of non-enzymic lipid peroxidation.
CONCLUSIONS:
Structure-activity relationships were established and it was observed that the structural features for active polyhydroxylated compounds were different from those of polymethoxylated flavones, antiperoxidative flavonoids possessing a high lipophilicity.