Gomisin G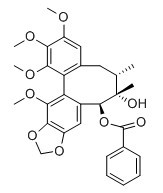 Gomisin G is a drug candidate for treatment of cardiovascular disease, and it is a good substrate of CYP2C9, and can be easily affected by the inhibitors of CYP2C9. Gomisin G exhibits anti-tumor activities, it exhibits potent anti-HIV activity with EC50 and therapeutic index (TI) values of 0.006 microgram/mL and 300, respectively.
Inquire / Order: manager@chemfaces.com
Technical Inquiries: service@chemfaces.com
Tel: +86-27-84237783
Fax: +86-27-84254680

Address:
1 Building, No. 83, CheCheng Rd., Wuhan Economic and Technological Development Zone, Wuhan, Hubei 430056, PRC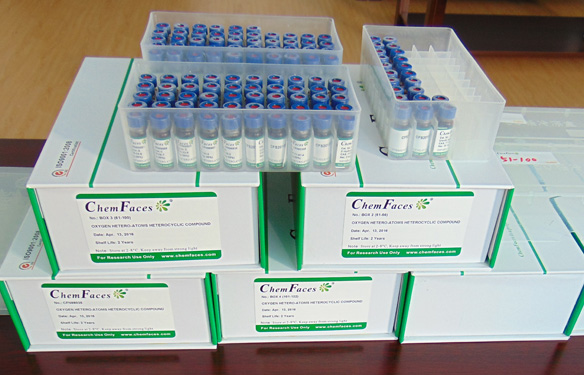 Providing storage is as stated on the product vial and the vial is kept tightly sealed, the product can be stored for up to
24 months(2-8C)
.
Wherever possible, you should prepare and use solutions on the same day. However, if you need to make up stock solutions in advance, we recommend that you store the solution as aliquots in tightly sealed vials at -20C. Generally, these will be useable for up to two weeks. Before use, and prior to opening the vial we recommend that you allow your product to equilibrate to room temperature for at least 1 hour.
Need more advice on solubility, usage and handling? Please email to: service@chemfaces.com
The packaging of the product may have turned upside down during transportation, resulting in the natural compounds adhering to the neck or cap of the vial. take the vial out of its packaging and gently shake to let the compounds fall to the bottom of the vial. for liquid products, centrifuge at 200-500 RPM to gather the liquid at the bottom of the vial. try to avoid loss or contamination during handling.
Chem Biol Interact.2016, 258:59-68
Food Science and Biotechnology2015, 2205-2212
The Catharanthus Genome2022,35-83.
Sci Rep.2019, 9:12132
Pharmacognosy Journal.2020, 12(2), p232-235.
Eur J Pharmacol.2018, 832:96-103
Dicle Tip Dergisi2020, 47(2),423-430.
Cancers (Basel).2021, 13(9):2223.
BMC Complement Altern Med.2019, 19(1):339
Comput Biol Chem.2019, 83:107096
Bioorg Med Chem. 1997 Aug;5(8):1715-23.
Anti-AIDS agents--XXVI. Structure-activity correlations of gomisin-G-related anti-HIV lignans from Kadsura interior and of related synthetic analogues.[Pubmed:
9313872
]
Bioactivity-directed fractionation of an ethanolic extract of the stems of Kadsura interior led to the isolation and identification of 12 known lignans (1-12).
METHODS AND RESULTS:
Seven of these compounds (1, 6, 8-12) were active as anti-HIV agents. Gomisin G (11) exhibited the most potent anti-HIV activity with EC50 and therapeutic index (TI) values of 0.006 microgram/mL and 300, respectively. Schisantherin-D (6), kadsuranin (8), and schisandrin-C (10) showed good activity with EC50 values of 0.5, 0.8, and 1.2 micrograms/mL, and TI values of 110, 56, and 33.3, respectively. Ten related synthetic biphenyl compounds, five variously substituted bismethylenedioxy, dimethoxy, and dimethoxycarbonyl isomers (18-22) and five brominated derivatives (23-27) also were evaluated for inhibitory activity against HIV-1 replication in acutely infected H9 cells. The total syntheses of two new isomers (21 and 22) are reported for the first time.
CONCLUSIONS:
The anti-HIV data indicated that the relative position and types of substituents on the phenolic hydroxy groups of either the natural lignans or the synthetic biphenyl compounds rather than the numbers of bromine(s) on the aromatic rings are of primary importance. In the cyclooctane ring of the natural lignans, the position and substitution of hydroxy groups are also important to enhanced anti-HIV activity.
Lat. Am. J. Pharm., 2016,35 (1): 192-4.
In silico application in the prediction of herb-drug interaction for cerebrovascular diseases herbs[Reference:
WebLink
]
Herb-drug interaction remains to be a key factor limiting the clinical application of drugs and herbs.
METHODS AND RESULTS:
In the present study, in silico method was used to predict herb-drug interaction for cerebrovascular diseases herbal ingredient picroside-III. The crystal structure of cytochrome P450 (CYP) 3A4 was determined with ketoconazole, available in the protein data bank with the entry code 2V0M. The structures of picroside-III was drawn using ChemDraw Ultra 8.0 and the minimization of energy was performed with Chem3D Ultra 8.0. All the docking process was performed using autodock software. Before docking of Gomisin G into the active cavity of CYP3A4, the ligand ketoconazole was firstly extracted from the binding site, and then picroside-III was docked into the binding cavity of CYP3A4. Picroside-III exerted strong interaction with amino acids residues Phe213 and Glu374. Relatively far distance exists between picroside-III and iron in the catalytic center of CYP3A4. When picroside-III was co-administered with the inhibitor ligand ketoconazole into the activity cavity of CYP3A4, we found no significant overlapping area for the binding of picroside-III and ketoconazole towards the activity center of CYP3A4.
CONCLUSIONS:
All the results indicated the little possibility for the drug-drug interaction between picroside-III and substrates and inhibitors of CYP3A4.
Afr Health Sci. 2015 Jun;15(2):590-3.
Drug-drug interation prediction between ketoconazole and anti-liver cancer drug Gomisin G.[Pubmed:
26124807
]
Gomisin G, isolated from herb Schisandra chinensis, exhibits anti-tumor activities. Therefore, Gomisin G is a drug candidate for anti-liver cancer therapy. To predict the metabolic behavior and metabolism-based drug-drug interaction of Gomisin G.
METHODS AND RESULTS:
Molecular docking method was used. The crystal structure of CYP3A4 with the ligand ketoconazole was chosen from protein data bank (http://www.rcsb.org/pdb). Chemdraw software was used to draw the two-dimensional structure of Gomisin G with standard bond lengths and angles. Gomisin G can be well docked into the activity site of CYP3A4, and distance between Gomisin G the heme active site was 2.75 Å. To evaluate whether the inhibitors of CYP3A4 can affect the metabolism of Gomisin G, co-docking of Gomisin G and ketoconazole was further performed. The distance between ketoconazole and activity center (2.10 Å) is closer than the distance between Gomisin G and activity center of CYP3A4, indicating the easy influence of CYP3A4's strong inhibitor towards the metabolism of Gomisin G.
CONCLUSIONS:
Gomisin G is a good substrate of CYP3A4, and CYP3A4 inhibitors easily affect the metabolism of Gomisin G.
Fitoterapia. 2017 Jun;119:26-31.
Inhibition of human CYP3A4 and CYP3A5 enzymes by gomisin C and gomisin G, two lignan analogs derived from Schisandra chinensis.[Pubmed:
28344076
]
Gomisin C (GC) and Gomisin G (GG) are two lignan analogs isolated from the Traditional Chinese Medicine Schisandra chinensis which possesses multiple pharmacological activities. However, the potential herb-drug interactions (HDI) between these lignans and other drugs through inhibiting human cytochrome P450 3A4 (CYP3A4) and CYP3A5 remains unclear.
METHODS AND RESULTS:
In the present study, the inhibitory action of GC and GG on CYP3A4 and CYP3A5 were investigated. The results demonstrated that both GC and GG strongly inhibited CYP3A-mediated midazolam 1'-hydroxylation, nifedipine oxidation and testosterone 6β-hydroxylation. Notably, the inhibitory intensity of GC towards CYP3A4 was stronger than CYP3A5 when using midazolam and nifedipine as substrates. While inhibition of GC towards CYP3A5 was weaker than CYP3A4 when using testosterone as substrate. In contrast, GG showed a stronger inhibitory activity on CYP3A5 than CYP3A4 without substrate-dependent behavior. In addition, docking simulations indicated that the π-π interaction between CYP3A4 and GC, and hydrogen-bond interaction between CYP3A5 and GG might result in their different inhibitory actions. Furthermore, the AUC of drugs metabolized by CYP3A was estimated to increase by 8%-321% and 2%-3190% in the presence of GC and GG, respectively.
CONCLUSIONS:
These findings strongly suggested that GC and GG showed high HDI potentials, and the position of methylenedioxy group determined their different inhibitory effect towards CYP3A4 and CYP3A5, which are of significance for the application of Schisandra chinensis-containing herbs.