Oroxin A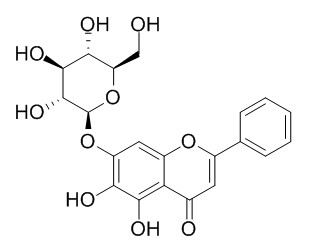 Oroxin A is a xanthine oxidase (XO) inhibitor, it exerts its antibreast cancer effects by inducing ER stress-mediated senescence, activating the key stress signaling pathway, and increasing key ER stress genes and expression levels.
Inquire / Order: manager@chemfaces.com
Technical Inquiries: service@chemfaces.com
Tel: +86-27-84237783
Fax: +86-27-84254680

Address:
1 Building, No. 83, CheCheng Rd., Wuhan Economic and Technological Development Zone, Wuhan, Hubei 430056, PRC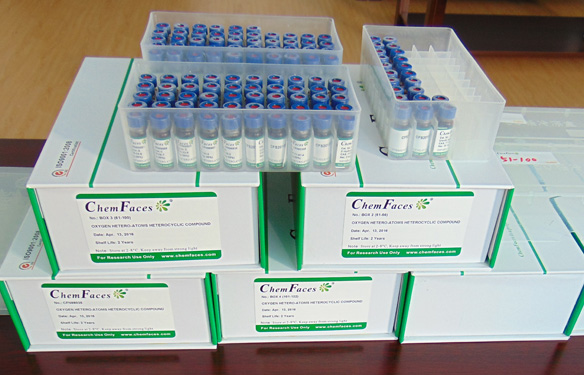 Providing storage is as stated on the product vial and the vial is kept tightly sealed, the product can be stored for up to
24 months(2-8C)
.
Wherever possible, you should prepare and use solutions on the same day. However, if you need to make up stock solutions in advance, we recommend that you store the solution as aliquots in tightly sealed vials at -20C. Generally, these will be useable for up to two weeks. Before use, and prior to opening the vial we recommend that you allow your product to equilibrate to room temperature for at least 1 hour.
Need more advice on solubility, usage and handling? Please email to: service@chemfaces.com
The packaging of the product may have turned upside down during transportation, resulting in the natural compounds adhering to the neck or cap of the vial. take the vial out of its packaging and gently shake to let the compounds fall to the bottom of the vial. for liquid products, centrifuge at 200-500 RPM to gather the liquid at the bottom of the vial. try to avoid loss or contamination during handling.
Sci Rep. 2018, 1-9
J Mass Spectrom.2022, 57(2):e4810.
Processes2020, 8(12),1540.
Tumour Biol.2015, 36(9):7027-34
Pharmaceuticals (Basel).2022, 15(8):982.
Nutrients.2023, 15(6):1335.
Pharmaceuticals (Basel).2021, 14(6):588.
Nutrients.2021, 13(3):978.
J Sci Food Agric.2022, 102(4):1628-1639
J Ethnopharmacol.2023, 317:116789.
Anticancer Drugs. 2016 Mar;27(3):204-15.
Oroxin A inhibits breast cancer cell growth by inducing robust endoplasmic reticulum stress and senescence.[Pubmed:
26599214
]
Breast cancer is a major cause of cancer death among women. Although various anticancer drugs have been used in clinics, drugs that are effective against advanced and metastatic breast cancer are still lacking and in great demand.
METHODS AND RESULTS:
In this study, we found that Oroxin A, an active component isolated from the herb Oroxylum indicum (L.) Kurz, effectively inhibited the growth of human breast cancer cells MDA-MB-231 and MCF7 by inducing endoplasmic reticulum (ER) stress-mediated senescence. Oroxin A caused breast cancer cell cycle arrest at the G2/M stage, and reorganization of microtubules and actin cytoskeleton accompanied by a decrease in cellular mitosis. ER-specific probe ER-Tracker Red and confocal microscope imaging showed that ER-Tracker Red-positive cells increased in an Oroxin A dosage-dependent manner. In addition, Oroxin A increased cell population with high β-Gal activity and SAHF-positive staining; these data suggest that Oroxin A induces breast cancer cell ER stress and senescence. Mechanistic studies showed that Oroxin A led to a significant increase in intracellular reactive oxygen species levels, promoted expression of ER stress markers ATF4 and GRP78, and increased the phosphorylation of a key stress-response signaling protein p38, resulting in an ER stress-mediated senescence.
CONCLUSIONS:
Taken together, our data indicate that Oroxin A exerts its antibreast cancer effects by inducing ER stress-mediated senescence, activating the key stress p38 signaling pathway, and increasing key ER stress genes ATF4 and GRP78 expression levels.
Yao Xue Xue Bao. 2006 Apr;41(4):380-4.
[Qualitative and quantitative determination of the main components of huanglianjiedu decoction by HPLC-UV/MS].[Pubmed:
16856488
]
To establish a comprehensive HPLC analytical method of Huanglianjiedu decoction.
METHODS AND RESULTS:
This study was performed by HPLC-UV/MS to identify the chemical constituents of the whole and individual herbs of the "Huanglianjiedu decoction". Zorbax Extend C18 (150 mm x 4. 6 mm ID, 5 microm) column was used; the mobile phase was composed of acetonitrile (A) and water (B, with 0.5% acetic acid) with gradient elution; the flow rate was 1.0 mL x min(-1) and the column temperature was setup at 25 degrees C. The detection wavelength was 254 nm. The chromatogram of Huanglianjiedu decoction showed 21 main peaks. Peaks 1, 2, 5 and 18 were from Gardenia jasminoides Ellis, Peaks 8, 13, 14, 15, 16, 17, 19 and 21 from Scutellaria baicalensis Georgi. While 10 from Coptis chinensis Franch and 20 from Phellodendron amurense Rupr., Peaks 3, 4, 6, 9, 11 and 12 came from them together. Peak 7 presented in the chromatograms of the herbs except Gardenia jasminoides Ellis. By comparison of the retention time, the on-line UV spectra and MS spectra, 11 peaks were identified as 5 (geniposide), 9 (jatrorrhizine), 10 (coptisine), 11 (palmatine), 12 (berberine), 13 (baicalin), 15 (Oroxin A), 17 (wogonoside), 19 (baicalein), 20 (obaculactone), 21 (wogonin), then eight of them were quantified by HPLC-UV.
CONCLUSIONS:
The method could represent the characteristics of Huanglianjiedu decoction, and it could be used to evaluate the quality and quantity of Huanglianjiedu decoction. It distinguished between Coptis chinensis Franch and Phellodendron amurense Rupr. by HPLC for the first time.