Oroxin B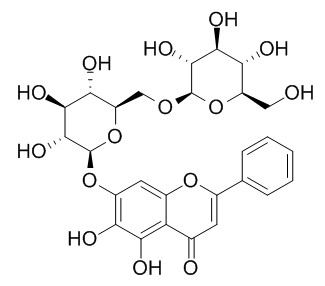 Oroxin B can selectively induce tumor-suppressive ER stress and concurrently inhibit tumor-adaptive ER stress in B-lymphoma cells for effective anti-lymphoma therapy.
Inquire / Order: manager@chemfaces.com
Technical Inquiries: service@chemfaces.com
Tel: +86-27-84237783
Fax: +86-27-84254680

Address:
1 Building, No. 83, CheCheng Rd., Wuhan Economic and Technological Development Zone, Wuhan, Hubei 430056, PRC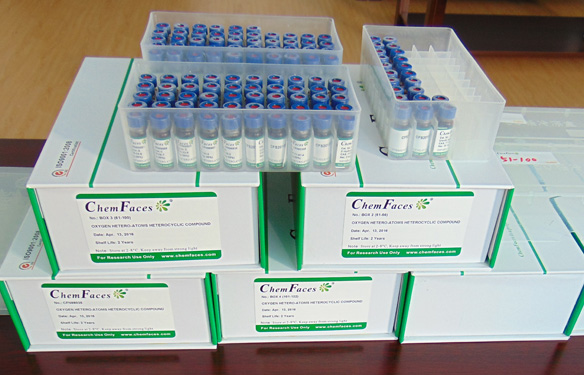 Providing storage is as stated on the product vial and the vial is kept tightly sealed, the product can be stored for up to
24 months(2-8C)
.
Wherever possible, you should prepare and use solutions on the same day. However, if you need to make up stock solutions in advance, we recommend that you store the solution as aliquots in tightly sealed vials at -20C. Generally, these will be useable for up to two weeks. Before use, and prior to opening the vial we recommend that you allow your product to equilibrate to room temperature for at least 1 hour.
Need more advice on solubility, usage and handling? Please email to: service@chemfaces.com
The packaging of the product may have turned upside down during transportation, resulting in the natural compounds adhering to the neck or cap of the vial. take the vial out of its packaging and gently shake to let the compounds fall to the bottom of the vial. for liquid products, centrifuge at 200-500 RPM to gather the liquid at the bottom of the vial. try to avoid loss or contamination during handling.
Korean Journal of Pharmacognosy2018, 49(3):270-277
Korean J. Crop Sci.2018, 63(2):131-139
J Ethnopharmacol.2020, 249:112381
Cell Physiol Biochem.2017, 43(4):1425-1435
Kor. J. Pharmacogn.2016, 47(1):62-72
Front Microbiol.2019, 10:2806
Chemistry of Plant Materials.2016, 33-46
Industrial Crops and Products2019, 140:111612
Korean Journal of Pharmacognosy.2019, 50(1):65-71
J Sep Sci.2019, 42(21):3352-3362
PLoS One. 2013 Nov 27;8(11):e80197.
Molecular modeling reveals the novel inhibition mechanism and binding mode of three natural compounds to staphylococcal α-hemolysin.[Pubmed:
24312202
]

METHODS AND RESULTS:
In this study, we found that three natural compounds, Oroxylin A 7-O-glucuronide (OLG), Oroxin A (ORA), and Oroxin B (ORB), when inhibiting the hemolytic activity of α-HL, could bind to the "stem" region of α-HL. This was completed using conventional Molecular Dynamics (MD) simulations. By interacting with the novel binding sites of α-HL, the ligands could form strong interactions with both sides of the binding cavity.
CONCLUSIONS:
The results of the principal component analysis (PCA) indicated that because of the inhibitors that bind to the "stem" region of α-HL, the conformational transition of α-HL from the monomer to the oligomer was restricted. This caused the inhibition of the hemolytic activity of α-HL.
Toxicol Appl Pharmacol. 2015 Oct 15;288(2):269-79.
Oroxin B selectively induces tumor-suppressive ER stress and concurrently inhibits tumor-adaptive ER stress in B-lymphoma cells for effective anti-lymphoma therapy.[Pubmed:
26253462
]
Cancer cells have both tumor-adaptive and -suppressive endoplasmic reticulum (ER) stress machineries that determine cell fate. In malignant tumors including lymphoma, constant activation of tumor-adaptive ER stress and concurrent reduction of tumor-suppressive ER stress favors cancer cell proliferation and tumor growth. Current ER stress-based anti-tumor drugs typically activate both tumor-adaptive and -suppressive ER stresses, resulting in low anti-cancer efficacy; hence, selective induction of tumor-suppressive ER stress and inhibition of tumor-adaptive ER stress are new strategies for novel anti-cancer drug discovery. Thus far, specific tumor-suppressive ER stress therapeutics have remained absent in clinical settings.
METHODS AND RESULTS:
In this study, we explored unique tumor-suppressive ER stress agents from the traditional Chinese medicinal herb Oroxylum indicum, and found that a small molecule Oroxin B selectively induced tumor-suppressive ER stress in malignant lymphoma cells, but not in normal cells, effectively inhibited lymphoma growth in vivo, and significantly prolonged overall survival of lymphoma-xenografted mice without obvious toxicity. Mechanistic studies have revealed that the expression of key tumor-adaptive ER-stress gene GRP78 was notably suppressed by Oroxin B via down-regulation of up-stream key signaling protein ATF6, while tumor-suppressive ER stress master gene DDIT3 was strikingly activated through activating the MKK3-p38 signaling pathway, correcting the imbalance between tumor-suppressive DDIT3 and tumor-adaptive GRP78 in lymphoma.
CONCLUSIONS:
Together, selective induction of unique tumor-suppressive ER stress and concurrent inhibition of tumor-adaptive ER stress in malignant lymphoma are new and feasible approaches for novel anti-lymphoma drug discovery and anti-lymphoma therapy.
Anal Bioanal Chem. 2014 Mar;406(7):1975-84.
Discovery of xanthine oxidase inhibitors from a complex mixture using an online, restricted-access material coupled with column-switching liquid chromatography with a diode-array detection system.[Pubmed:
24510210
]
Subsequently, the newly developed system was applied to screening of a natural product, Oroxylum indicum extract, and four compounds which could specifically interact with XO were found and identified as Oroxin B, oroxin A, baicalin, and baicalein. The results were verified by a competitive binding test using the known competitive inhibitor allopurinol and were further validated by an inhibition assay in vitro. The online RAM-LC-DAD system developed was shown to be a simple and effective strategy for the rapid screening of bioactive compounds from a complex mixture.
Zhongguo Zhong Yao Za Zhi. 2013 Jan;38(2):204-7.
Chemical constitunents of seeds of Oroxylum indicum.[Pubmed:
23672042
]
Twenty compounds were isolated and identified as oroxin A (1), Oroxin B (2), chrysin (3), baicalein (4), quercetin (5), apigenin (6), kaempferol (7), quercetin-3-O-ara-binopyranoside (8), lupeol C9), lup-20 (29)-ene-2alpha,3beta-diol (10), pinosylvin (11), dihydropinosylvin (12), cholest-5-ene-3, 7-diol (13), rengyol (14), isorengyol (15), zarzissine (16), (E) -pinosylvin-3-O-beta-D-glucopyranoside (17), adenosine (18), sitosterol (19) and daucosterol (20). CONCLUSION: Compounds 11-13 and 15-18 were obtained from the genus Oroxylum for the first time, and except compound 18, the remaining 6 compounds were obtained from the family Bignoniaceae for the first time.