Chrysin 7-O-beta-gentiobioside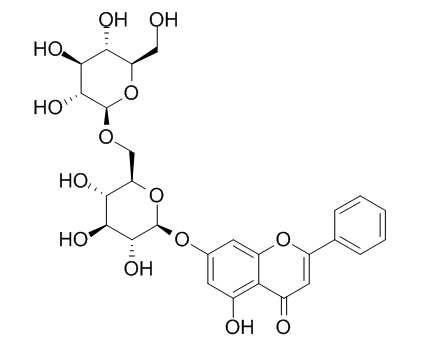 Chrysin 7-O-beta-gentiobioside is a natural product from Spartium junceum.
Inquire / Order: manager@chemfaces.com
Technical Inquiries: service@chemfaces.com
Tel: +86-27-84237783
Fax: +86-27-84254680

Address:
1 Building, No. 83, CheCheng Rd., Wuhan Economic and Technological Development Zone, Wuhan, Hubei 430056, PRC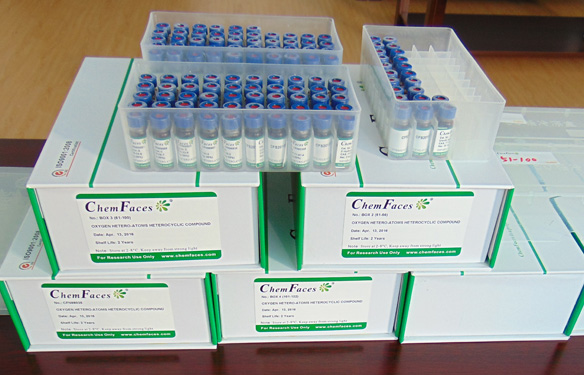 Providing storage is as stated on the product vial and the vial is kept tightly sealed, the product can be stored for up to
24 months(2-8C)
.
Wherever possible, you should prepare and use solutions on the same day. However, if you need to make up stock solutions in advance, we recommend that you store the solution as aliquots in tightly sealed vials at -20C. Generally, these will be useable for up to two weeks. Before use, and prior to opening the vial we recommend that you allow your product to equilibrate to room temperature for at least 1 hour.
Need more advice on solubility, usage and handling? Please email to: service@chemfaces.com
The packaging of the product may have turned upside down during transportation, resulting in the natural compounds adhering to the neck or cap of the vial. take the vial out of its packaging and gently shake to let the compounds fall to the bottom of the vial. for liquid products, centrifuge at 200-500 RPM to gather the liquid at the bottom of the vial. try to avoid loss or contamination during handling.
Foods.2022, 11(12):1773.
Korean Journal of Pharmacognosy.2020, 51(2):100-106
Sci Rep.2015, 5:13194
Horticulture Research2022, uhac276.
University of Central Lancashire2017, 20472
Microchemical Journal2022, 182: 107874.
Phytother Res.2016, 30(12):2020-2026
J of the Society of Cosmetic Scientists of Korea2018, 44(4):407-417
Research Square2021, March 3rd.
Sci Rep. 2018, 1-9
Current Pharmaceutical Analysis, 2012 , 8 (2) :206-13.
Quality Evaluation of Semen Oroxyli through Simultaneous Quantification of 13 Components by High Performance Liquid Chromatography[Reference:
WebLink
]

METHODS AND RESULTS:
An HPLC-UV method was developed for simultaneously quantifying 13 major components in Semen Oroxyli, a commonly used traditional Chinese medicinal herb, including scutellarin, quercetin-3-O-α-L-arabinopyranoside, oroxin B, chrysin-7-O-β-D-gentiobioside(Chrysin 7-O-beta-gentiobioside), baicalin, oroxin A, scutellarein, chrysin-7-O-β-D-glucuronide, quercetin, norwogonine, baicalein, chrysin and oroxylin A. The optimal conditions of separation and detection were achieved on an Agilent Zorbax SB-C18 column (250 mm × 4.6 mm, 5 μm) with a gradient elution of acetonitrile and 0.3% (v/v) acetic acid at a flow rate of 1.0 ml/min, with a detection wavelength of 277 nm. A complete separation was obtained within 50 min for the 13 target compounds. All calibration curves showed good linearity (r2 > 0.9997) within the testing range.
CONCLUSIONS:
The assay was reproducible with overall intra-and inter-day variation of less than 3%. The mean spiked recovery of all analytes was 100 ± 10%, with RSD less than 5%. The validated method was successfully applied to quantitatively analyse 13 flavonoids for quality evaluation of commercial Semen Oroxyli samples from different locations.