Neobavaisoflavone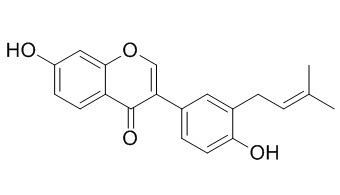 Neobavaisoflavone, exhibits inhibitory activity against DNA polymerase and platelet aggregation, it also has striking anti-inflammatory and anti-cancer effects, Neobavaisoflavone can significantly inhibit the production of reactive oxygen species (ROS), reactive nitrogen species (RNS) and cytokines: IL-1β, IL-6, IL-12p40, IL-12p70, TNF-α in LPS+IFN-γ- or PMA- stimulated RAW264.7 macrophages.
Inquire / Order: manager@chemfaces.com
Technical Inquiries: service@chemfaces.com
Tel: +86-27-84237783
Fax: +86-27-84254680

Address:
1 Building, No. 83, CheCheng Rd., Wuhan Economic and Technological Development Zone, Wuhan, Hubei 430056, PRC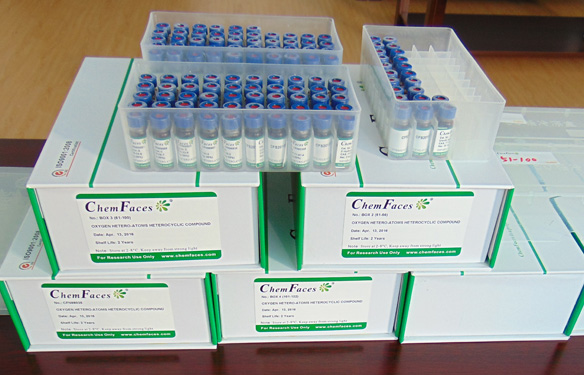 Providing storage is as stated on the product vial and the vial is kept tightly sealed, the product can be stored for up to
24 months(2-8C)
.
Wherever possible, you should prepare and use solutions on the same day. However, if you need to make up stock solutions in advance, we recommend that you store the solution as aliquots in tightly sealed vials at -20C. Generally, these will be useable for up to two weeks. Before use, and prior to opening the vial we recommend that you allow your product to equilibrate to room temperature for at least 1 hour.
Need more advice on solubility, usage and handling? Please email to: service@chemfaces.com
The packaging of the product may have turned upside down during transportation, resulting in the natural compounds adhering to the neck or cap of the vial. take the vial out of its packaging and gently shake to let the compounds fall to the bottom of the vial. for liquid products, centrifuge at 200-500 RPM to gather the liquid at the bottom of the vial. try to avoid loss or contamination during handling.
Korean Journal of Pharmacognosy2018, 49(4):349-361
Pharm Biol.2016, 54(7):1255-62
Plant J.2017, 90(3):535-546
Front Pharmacol.2017, 8:673
Phytochemistry Letters2017, 449-455
Acta horticulturae2017, 1158:257-268
Pak J Pharm Sci.2019, 32(6)
Phytother Res.2019, 33(7):1784-1793
Journal of Ginseng Research2019, 10.1016
Semyung University2017, 149407
Phytomedicine. 2014 Apr 15;21(5):682-8.
Activity of three cytotoxic isoflavonoids from Erythrina excelsa and Erythrina senegalensis (neobavaisoflavone, sigmoidin H and isoneorautenol) toward multi-factorial drug resistant cancer cells.[Pubmed:
24252341
]
Resistance of cancer cells to chemotherapy has become a worldwide concern. Naturally occuring isoflavonoids possess a variety of biological activities including anti-cancer effects. The present study was aimed at investigating the cytotoxicity and the modes of action of three naturally occuring isoflavonoids, Neobavaisoflavone (1), sigmoidin H (2) and a pterocarpan that is a special type of isoflavonoid, isoneorautenol (3) against a panel of nine cancer cell lines, including various sensitive and drug-resistant phenotypes.
METHODS AND RESULTS:
The cytotoxicity of the compounds was determined using a resazurin reduction assay, whereas the caspase-Glo assay was used to detect the activation of caspases 3/7, caspase 8 and caspase 9 in cells treated with compounds 3. Flow cytometry was used for cell cycle analysis and detection of apoptotic cells, analysis of mitochondrial membrane potential (MMP) as well as measurement of reactive oxygen species (ROS). Compounds 3 showed significant cytotoxicity toward sensitive and drug-resistant cancer cell lines. Compounds 1 and 2 were selectively active, and IC50 values below 115 μM were obtained on 6/9 and 4/9 cell lines respectively with values ranging from 42.93 μM (toward CCRF-CEM cells) to 114.64 μM [against HCT116 (p53(+/+)) cells] for 1 and 25.59 μM (toward U87MG) to 110.51 μM [against HCT116 (p53(+/+)) cells] for 2. IC50 values ranging from 2.67 μM (against MDA-MB 237BCRP cells) to 21.84 (toward U87MG) were measured for compound 3 and between 0.20 μM (toward CCRF-CEM cells) and 195.12 μM (toward CEM/ADR5000 cells) for doxorubicin as control drug. BCRP-transfected MDA-MB-231 cells, HCT116 (p53(+/+)) and U87MG.ΔEGFR cells were hypersensitive (collateral sensitive) to compound 3 as compared to their counterpart cell lines. Compound 3 induced apoptosis in CCRF-CEM cells via activation of caspases 3/7, 8 and 9 as well as the loss of MMP and increased ROS production.
CONCLUSIONS:
The cytotoxicity of the studied isoflavonoids and especially the pterocarpan 3 deserve more detailed exploration in the future to develop novel anticancer drugs against sensitive and otherwise drug-resistant phenotypes.
Life Sci. 2014 Jan 30;95(2):101-7.
Neobavaisoflavone sensitizes apoptosis via the inhibition of metastasis in TRAIL-resistant human glioma U373MG cells.[Pubmed:
24231449
]
Neobavaisoflavone (NBIF), an isoflavone isolated from Psoralea corylifolia (Leguminosae), has striking anti-inflammatory and anti-cancer effects. Neobavaisoflavone inhibits the proliferation of prostate cancer in vitro and in vivo.
METHODS AND RESULTS:
In this study, we found that Neobavaisoflavone sensitizes human U373MG glioma cells to TRAIL-mediated apoptosis. Co-treatment of TRAIL and Neobavaisoflavone effectively induced Bid cleavage and activated caspases 3, 8, and 9. Importantly, DR5 expression was upregulated by Neobavaisoflavone. We also observed that the combination Neobavaisoflavone and TRAIL increased expression of BAX. We further demonstrate that Neobavaisoflavone induced TRAIL-mediated apoptosis in human glioma cells by suppressing migration and invasion, and by inhibiting anoikis resistance.
CONCLUSIONS:
Taken together, our results suggest that Neobavaisoflavone reduces the resistance of cancer cells to TRAIL and that the combination of Neobavaisoflavone and TRAIL may be a new therapeutic strategy for treating TRAIL-resistant glioma cells.
Molecules. 2011 May 3;16(5):3701-12.
Inhibition of inflammatory mediators by neobavaisoflavone in activated RAW264.7 macrophages.[Pubmed:
21540797
]
Flavonoids and coumarins are the major bioactive constituents identified in Psoralea corylifolia. The active fraction isolated from fruits, seeds and roots possesses antibacterial, antioxidative and immunomodulatory properties. Neobavaisoflavone is one of the flavonoids found in Psoralea corylifolia. In the present study we investigated in vitro the anti-inflammatory activity of Neobavaisoflavone.
METHODS AND RESULTS:
Macrophages play an important role in inflammation through the release of inflammatory mediators involved in the immune response. Inappropriate and prolonged macrophage activation is largely responsible for the pathology of acute and chronic inflammatory conditions. Neobavaisoflavone significantly inhibited the production of reactive oxygen species (ROS), reactive nitrogen species (RNS) and cytokines: IL-1β, IL-6, IL-12p40, IL-12p70, TNF-α in LPS+IFN-γ- or PMA- stimulated RAW264.7 macrophages.
Phytomedicine. 2012 Apr 15;19(6):551-61.
Neobavaisoflavone stimulates osteogenesis via p38-mediated up-regulation of transcription factors and osteoid genes expression in MC3T3-E1 cells.[Pubmed:
22397994
]
Neobavaisoflavone (NBIF) is an isoflavone isolated from Psoralea corylifolia L, a plant claimed to have osteogenic activity and used to treat bone fractures, osteomalacia and osteoporosis.
METHODS AND RESULTS:
The present results showed that Neobavaisoflavone concentration-dependently promoted osteogenesis in MC3T3-E1cells, demonstrated by notable enhancement of alkaline phosphatase (ALP) activity, increase of bone-specific matrix proteins expression including type I collagen (Col-I), osteocalcin (OCN) and bone sialoprotein (BSP), and formation of bone nodules. However, cell proliferation in the presence of Neobavaisoflavone was not affected. Results also demonstrated that Neobavaisoflavone up-regulated the expression of runt-related transcription factor 2 (Runx2) and Osterix (Osx), the bone-specific transcription factors participating in regulation of bone marker genes expression. Application of p38 inhibitor SB203580 repressed not only Neobavaisoflavone-induced activation of ALP, the expression of Col-I, OCN and BSP, but also the matrix proteins mineralization. Western blot analysis further revealed that Neobavaisoflavone increased the phosphorylated level of p38 concentration-dependently. Additionally, inhibition of p38 abolished the stimulatory effect of Neobavaisoflavone on the expression of Runx2 and Osx. Taken together, the osteogenic activity of Neobavaisoflavone might probably act through activation of p38-dependent signaling pathway to up-regulate the mRNA levels of Runx2 and Osx then stimulate bone matrix proteins expression.
CONCLUSIONS:
The beneficial effect of Neobavaisoflavone on mineralization demonstrated that Neobavaisoflavone represented as an active component existed in P. corylifolia and might be a potential anabolic agent to treat bone loss-associated diseases.
Pharmacol Rep. 2011;63(1):139-48.
Enhanced TRAIL-mediated apoptosis in prostate cancer cells by the bioactive compounds neobavaisoflavone and psoralidin isolated from Psoralea corylifolia.[Pubmed:
21441621
]
Numerous compounds detected in medical plants and dietary components or supplements possess chemopreventive, antitumor and immunomodulatory properties. Tumor necrosis factor-related apoptosis-inducing ligand (TRAIL) is an important endogenous anticancer factor that induces apoptosis selectively in cancer cells. However, some tumor cells are resistant to TRAIL-mediated apoptosis. Naturally occurring agents could sensitize TRAIL-resistant cancer cells and augment their apoptotic activity.
METHODS AND RESULTS:
We examined the cytotoxic and apoptotic effects of Neobavaisoflavone and psoralidin in combination with TRAIL on LNCaP prostate cancer cells. The cytotoxicity was evaluated by MTT and LDH assays. The apoptosis was detected using Annexin V-FITC by flow cytometry and fluorescence microscopy. The LNCaP cells were shown to be resistant to TRAIL-induced apoptosis. Our study demonstrated that Neobavaisoflavone and psoralidin sensitized TRAIL-resistant cells and markedly augmented TRAIL-mediated apoptosis and cytotoxicity in prostate cancer cells. Cotreatment of LNCaP cells with 100 ng/ml TRAIL and 50 μM Neobavaisoflavone or 50 μM psoralidin increased the percentage of the apoptotic cells to 77.5±0.5% or 64.4±0.5%, respectively.
CONCLUSIONS:
The data indicate the potential role of the bioactive compounds isolated from the medicinal plant Psoralea corylifolia (Neobavaisoflavone and psoralidin) in prostate cancer chemoprevention through enhancement of TRAIL-mediated apoptosis.