Lobetyol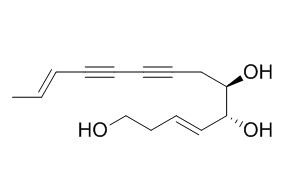 Lobetyol shows significant antioxidant activity, it exhibits DPPH radical scavenging activity.
Inquire / Order: manager@chemfaces.com
Technical Inquiries: service@chemfaces.com
Tel: +86-27-84237783
Fax: +86-27-84254680

Address:
1 Building, No. 83, CheCheng Rd., Wuhan Economic and Technological Development Zone, Wuhan, Hubei 430056, PRC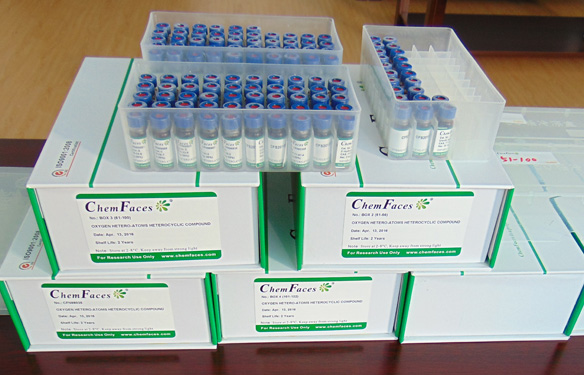 Providing storage is as stated on the product vial and the vial is kept tightly sealed, the product can be stored for up to
24 months(2-8C)
.
Wherever possible, you should prepare and use solutions on the same day. However, if you need to make up stock solutions in advance, we recommend that you store the solution as aliquots in tightly sealed vials at -20C. Generally, these will be useable for up to two weeks. Before use, and prior to opening the vial we recommend that you allow your product to equilibrate to room temperature for at least 1 hour.
Need more advice on solubility, usage and handling? Please email to: service@chemfaces.com
The packaging of the product may have turned upside down during transportation, resulting in the natural compounds adhering to the neck or cap of the vial. take the vial out of its packaging and gently shake to let the compounds fall to the bottom of the vial. for liquid products, centrifuge at 200-500 RPM to gather the liquid at the bottom of the vial. try to avoid loss or contamination during handling.
J Exp Bot.2016, 67(12):3777-88
Cell Physiol Biochem.2019, 52(6):1255-1266
Phytomedicine.2015, 22(11):1027-36
Anticancer Res.2020, 40(10):5529-5538.
BMC Complement Altern Med.2014, 14:242
J Nat Prod.2018, 81(4):966-975
Nat Prod Sci.2014, 20(3):182-190
Evid Based Complement Alternat Med.2018, 2018:3610494
Proc Natl Acad Sci USA.2016, 113(30):E4407-1
Phytomedicine.2018, 38:45-56
Nat Prod Res. 2008 Apr 15;22(6):477-82.
Chemical composition and antioxidant activity of Campanula alliariifolia.[Pubmed:
18415853
]
In this study, the chemical constituents of Campanula alliariifolia Willd. (Campanulaceae) are being investigated for the first time with the aid of this article.
METHODS AND RESULTS:
Five known compounds, which were quercetin-3-O-glucoside, quercetin-3-O-rutinoside, kaempferol-3-O-glucoside, Lobetyolin (9-O-beta-D-glucopyranosyl-2,10-tetradecadien-4,6-diyne-8,14-diol) and Lobetyol (2,10-tetradecadien-4,6-diyne-8,9,14-triol), were isolated from the methanol extract. The antioxidant activity of the methanol extract and the purified compounds of the plant was investigated with DPPH (1,1-diphenyl-picrilyhydrazyl) (free radical scavenging activity) and reducing power methods.
CONCLUSIONS:
The methanol extract has antioxidant capacity according to the mentioned methods. Lobetyol and Lobetyolin showed significant antioxidant activity more than both methanol extract and other purified compounds.
Tuberc Respir Dis (Seoul). 2014 Nov;77(5):203-8.
Effects of Lobetyolin, Lobetyol and Methyl linoleate on Secretion, Production and Gene Expression of MUC5AC Mucin from Airway Epithelial Cells.[Pubmed:
25473407
]
In this study, we investigated whether Lobetyolin, Lobetyol, and methyl linoleate derived from Codonopsis pilosula affect MUC5AC mucin secretion, production, and gene expression from airway epithelial cells.
METHODS AND RESULTS:
Confluent NCI-H292 cells were pretreated with Lobetyolin, Lobetyol, or methyl linoleate for 30 minutes and then stimulated with phorbol 12-myristate 13-acetate (PMA) for 24 hours. The MUC5AC mucin gene expression, and mucin protein production and secretion were measured by reverse transcription polymerase chain reaction and enzyme-linked immunosorbent assay, respectively.Lobetyolin, Lobetyol, and methyl linoleate inhibited the gene expression of MUC5AC mucin induced by PMA; Lobetyolin did not affect PMA-induced MUC5AC mucin production. However, Lobetyol and methyl linoleate inhibited the production of MUC5AC mucin; Lobetyolin and Lobetyol did not significantly affect PMA-induced MUC5AC mucin secretion from NCI-H292 cells. However, methyl linoleate decreased the MUC5AC mucin secretion.
CONCLUSIONS:
These results suggest that among the three compounds, methyl linoleate can regulate gene expression, production, and secretion of MUC5AC mucin by directly acting on the airway epithelial cells.