Hamaudol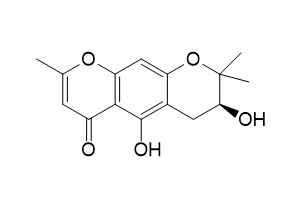 Hamaudol has analgesic and anti-inflammary activities, it showed inhibitory activity on COX-1 and COX-2 activities with values of 0.30, 0.57 mM, respectively.
Inquire / Order: manager@chemfaces.com
Technical Inquiries: service@chemfaces.com
Tel: +86-27-84237783
Fax: +86-27-84254680

Address:
1 Building, No. 83, CheCheng Rd., Wuhan Economic and Technological Development Zone, Wuhan, Hubei 430056, PRC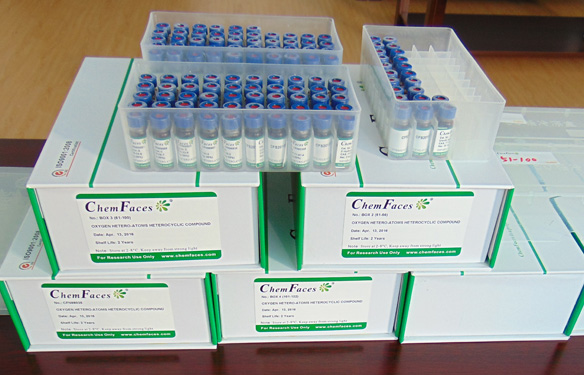 Providing storage is as stated on the product vial and the vial is kept tightly sealed, the product can be stored for up to
24 months(2-8C)
.
Wherever possible, you should prepare and use solutions on the same day. However, if you need to make up stock solutions in advance, we recommend that you store the solution as aliquots in tightly sealed vials at -20C. Generally, these will be useable for up to two weeks. Before use, and prior to opening the vial we recommend that you allow your product to equilibrate to room temperature for at least 1 hour.
Need more advice on solubility, usage and handling? Please email to: service@chemfaces.com
The packaging of the product may have turned upside down during transportation, resulting in the natural compounds adhering to the neck or cap of the vial. take the vial out of its packaging and gently shake to let the compounds fall to the bottom of the vial. for liquid products, centrifuge at 200-500 RPM to gather the liquid at the bottom of the vial. try to avoid loss or contamination during handling.
Saudi Pharm J.2019, 27(1):145-153
Int J Mol Sci.2015, 16(8):18396-411
Front Pharmacol.2022, 13:906763.
Anal Chim Acta.2018, 1039:162-171
J Pharm Biomed Anal.2021, 196:113931.
J. Soc. Cosmet. Sci. Korea2021, 47(1):57-63
Vietnam Journal of Food Control2022, 5(3):pp.390-401.
J Ethnopharmacol.2017, 198:91-97
Journal of Life Science2017, 233-240
Journal of Third Military Medical University2019, 41(2):110-115
Chem Pharm Bull (Tokyo). 1999 Jan;47(1):96-100.
Antiproliferative constituents from umbelliferae plants. V. A new furanocoumarin and falcarindiol furanocoumarin ethers from the root of Angelica japonica.[Pubmed:
9987830
]

METHODS AND RESULTS:
The CHCl3 extract of the root of Angelica japonica showed high inhibitory activity against human gastric adenocarcinoma (MK-1) cell growth. From this extract, a new furanocoumarin named japoangelone and four furanocoumarin ethers of falcarindiol, named japoangelols A-D, were isolated together with caffeic acid methyl ester, four polyacetylenic compounds (panaxynol, falcarindiol, 8-O-acetylfalcarindiol, and (9Z)-1,9-heptadecadiene-4,6-diyne-3,8,11-triol), eight coumarins (osthol, isoimperatorin, scopoletin, byakangelicin, xanthotoxin, bergapten, oxypeucedanin methanolate, and oxypeucedanin hydrate), and two chromones (3'-O-acetylHamaudol, and Hamaudol).
CONCLUSIONS:
The structures of the new isolates were determined based on spectral evidence. The ED50 of isolates against MK-1, HeLa, and B16F10 cell lines are reported.
Korean Journal of Medicinal Crop Science, 2005, 13(2).
The Constituents Isolated from Peucedanum japonicum Thunb. and their Cyclooxygenase (COX) Inhibitory Activity[Reference:
WebLink
]

METHODS AND RESULTS:
Five coumarins, psoralen (1), scopoletin (2), isoimperatorin (4), (+)-marmesin (5) and xanthotoxin (6), three chromones, cimifugin (3), Hamaudol (7) and sec-O-glucosylHamaudol (10), one sterol, daucosterol (8) and one aliphatic alcohol, galactitol (9) were isolated from the root of Peucedanum japonicum. Their chemical structures were identified by the physicochemical and spectroscopic data by comparing literature values. Among them, compounds 9 and 10 were isolated for the first time from this plant.
CONCLUSIONS:
The anti-inflammatory effects of isolated compounds were examined on cyclooxygenase (COX), compounds 1, 2 and 7 showed inhibitory activity on COX-1 with values of 0.88, 0.27 and 0.30 mM, respectively. In the test for COX-2 activity, only compound 7 showed significant inhibitory activity with the value of 0.57 mM. The other compounds exhibited weak inhibitory or no inhibitory activity.
Chem Pharm Bull (Tokyo). 2001 Feb;49(2):154-60.
Analgesic components of saposhnikovia root (Saposhnikovia divaricata).[Pubmed:
11217101
]

METHODS AND RESULTS:
By activity-oriented separation using the writhing method in mice, the analgesic components of Saposhnikovia root (Saposhnikovia divaricata Schischkin; Umbelliferae) were identified to be chromones, coumarins, polyacetylenes and 1-acylglycerols. Two new components, divaricatol and (3'S)-hydroxydeltoin, were also isolated.
CONCLUSIONS:
The most potent analgesia was observed in chromones such as divaricatol, ledebouriellol and Hamaudol, which inhibited writhing inhibition at an oral dose of 1 mg/kg in mice. Acylglycerols also showed inhibition significantly at a dose of 5 mg/kg. In some pharmacological tests using sec-O-glucosylHamaudol, the compound showed analgesia by the tail pressure and the Randall & Selitto methods, and its writhing inhibition was not reversed by naloxone.