Panaxydiol

Panaxydiol can inhibit rat liver cholesterol acyltransferase (ACAT) with IC50 values of 45 microM.
Inquire / Order: manager@chemfaces.com
Technical Inquiries: service@chemfaces.com
Tel: +86-27-84237783
Fax: +86-27-84254680

Address:
1 Building, No. 83, CheCheng Rd., Wuhan Economic and Technological Development Zone, Wuhan, Hubei 430056, PRC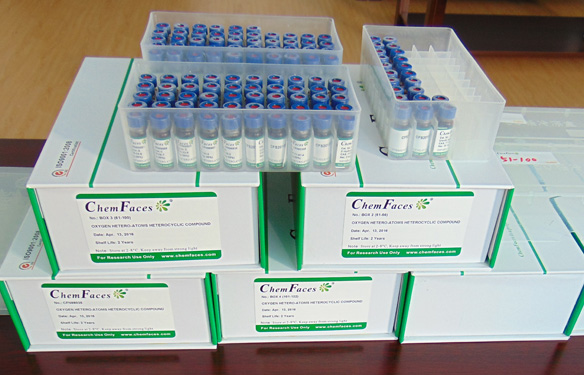 Providing storage is as stated on the product vial and the vial is kept tightly sealed, the product can be stored for up to
24 months(2-8C)
.
Wherever possible, you should prepare and use solutions on the same day. However, if you need to make up stock solutions in advance, we recommend that you store the solution as aliquots in tightly sealed vials at -20C. Generally, these will be useable for up to two weeks. Before use, and prior to opening the vial we recommend that you allow your product to equilibrate to room temperature for at least 1 hour.
Need more advice on solubility, usage and handling? Please email to: service@chemfaces.com
The packaging of the product may have turned upside down during transportation, resulting in the natural compounds adhering to the neck or cap of the vial. take the vial out of its packaging and gently shake to let the compounds fall to the bottom of the vial. for liquid products, centrifuge at 200-500 RPM to gather the liquid at the bottom of the vial. try to avoid loss or contamination during handling.
Appl. Sci.2020, 10(4),1304
J Nat Med.2018, 72(3):734-744
Molecules.2019, 24(4):E744
Food and Bioprocess Technology2017, 10(6):1074-1092
Acta horticulturae2017, 1158:257-268
J Cell Biochem.2018, 119(2):2231-2239
Neuropharmacology2019, 151437
Front Immunol.2018, 9:2655
Saudi Pharm J2020, 10.1016
Srinagarind Medical Journal2019, 34(1)
J Agric Food Chem. 2005 Apr 6;53(7):2518-23.
Polyacetylenes from the Apiaceae vegetables carrot, celery, fennel, parsley, and parsnip and their cytotoxic activities.[Pubmed:
15796588
]
A dichloromethane extract of root celery yielded falcarinol, falcarindiol, Panaxydiol, and the new polyacetylene 8-O-methylfalcarindiol.
METHODS AND RESULTS:
The structure of the new compound was established by one- and two-dimensional (1D and 2D) NMR, mass spectrometry, and optical rotation data. Nonpolar extracts of roots and bulbs of carrots, celery, fennel, parsley, and parsnip were investigated for their content of polyacetylenes by high-performance liquid chromatography with diode array detection (HPLC-DAD). All five species contained polyacetylenes, although carrots and fennel only in minor amounts. Additionally, the cytotoxicity of the four polyacetylenes against five different cell lines was evaluated by the annexin V-PI assay.
CONCLUSIONS:
Falcarinol proved to be the most active compound with a pronounced toxicity against acute lymphoblastic leukemia cell line CEM-C7H2, with an IC(50) of 3.5 micromol/L. The possible chemopreventive impact of the presented findings is discussed briefly.
Chem Pharm Bull (Tokyo). 2004 Apr;52(4):418-21.
Synthesis of panax acetylenes: chiral syntheses of acetylpanaxydol, PQ-3 and panaxydiol.[Pubmed:
15056955
]

METHODS AND RESULTS:
Acetylpanaxydol (1-Ac), PQ-3 (2) and Panaxydiol (3) and their optical isomers were synthesized from L-(+)-diethyl tartrate. The absolute configurations of 1-Ac, 2 and 3 were determined to be 1-Ac (3R,9R,10S), 2 (9R,10S) and 3 (3R,10S), respectively, by comparisons of their optical rotations and the NMR data of their MTPA esters with those of natural products.