12-Hydroxyjasmonic acid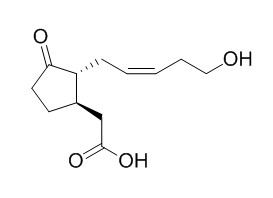 12-Hydroxyjasmonic acid glucoside is a COI1-JAZ-independent activator of leaf-closing movement in samanea saman.
Inquire / Order: manager@chemfaces.com
Technical Inquiries: service@chemfaces.com
Tel: +86-27-84237783
Fax: +86-27-84254680

Address:
1 Building, No. 83, CheCheng Rd., Wuhan Economic and Technological Development Zone, Wuhan, Hubei 430056, PRC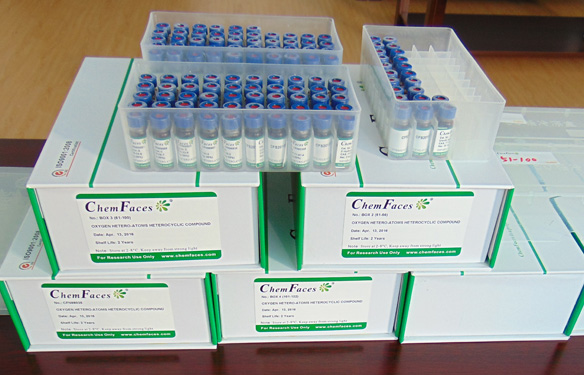 Providing storage is as stated on the product vial and the vial is kept tightly sealed, the product can be stored for up to
24 months(2-8C)
.
Wherever possible, you should prepare and use solutions on the same day. However, if you need to make up stock solutions in advance, we recommend that you store the solution as aliquots in tightly sealed vials at -20C. Generally, these will be useable for up to two weeks. Before use, and prior to opening the vial we recommend that you allow your product to equilibrate to room temperature for at least 1 hour.
Need more advice on solubility, usage and handling? Please email to: service@chemfaces.com
The packaging of the product may have turned upside down during transportation, resulting in the natural compounds adhering to the neck or cap of the vial. take the vial out of its packaging and gently shake to let the compounds fall to the bottom of the vial. for liquid products, centrifuge at 200-500 RPM to gather the liquid at the bottom of the vial. try to avoid loss or contamination during handling.
Drug Des Devel Ther.2020, 14:61-71
Drug Chem Toxicol.2020, 1-14.
Food Chem.2020, 332:127412
Pharmacognosy Magazine2018, 14(56):418-424
Ind Crops Prod.2015, 67:185-191
Int Immunopharmacol.2019, 71:361-371
J Nat Prod.2015, 78(6):1339-4
Molecules. 2013, 18(7):7376-88
J Pharmaceut Biomed2020, 182:113110
Korean Journal of Pharmacognosy.2019, 50(1):65-71
Plant Physiol. 2011 Mar;155(3):1226-36.
12-hydroxyjasmonic acid glucoside is a COI1-JAZ-independent activator of leaf-closing movement in Samanea saman.[Pubmed:
21228101
]

METHODS AND RESULTS:
We demonstrate that leaf closure of isolated Samanea pinnae is induced upon stereospecific recognition of (-)-LCF, but not by its enantiomer, (+)-ent-LCF, and that the nonglucosylated derivative, (-)-12-Hydroxyjasmonic acid also displays weak activity. Similarly, rapid and cell type-specific shrinkage of extensor motor cell protoplasts was selectively initiated upon treatment with (-)-LCF, whereas flexor motor cell protoplasts did not respond. In these bioassays related to leaf movement, all other jasmonates tested were inactive, including jasmonic acid (JA) and the potent derivates JA-isoleucine and coronatine. By contrast, (-)-LCF and (-)-12-Hydroxyjasmonic acid were completely inactive with respect to activation of typical JA responses, such as induction of JA-responsive genes LOX2 and OPCL1 in Arabidopsis (Arabidopsis thaliana) or accumulation of plant volatile organic compounds in S. saman and lima bean (Phaseolus lunatus), generally considered to be mediated by JA-isoleucine in a COI1-dependent fashion. Furthermore, application of selective inhibitors indicated that leaf movement in S. saman is mediated by rapid potassium fluxes initiated by opening of potassium-permeable channels.
CONCLUSIONS:
Collectively, our data point to the existence of at least two separate JA signaling pathways in S. saman and that 12-O-β-D-glucopyranosyljasmonic acid exerts its leaf-closing activity through a mechanism independent of the COI1-JAZ module.
J Biol Chem. 2013 Nov 1;288(44):31701-14.
The amidohydrolases IAR3 and ILL6 contribute to jasmonoyl-isoleucine hormone turnover and generate 12-hydroxyjasmonic acid upon wounding in Arabidopsis leaves.[Pubmed:
24052260
]
Jasmonates (JAs) are a class of signaling compounds that mediate complex developmental and adaptative responses in plants.
METHODS AND RESULTS:
JAs derive from jasmonic acid (JA) through various enzymatic modifications, including conjugation to amino acids or oxidation, yielding an array of derivatives. The main hormonal signal, jasmonoyl-L-isoleucine (JA-Ile), has been found recently to undergo catabolic inactivation by cytochrome P450-mediated oxidation. We show that unexpectedly, the abundant accumulation of tuberonic acid (12-Hydroxyjasmonic acid) after wounding originates partly through a sequential pathway involving (i) conjugation of JA to Ile, (ii) oxidation of the JA-Ile conjugate, and (iii) cleavage under the action of the amidohydrolases.
CONCLUSIONS:
The coordinated actions of oxidative and hydrolytic branches in the jasmonate pathway highlight novel mechanisms of JA-Ile hormone turnover and redefine the dynamic metabolic grid of jasmonate conversion in the wound response.
J Agric Food Chem. 2006 Jul 26;54(15):5388-92.
Polar constituents from the aerial parts of Origanum vulgare L. Ssp. hirtum growing wild in Greece.[Pubmed:
16848522
]

METHODS AND RESULTS:
From the polar extracts of Origanum vulgare L. ssp. hirtum 19 compounds have been isolated. The structures and relative stereochemistry have been elucidated by spectroscopic analysis and determined as apigenin, luteolin, chrysoeriol, diosmetin, quercetin, eriodictyol, cosmoside, vicenin-2, caffeic acid, p-menth-3-ene-1,2-diol 1-O-beta-glucopyranoside, thymoquinol 2-O-beta-glucopyranoside, thymoquinol 5-O-beta-glucopyranoside, thymoquinol 2,5-O-beta-diglucopyranoside, 12-Hydroxyjasmonic acid, 12-Hydroxyjasmonic acid 12-O-beta-glucopyranoside, lithospermic acid B, rosmarinic acid, 10-epi-lithospermic acid, and epi-lithospermic acid B.
CONCLUSIONS:
The three latter products display unusual stereochemistry of the 3,4-hydroxyphenyllactic acid unit(s), which to the authors' best knowledge has never been reported before in similar compounds. Moreover, lithospermic acid B (and its stereoisomers), p-menth-3-ene-1,2-diol 1-O-beta-glucopyranoside, 12-Hydroxyjasmonic acid, and 12-Hydroxyjasmonic acid 12-O-beta-glucopyranoside were isolated for the first time from Origanum species.