Linderane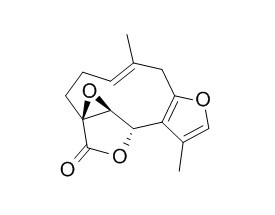 Linderane is a mechanism-based inactivator of CYP2C9.
Inquire / Order: manager@chemfaces.com
Technical Inquiries: service@chemfaces.com
Tel: +86-27-84237783
Fax: +86-27-84254680

Address:
1 Building, No. 83, CheCheng Rd., Wuhan Economic and Technological Development Zone, Wuhan, Hubei 430056, PRC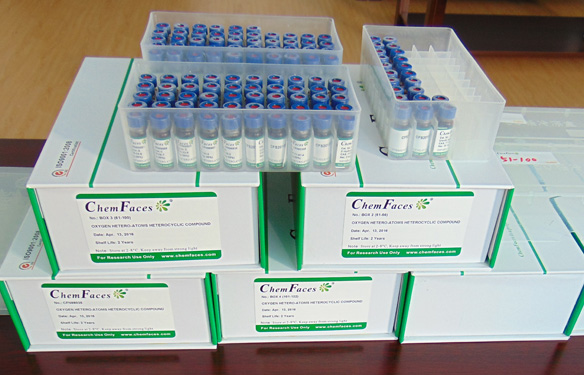 Providing storage is as stated on the product vial and the vial is kept tightly sealed, the product can be stored for up to
24 months(2-8C)
.
Wherever possible, you should prepare and use solutions on the same day. However, if you need to make up stock solutions in advance, we recommend that you store the solution as aliquots in tightly sealed vials at -20C. Generally, these will be useable for up to two weeks. Before use, and prior to opening the vial we recommend that you allow your product to equilibrate to room temperature for at least 1 hour.
Need more advice on solubility, usage and handling? Please email to: service@chemfaces.com
The packaging of the product may have turned upside down during transportation, resulting in the natural compounds adhering to the neck or cap of the vial. take the vial out of its packaging and gently shake to let the compounds fall to the bottom of the vial. for liquid products, centrifuge at 200-500 RPM to gather the liquid at the bottom of the vial. try to avoid loss or contamination during handling.
Nutr Metab (Lond).2019, 16:31
Food Res Int.2018, 106:909-919
Food Chem.2019, 278:683-691
Braz J Med Biol Res. 2016, 49(7)
J Ethnopharmacol.2017, 206:73-77
Oncotarget.2017, 9(3):4161-4172
J Ethnopharmacol.2019, 235:406-414
J Cell Physiol.2020, 10.1002
Preprints2017, 2017120176
Front Pharmacol.2019, 10:1025
Xenobiotica. 2015 Jun 11:1-10.
Mechanism-based inactivation of CYP2C9 by linderane.[Pubmed:
26068520
]
1. Linderane (LDR), a furan-containing sesquiterpenoid, is found in Lindera aggregata (Sims) Kosterm, a common traditional Chinese herbal medicine. We thoroughly studied the irreversible inhibitory effect of LDR on cytochrome P450 2C9 (CYP2C9).
METHODS AND RESULTS:
2. LDR caused a time- and concentration-dependent inactivation of CYP2C9. In addition, the inactivation of CYP2C9 by LDR was NADPH-dependent and irreversible. More than 50% of CYP2C9 activity was lost after its incubation with LDR at the concentration of 10 μM for 15 min at 30 °C. The maximal rate constant for inactivation (kinact) was found to be 0.0419 min(-1), and the concentration required for half-maximal inactivation (KI) was 1.26 μM, respectively. Glutathione (GSH), catalase, and superoxide dismutase (SOD) failed to protect CYP2C9 against inactivation by LDR. Diclofenac, a substrate of CYP2C9, prevented the enzyme from inactivation produced by LDR. The estimated partition ratio of the inactivation was approximately 227. 3. Two reactive intermediates, including furanoepoxide and γ-ketoenal, might be responsible for the observed enzyme inactivation. The formation of the intermediates was verified by chemical synthesis.
CONCLUSIONS:
Multiple P450 enzymes, including CYPs 1A2, 2B6, 2C9, 2C19, 2D6, 3A4, and 3A5, were found to be involved in the metabolic activation of LDR. In conclusion, LDR was characterized as a mechanism-based inactivator of CYP2C9.
Zhongguo Zhong Yao Za Zhi. 2004 Jul;29(7):657-9.
Determination of linderane in root tuber of Lindera aggregata by HPLC[Pubmed:
15503773
]
To provide scientific basis for quality control of Lindera aggregata.
METHODS AND RESULTS:
HPLC analytical method was established using a Lichrospher C18 column and acetonitrile-water (56:44) as the mobile phase, detected at 235 nm. The linear range of Linderane is between 0.0642 - 0.5774 microg, the average recovery was 98.4%, RSD1.7% (n = 9).
CONCLUSIONS:
Contents of Linderane in commercially available and collected samples were from 0.028% to 0.123% and from 0.056% to 0.222% respectively.