Furanodienone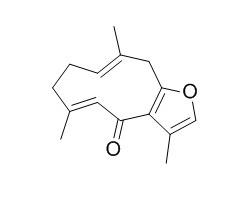 Furanodienone inhibits EGFR/HER2 signaling pathway in BT474 and SKBR3 cells, the effect is specifically dependent on the expression of HER2 but not EGFR; it also has effects on MCF-7 cells are mediated, at least in part, by inhibiting ERα signaling.
Inquire / Order: manager@chemfaces.com
Technical Inquiries: service@chemfaces.com
Tel: +86-27-84237783
Fax: +86-27-84254680

Address:
1 Building, No. 83, CheCheng Rd., Wuhan Economic and Technological Development Zone, Wuhan, Hubei 430056, PRC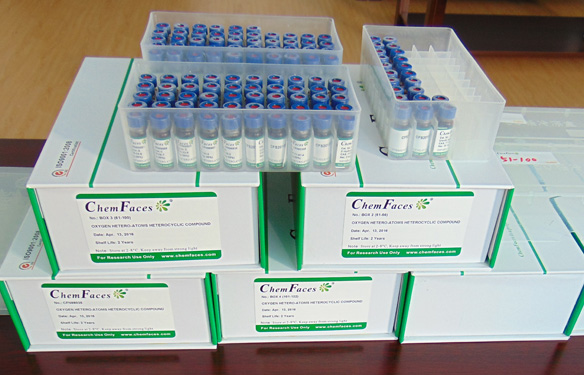 Providing storage is as stated on the product vial and the vial is kept tightly sealed, the product can be stored for up to
24 months(2-8C)
.
Wherever possible, you should prepare and use solutions on the same day. However, if you need to make up stock solutions in advance, we recommend that you store the solution as aliquots in tightly sealed vials at -20C. Generally, these will be useable for up to two weeks. Before use, and prior to opening the vial we recommend that you allow your product to equilibrate to room temperature for at least 1 hour.
Need more advice on solubility, usage and handling? Please email to: service@chemfaces.com
The packaging of the product may have turned upside down during transportation, resulting in the natural compounds adhering to the neck or cap of the vial. take the vial out of its packaging and gently shake to let the compounds fall to the bottom of the vial. for liquid products, centrifuge at 200-500 RPM to gather the liquid at the bottom of the vial. try to avoid loss or contamination during handling.
Antioxidants (Basel).2020, 9(2): E119
Hum Exp Toxicol.2017, 36(11):1169-1176
Molecules.2019, 24(10):E1926
Nutrients.2018, 10(7)
Phytother Res.2018, 32(5):923-932
BMC Complement Altern Med.2019, 19(1):325
Mol Med Rep.2014, 9(5):1653-9
J Chromatogr A.2017, 1518:46-58
Molecules.2018, 23(11):E2837
Phytomedicine.2019, 56:48-56
Cancer Chemother Pharmacol. 2011 Nov;68(5):1315-23.
Furanodienone induces cell cycle arrest and apoptosis by suppressing EGFR/HER2 signaling in HER2-overexpressing human breast cancer cells.[Pubmed:
21461888
]
Overexpression of EGFR and HER2 is seen in breast cancers and results in poor prognosis and decreased patient survival. Clinically, EGFR and HER2 are effective therapeutic targets. The objective of this study is to investigate the in vitro effects of Furanodienone, an active chemical component isolated from Rhizoma Curcumae, on the activation of EGFR/HER2 signaling, cell cycle, and apoptosis in HER2-overexpressing BT474 and SKBR3 cells.
METHODS AND RESULTS:
Cell growth was assessed by SRB protein assay. Cell cycle analysis was carried out by flow cytometry, and apoptosis was observed by Annexin V and DAPI staining. Effects of Furanodienone on the activation of EGFR/HER2 signaling-related proteins were analyzed by western blotting. RESULTS: Furanodienone inhibited cell growth in BT474 and SKBR3 cells. Furanodienone caused G1 arrest in BT474 cells and induced apoptosis in SKBR3 cells. Furanodienone interfered with EGFR/HER2 signaling in treated cells as shown by decreases in phosphorylated EGFR, HER2, Akt, Gsk3β and an increase in p27(kip1) protein. Accordingly, Furanodienone inhibited EGF-induced phosphorylation of EGFR, HER2, Akt, and Gsk3β. EGFR-specific siRNA knockdown did not affect the cell growth inhibitory effect of Furanodienone. On the contrary, specific siRNA knockdown of HER2 increased cellular resistance to Furanodienone toxicity. In HER-2-deficient MDA-MB-231 cells, the transfection and expression of HER2 increased the sensitivity of cells to Furanodienone toxicity.
CONCLUSIONS:
Furanodienone inhibited EGFR/HER2 signaling pathway in BT474 and SKBR3 cells. More importantly, the effect of Furanodienone was specifically dependent on HER2, but not EGFR, expression.
J Cell Biochem. 2011 Jan;112(1):217-24.
Furanodienone inhibits cell proliferation and survival by suppressing ERα signaling in human breast cancer MCF-7 cells.[Pubmed:
21069738
]
Estrogen receptor alpha (ERα) plays an important role in the development and progression of breast cancer and thus the attenuation of ERα activities is a promising treatment strategy. Furanodienone is one of the main bioactive chemical components of Rhizoma Curcumae which is commonly used in Chinese medicine for the treatment of cancer.
METHODS AND RESULTS:
In this study, we investigated the effects of Furanodienone on human breast cancer MCF-7, T47D, and MDA-MB-231 cells. Our results showed that Furanodienone could inhibit MCF-7, T47D, and MDA-MB-231 cells proliferation in a dose (10-160 μM) dependent manner. ERα-negative MDA-MB-231 cells were less sensitive to Furanodienone than ERα-positive MCF-7 and T47D cells. Furanodienone could effectively block 17β-estradiol (E2)-stimulated MCF-7 cell proliferation and cell cycle progression and induce apoptosis evidenced by the flow cytometric detection of sub-G1 DNA content and the appearance of apoptotic nuclei after DAPI staining. Furanodienone specifically down-regulated ERα protein and mRNA expression levels without altering ERβ expression. Furanodienone treatment inhibited E2-stimulation of estrogen response element (ERE)-driven reporter plasmid activity and ablated E2-targeted gene (e.g., c-Myc, Bcl-2, and cyclin D1) expression which resulted in the inhibition of cell cycle progression and cell proliferation, and in the induction of apoptosis. Knockdown of ERα in MCF-7 cells by ERα-specific siRNA decreased the cell growth inhibitory effect of Furanodienone.
CONCLUSIONS:
These findings suggest that effects of Furanodienone on MCF-7 cells are mediated, at least in part, by inhibiting ERα signaling.