Licoarylcoumarin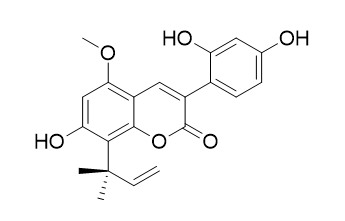 Licoarylcoumarin is a strong inhibitor of adenosine 3',5'-cyclic monophosphate (cAMP) phosphodiesterase. Licoarylcoumarin has antibacterial effects on the VRE strains; it has anti-HIV activity, and it has inhibitory effects on xanthine oxidase.
Inquire / Order: manager@chemfaces.com
Technical Inquiries: service@chemfaces.com
Tel: +86-27-84237783
Fax: +86-27-84254680

Address:
1 Building, No. 83, CheCheng Rd., Wuhan Economic and Technological Development Zone, Wuhan, Hubei 430056, PRC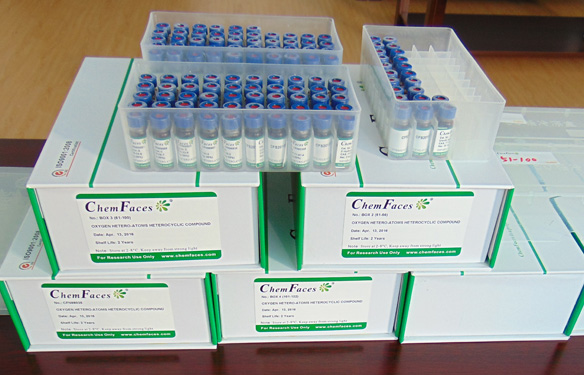 Providing storage is as stated on the product vial and the vial is kept tightly sealed, the product can be stored for up to
24 months(2-8C)
.
Wherever possible, you should prepare and use solutions on the same day. However, if you need to make up stock solutions in advance, we recommend that you store the solution as aliquots in tightly sealed vials at -20C. Generally, these will be useable for up to two weeks. Before use, and prior to opening the vial we recommend that you allow your product to equilibrate to room temperature for at least 1 hour.
Need more advice on solubility, usage and handling? Please email to: service@chemfaces.com
The packaging of the product may have turned upside down during transportation, resulting in the natural compounds adhering to the neck or cap of the vial. take the vial out of its packaging and gently shake to let the compounds fall to the bottom of the vial. for liquid products, centrifuge at 200-500 RPM to gather the liquid at the bottom of the vial. try to avoid loss or contamination during handling.
Front Plant Sci.2021, 12: 648426.
Nutraceutical Research . 2021, 19(1),p90-105.
J Med Food.2022, 25(3):272-280.
J Pharmaceut Biomed2020, 178:112894
Plants2022, 11(3),294.
Chemistry of Natural Compounds2019, 55(1):127-130
JLiquid Chromatography & Related Tech.2021, 10826076.
Int J Mol Sci.2019, 20(11):E2734
Molecules.2018, 23(10):E2638
Phytochem Anal.2021, 32(6):970-981.
Molecules. 2014 Mar 28;19(4):3883-97.
Structures of two new flavonoids and effects of licorice phenolics on vancomycin-resistant Enterococcus species.[Pubmed:
24686577
]
Since our previous study revealed that several licorice phenolics have antibacterial effects on methicillin-resistant Staphylococcus aureus (MRSA), and suppressive effects on the oxacillin resistance of MRSA, we further investigated effectiveness of licorice constituents on vancomycin-resistant Enterococcus (VRE) bacteria, and purified 32 phenolic compounds.
METHODS AND RESULTS:
Two flavonoids among them were characterized structurally, and identified their structures as demethylglycyrol (31) and 5,7-di-O-methylluteone (32), respectively. Examination of antibacterial effects of licorice phenolics showed that 3-arylcoumarins such as Licoarylcoumarin (9) and glycycoumarin (26), and 2-arylcoumarones such as gancaonin I (17), have moderate to potent antibacterial effects on the VRE strains used in this study.
Chem Pharm Bull (Tokyo). 1989 Nov;37(11):3005-9.
Phenolic constituents of licorice. II. Structures of licopyranocoumarin, licoarylcoumarin and glisoflavone, and inhibitory effects of licorice phenolics on xanthine oxidase.[Pubmed:
2632045
]

METHODS AND RESULTS:
An anti-HIV (human immunodeficiency virus) phenolic constituent, licopyranocoumarin (4), and two other new phenolics named Licoarylcoumarin (5) and glisoflavone (6) were isolated from Si-pei licorice (a commercial licorice; root and stolon of Glycyrrhiza sp. from the north-western region of China) using droplet countercurrent chromatography and centrifugal partition chromatography, and their structures were assigned based on chemical and spectroscopic data. Kaempferol 3-O-methyl ether (7) and licocoumarone (8) were also isolated from the licorice.
CONCLUSIONS:
The inhibitory effects of ten licorice phenolics on xanthine oxidase were examined. Licochalcone B (1), glycyrrhisoflavone (2), 8 and licochalcone A (19) showed 50% inhibition at the concentration of 1.3-5.6 x 10(-5) M.
Chem Pharm Bull (Tokyo). 1991 Apr;39(4):930-3.
Inhibition of adenosine 3',5'-cyclic monophosphate phosphodiesterase by flavonoids from licorice roots and 4-arylcoumarins.[Pubmed:
1654220
]
Isoliquiritigenin, glabridin, Licoarylcoumarin and licoricidin were identified as strong inhibitors of adenosine 3',5'-cyclic monophosphate (cAMP) phosphodiesterase in waste materials which were obtained during the industrial extraction of glycyrrhizin from licorice roots.
METHODS AND RESULTS:
The structure-activity relationships of 12 flavonoids from licorice roots and 34 4-arylcoumarins were studied. In 4-arylcoumarins, 5,7-dihydroxy derivatives were generally highly inhibitory towards cAMP phosphodiesterase.