Zederone
Zederone has anti-bacterial activity,it inhibits gram-positive bacteria activity. Zederone induces hepatotoxicity implicated the induction of Cyps, which leads to the formation of biological reactive metabolites and that cause the oxidative stress and liver cell injuries.
Inquire / Order: manager@chemfaces.com
Technical Inquiries: service@chemfaces.com
Tel: +86-27-84237783
Fax: +86-27-84254680

Address:
1 Building, No. 83, CheCheng Rd., Wuhan Economic and Technological Development Zone, Wuhan, Hubei 430056, PRC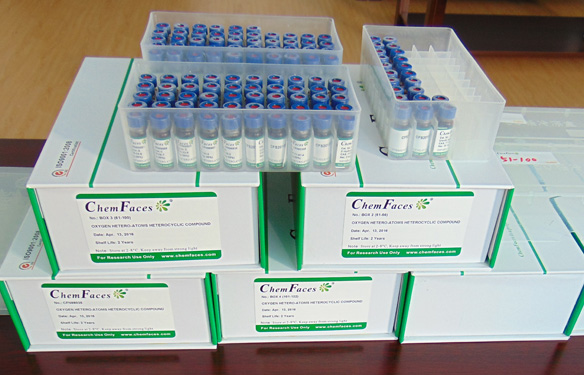 Providing storage is as stated on the product vial and the vial is kept tightly sealed, the product can be stored for up to
24 months(2-8C)
.
Wherever possible, you should prepare and use solutions on the same day. However, if you need to make up stock solutions in advance, we recommend that you store the solution as aliquots in tightly sealed vials at -20C. Generally, these will be useable for up to two weeks. Before use, and prior to opening the vial we recommend that you allow your product to equilibrate to room temperature for at least 1 hour.
Need more advice on solubility, usage and handling? Please email to: service@chemfaces.com
The packaging of the product may have turned upside down during transportation, resulting in the natural compounds adhering to the neck or cap of the vial. take the vial out of its packaging and gently shake to let the compounds fall to the bottom of the vial. for liquid products, centrifuge at 200-500 RPM to gather the liquid at the bottom of the vial. try to avoid loss or contamination during handling.
Exp Biol Med (Maywood).2019, 244(16):1463-1474
Analytical sci. & Tech2016, 186-193
J Sep Sci.2020, 201901140
Cardiovasc Toxicol.2019, 19(4):297-305
Industrial Crops and Products2019, 140:111612
Korean J. of Food Sci. and Tech2016, 172-177
Drug Test Anal.2018, 10(10):1579-1589
Industrial Crops and Products2017, 95:286-295
Food Science and Biotechnology2015, 2205-2212
J Sep Sci.2018, 41(9):1938-1946
Int J Toxicol. 2013 Nov-Dec;32(6):454-62.
Zederone, a sesquiterpene from Curcuma elata Roxb, is hepatotoxic in mice.[Pubmed:
24082031
]
The present study aimed to investigate the hepatotoxicity of Zederone isolated from Curcuma elata in mice.
METHODS AND RESULTS:
Adult male mice were intraperitoneally injected with a single dose of Zederone (50-300 mg/kg body weight [BW]). Twenty-four hours after the injection, Zederone induced liver enlargement with scattered white foci over the organ. The medium lethal dose (LD₅₀) value at 24 hours of Zederone was approximately 223 mg/kg BW. Hepatic centrilobular necrosis with marked increases in plasma alanine transaminase activity and total bilirubin levels was observed. Zederone at a dose of 200 mg/kg BW markedly decreased the activity of superoxide dismutase and the hepatic glutathione content, whereas the activity of catalase was not altered. The compound at this dose also increased the messenger RNA (mRNA) expression of Cyp2b10 and Cyp3a11, which are the main drug-metabolizing enzymes in the liver. The mRNA expression of proinflammatory cytokine tumor necrosis factor α was increased. The nuclear factor-E2-related factor 2 protein, which is the transcription factor regulating the antioxidant gene expression, was decreased.
CONCLUSIONS:
The histopathology of massive hepatic centrilobular necrosis with an increase in the expression of cytochrome P450 (Cyp) suggests that the possible potentiation of Zederone-induced hepatotoxicity implicated the induction of Cyps, which leads to the formation of biological reactive metabolites and that cause the oxidative stress and liver cell injuries.
Toxicol In Vitro. 2013 Sep;27(6):2005-12.
Interactions of sesquiterpenes zederone and germacrone with the human cytochrome P450 system.[Pubmed:
23850985
]
Misclassification of Curcuma species (family Zingiberaceae) may lead to unwanted human exposure to Curcuma elata sesquiterpenes Zederone and germacrone which have caused hepatotoxicity and changes in CYP expression in laboratory animals.
METHODS AND RESULTS:
We investigated how these compounds interact with the human cytochrome P450 (CYP) system, in order to evaluate their potential for human liver toxicity and herb-drug interactions. We found that both sesquiterpenes (1-30 μM) greatly induced expression of CYP2B6 and CYP3A4 but not CYP1A2 mRNAs in human primary hepatocytes (HPHs). This induction profile correlated with activation of constitutive androstane and pregnane X receptors. Cytotoxicity was also observed in exposed HPHs. CYP inhibition studies with pooled human liver microsomes (HLMs) indicated that Zederone and germacrone moderately inhibited CYP2B6 and CYP3A4 activities in vitro, with IC50 values below 10 μM. When Zederone was incubated with HLMs and NADPH, one di-epoxide metabolite was formed and by using glutathione trapping, five epoxide-derived conjugates were detected. Germacrone produced two oxidized metabolites and four glutathione conjugates.
CONCLUSIONS:
The results suggest that enzymes in HLMs convert sesquiterpenes into reactive, electrophilic compounds which may be causative for the reported liver injuries. These findings provide insight on the safety and drug-herb interactions of the Curcuma species.