Licopyranocoumarin
Licopyranocoumarin could as a potent neuroprotective drug via markedly blocked MPP+-induced neuronal PC12D cell death and disappearance of mitochondrial membrane potential, which were mediated by JNK.
Inquire / Order: manager@chemfaces.com
Technical Inquiries: service@chemfaces.com
Tel: +86-27-84237783
Fax: +86-27-84254680

Address:
1 Building, No. 83, CheCheng Rd., Wuhan Economic and Technological Development Zone, Wuhan, Hubei 430056, PRC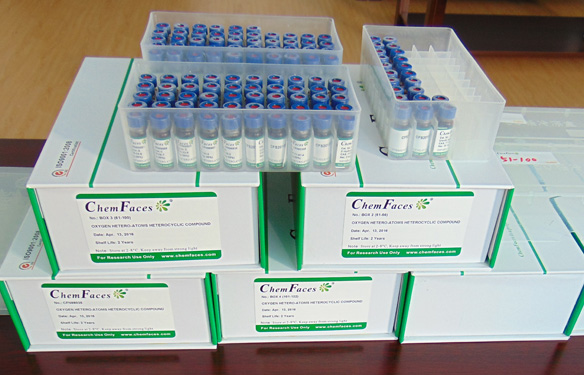 Providing storage is as stated on the product vial and the vial is kept tightly sealed, the product can be stored for up to
24 months(2-8C)
.
Wherever possible, you should prepare and use solutions on the same day. However, if you need to make up stock solutions in advance, we recommend that you store the solution as aliquots in tightly sealed vials at -20C. Generally, these will be useable for up to two weeks. Before use, and prior to opening the vial we recommend that you allow your product to equilibrate to room temperature for at least 1 hour.
Need more advice on solubility, usage and handling? Please email to: service@chemfaces.com
The packaging of the product may have turned upside down during transportation, resulting in the natural compounds adhering to the neck or cap of the vial. take the vial out of its packaging and gently shake to let the compounds fall to the bottom of the vial. for liquid products, centrifuge at 200-500 RPM to gather the liquid at the bottom of the vial. try to avoid loss or contamination during handling.
J Pharm Biomed Anal.2018, 151:32-41
Molecules.2019, 24(16):E3003
Int J Mol Sci.2019, 20(9):E2244
Industrial Food Engineering2015, 19(4):408-413
Phys Chem Chem Phys.2018, 20(23):15986-15994
J Sci Food Agric.2018, 98(3):1153-1161
Int J Mol Sci.2019, 20(3):E651
Pharmacognosy Journal2019, 11(2): 369-373
Front Pharmacol.2018, 9:236
BMC Complement Altern Med.2018, 18(1):303
PLoS One. 2014 Jun 24;9(6):e100395.
Identification of licopyranocoumarin and glycyrurol from herbal medicines as neuroprotective compounds for Parkinson's disease.[Pubmed:
24960051
]

METHODS AND RESULTS:
In the course of screening for the anti-Parkinsonian drugs from a library of traditional herbal medicines, we found that the extracts of choi-joki-to and daio-kanzo-to protected cells from MPP+-induced cell death. Because choi-joki-to and daio-kanzo-to commonly contain the genus Glycyrrhiza, we isolated Licopyranocoumarin (LPC) and glycyrurol (GCR) as potent neuroprotective principals from Glycyrrhiza. LPC and GCR markedly blocked MPP+-induced neuronal PC12D cell death and disappearance of mitochondrial membrane potential, which were mediated by JNK. LPC and GCR inhibited MPP+-induced JNK activation through the suppression of reactive oxygen species (ROS) generation, thereby inhibiting MPP+-induced neuronal PC12D cell death.
CONCLUSIONS:
These results indicated that LPC and GCR derived from choi-joki-to and daio-kanzo-to would be promising drug leads for PD treatment in the future.
Eur J Pharm Sci. 2017 Nov 15;109:472-479.
The prenylated phenolic natural product isoglycycoumarin is a highly selective probe for human cytochrome P450 2A6.[Pubmed:
28867491
]
Prenylated phenolic compounds are an important class of bioactive natural products. One major in vivo metabolic pathway of these compounds is hydroxylation at terminal methyl of the isoprenyl group. This study aims to identify the P450 isozyme catalyzing this metabolic reaction.
METHODS AND RESULTS:
In human liver microsomes, 16 out of 24 screened compounds could be metabolized into their hydroxylated derivatives. Chemical inhibition assays using 11 isozyme specific inhibitors indicated the hydroxylation reactions of 12 compounds were primarily catalyzed by cytochrome P450 2A6 (CYP2A6). In particular, CYP2A6 was the major enzyme participating in the metabolism of isoglycycoumarin (IGCM). The product of IGCM was obtained and identified as Licopyranocoumarin (4″-hydroxyl isoglycycoumarin) using NMR spectroscopic analysis. The Km values for human liver microsomes and recombinant human CYP2A6 were 7.98 and 10.14μM, respectively. According to molecular docking analysis, the catalytic mechanism may involve cyclized isoprenyl group of IGCM entering the active cavity of CYP2A6.
CONCLUSIONS:
These results demonstrate that IGCM could serve as an ideal isozyme selective probe to evaluate CYP2A6 activities.
Biol Pharm Bull. 2008 May;31(5):838-46.
Blockade of the dioxin pathway by herbal medicine Formula Bupleuri Minor: identification of active entities for suppression of AhR activation.[Pubmed:
18451504
]
Environmental pollutants including dioxins activate the aryl hydrocarbon receptor (AhR) and cause a wide range of pathologies. Development of AhR antagonists will be useful for prevention and treatment of the diseases related to AhR activation. Towards this goal, we aimed at seeking for potential AhR antagonists in herbal medicines using the dioxin responsive element-based sensing via secreted alkaline phosphatase (DRESSA).
METHODS AND RESULTS:
Through initial rough screening, 4 formulae were selected from 20 herbal medicines and subjected to the second, detailed screening. We found that only Formula bupleuri minor (TJ-9) significantly inhibited activation of AhR by 2,3,7,8-tetrachlorodibenzo-p-dioxin. Among 7 raw herb extracts in TJ-9, Glycyrrhizae Radix and Scutellariae Radix were responsible for the antagonistic effect of TJ-9 against dioxin. Some constituents including Bupleuri Radix and Zingiberis Rhizoma rather activated AhR.
CONCLUSIONS:
Among 12 major constituents of Glycyrrhizae Radix and Scutellariae Radix, we identified that Licopyranocoumarin, glycyrrhizic acid and genistein in Glycyrrhizae Radix and baicalein, wogonin and daidzein in Scutellariae Radix had substantial antagonistic effects on AhR. Among these, baicalein most effectively blocked activation of AhR triggered by cigarette smoke, a strong activator of AhR. The antagonistic substances identified here may be useful for prevention from diseases associated with aberrant activation of AhR.