Demethylwedelolactone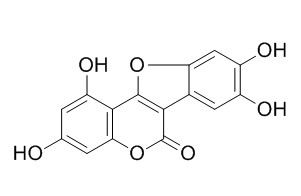 Demethylwedelolactone has trypsin inhibitory effect, it exerts anti-invasive growth effect on breast cancer cells.
Inquire / Order: manager@chemfaces.com
Technical Inquiries: service@chemfaces.com
Tel: +86-27-84237783
Fax: +86-27-84254680

Address:
1 Building, No. 83, CheCheng Rd., Wuhan Economic and Technological Development Zone, Wuhan, Hubei 430056, PRC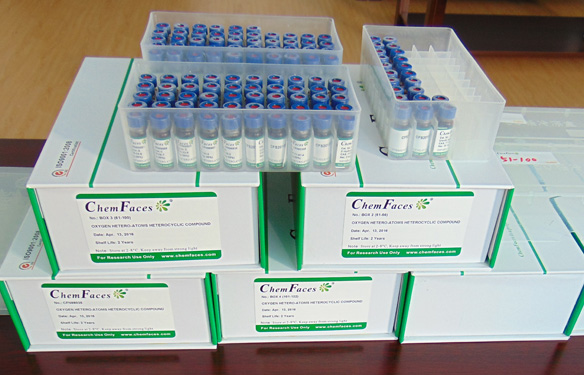 Providing storage is as stated on the product vial and the vial is kept tightly sealed, the product can be stored for up to
24 months(2-8C)
.
Wherever possible, you should prepare and use solutions on the same day. However, if you need to make up stock solutions in advance, we recommend that you store the solution as aliquots in tightly sealed vials at -20C. Generally, these will be useable for up to two weeks. Before use, and prior to opening the vial we recommend that you allow your product to equilibrate to room temperature for at least 1 hour.
Need more advice on solubility, usage and handling? Please email to: service@chemfaces.com
The packaging of the product may have turned upside down during transportation, resulting in the natural compounds adhering to the neck or cap of the vial. take the vial out of its packaging and gently shake to let the compounds fall to the bottom of the vial. for liquid products, centrifuge at 200-500 RPM to gather the liquid at the bottom of the vial. try to avoid loss or contamination during handling.
Phytomedicine.2018, 41:62-66
Biol Pharm Bull.2018, 41(11):1645-1651
JPC-Journal of Planar Chromatography 2017, 30(4)
Plos One.2020, 10.1371
Nat Prod Commun.2014, 9(5):679-82
FASEB J.2019, 33(8):9685-9694
Biosci Biotechnol Biochem.2020, 84(3):621-632
Molecules.2017, 22(2)
J Mater Chem B.2019, 7(39):5896-5919
Phytomedicine.2019, 58:152893
Phytother Res. 2003 Apr;17(4):420-1.
Trypsin inhibitory effect of wedelolactone and demethylwedelolactone.[Pubmed:
12722155
]
Wedelolactone (WL) and Demethylwedelolactone (DWL) isolated from Eclipta alba were tested in the trypsin inhibition bioassay (in vitro).
METHODS AND RESULTS:
Both compounds showed potent activity. IC(50) values of WL and DWL were found to be 2.9 and 3.0 microg/mL respectively.
Eur J Med Chem. 2012 Oct;56:361-7.
Demethylwedelolactone derivatives inhibit invasive growth in vitro and lung metastasis of MDA-MB-231 breast cancer cells in nude mice.[Pubmed:
22926226
]
The anticancer properties of Demethylwedelolactone (DWEL) and wedelolactone (WEL), which are naturally occurring coumestans, have not been well characterized. In this study, we investigated the anti-invasive effects of synthetic WEL and Demethylwedelolactone on human MDA-MB-231 breast cancer cells.
METHODS AND RESULTS:
We found that WEL and Demethylwedelolactone inhibited the anchorage-independent growth and also suppressed cell motility and cell invasion of MDA-MB-231 cells. In addition, WEL and Demethylwedelolactone reduced the activity and expression of matrix metalloproteinases (MMPs) involved in blocking the IκB-α/NFκB and MEK/ERK signaling pathways in MDA-MB-231 cells. Furthermore, Demethylwedelolactone suppressed the metastasis and lung colonization of the tumor cells in the nude mice.
CONCLUSIONS:
Altogether, these data suggest that Demethylwedelolactone derivatives exert anti-invasive growth effect on breast cancer cells.