4'-O-Methylcoumestrol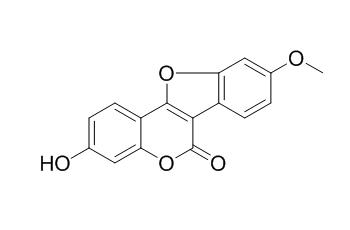 4'-O-Methylcoumestrol is a natural product from Glycyrrhiza pallidiflora Maxim.
Inquire / Order: manager@chemfaces.com
Technical Inquiries: service@chemfaces.com
Tel: +86-27-84237783
Fax: +86-27-84254680

Address:
1 Building, No. 83, CheCheng Rd., Wuhan Economic and Technological Development Zone, Wuhan, Hubei 430056, PRC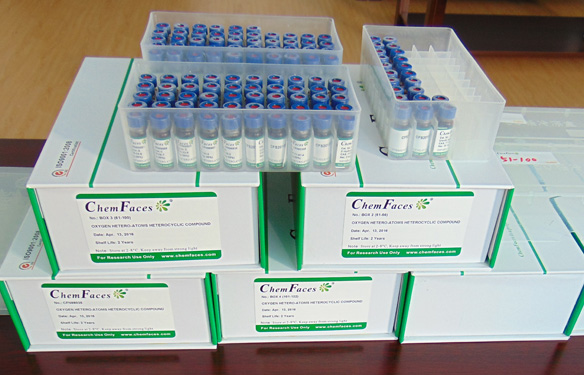 Providing storage is as stated on the product vial and the vial is kept tightly sealed, the product can be stored for up to
24 months(2-8C)
.
Wherever possible, you should prepare and use solutions on the same day. However, if you need to make up stock solutions in advance, we recommend that you store the solution as aliquots in tightly sealed vials at -20C. Generally, these will be useable for up to two weeks. Before use, and prior to opening the vial we recommend that you allow your product to equilibrate to room temperature for at least 1 hour.
Need more advice on solubility, usage and handling? Please email to: service@chemfaces.com
The packaging of the product may have turned upside down during transportation, resulting in the natural compounds adhering to the neck or cap of the vial. take the vial out of its packaging and gently shake to let the compounds fall to the bottom of the vial. for liquid products, centrifuge at 200-500 RPM to gather the liquid at the bottom of the vial. try to avoid loss or contamination during handling.
J Ethnopharmacol.2018, 210:88-94
Molecules.2017, 22(3)
Exp Neurobiol.2018, 27(3):200-209
Virulence.2018, 9(1):588-603
International. J. of Food Properties 2017, 20:S131-S140
J Ethnopharmacol.2019, 241:112025
Food Sci Biotechnol.2016, 25(5):1437-1442
Sci Rep.2017, 7:467-479
J Chromatogr B Analyt Technol Biomed Life Sci.2018, 1080:27-36
J Ethnopharmacol.2017, 209:305-316
Yao Xue Xue Bao. 1992;27(10):748-51.
Studies on the chemical constituents of Glycyrrhiza pallidiflora Maxim.[Pubmed:
1293921
]
A species of the genus Glycyrrhiza, G. pallidiflora Maxim, growing in Jiangsu and Hebei Provices of China, has been little studied before on its chemical constituents. This paper reports the isolation and chemical elucidation of five compounds from this plant, one of them is a new compound named glypallichalcone (P-2).
METHODS AND RESULTS:
Their chemical structures were elucidated by means of chemical and spectrometric analysis (UV, IR, MS, 1HNMR and 13CNMR) and were first reported to be present in this plant. Glypallichalcone (P-2), was found to be 4-hydroxy-2,4'-dimethoxy-chalcone.
CONCLUSIONS:
The known compounds were identified to be 4'-O-Methylcoumestrol (P-1), N-acetyl-glutamic acid (P-3), formononetin and beta-sitosterol (P-5).
J Org Chem. 2017 Oct 20;82(20):11102-11109.
Collective Syntheses of 2-(3-Methylbenzofuran-2-yl)phenol-Derived Natural Products by a Cascade [3,3]-Sigmatropic Rearrangement/Aromatization Strategy.[Pubmed:
28944672
]

METHODS AND RESULTS:
A cascade [3,3]-sigmatropic rearrangement/aromatization strategy to the synthesis of 2-(3-methylbenzofuran-2-yl)phenol derivatives was developed and applied to the collective syntheses of seven 2-arylbenzofuran-containing natural products, namely glycybenzofuran, glycyuralin E, lespedezol A1, puerariafuran, 7,2',4'-trihydroxy-3-benzofurancarboxylic acid, coumestrol, and 4'-O-Methylcoumestrol. Among them, the total syntheses of glycybenzofuran, glycyuralin E, puerariafuran, 7,2',4'-trihydroxy-3-benzofurancarboxylic acid, and 4'-O-Methylcoumestrol were reported for the first time.
CONCLUSIONS:
The practicality of this novel strategy in preparation of the key intermediates was demonstrated by performing the reaction on gram scale and by synthesizing a series of natural products with 2-(3-methylbenzofuran-2-yl)phenol scaffolds in a common strategy.