Lariciresinol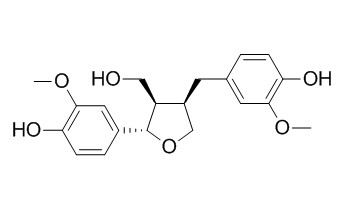 Lariciresinol is an enterolignan precursor, it possesses fungicidal activities by disrupting the fungal plasma membrane and therapeutic potential as a novel antifungal agent for the treatment of fungal infectious diseases in humans. Dietary lariciresinol can attenuate mammary tumor growth and reduce blood vessel density in human MCF-7 breast cancer xenografts and carcinogen-induced mammary tumors in rats.
Inquire / Order: manager@chemfaces.com
Technical Inquiries: service@chemfaces.com
Tel: +86-27-84237783
Fax: +86-27-84254680

Address:
1 Building, No. 83, CheCheng Rd., Wuhan Economic and Technological Development Zone, Wuhan, Hubei 430056, PRC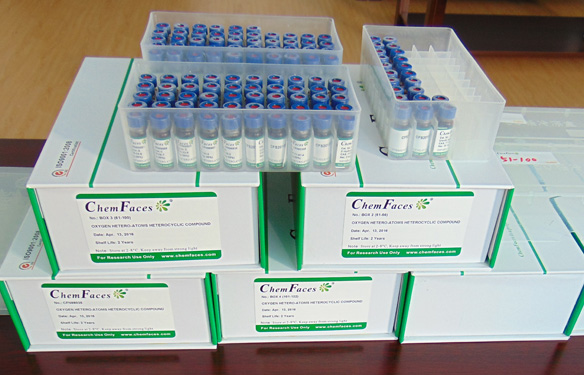 Providing storage is as stated on the product vial and the vial is kept tightly sealed, the product can be stored for up to
24 months(2-8C)
.
Wherever possible, you should prepare and use solutions on the same day. However, if you need to make up stock solutions in advance, we recommend that you store the solution as aliquots in tightly sealed vials at -20C. Generally, these will be useable for up to two weeks. Before use, and prior to opening the vial we recommend that you allow your product to equilibrate to room temperature for at least 1 hour.
Need more advice on solubility, usage and handling? Please email to: service@chemfaces.com
The packaging of the product may have turned upside down during transportation, resulting in the natural compounds adhering to the neck or cap of the vial. take the vial out of its packaging and gently shake to let the compounds fall to the bottom of the vial. for liquid products, centrifuge at 200-500 RPM to gather the liquid at the bottom of the vial. try to avoid loss or contamination during handling.
Sci Rep.2017, 7(1):3249
Int J Mol Sci.2015, 16(8):18396-411
International. J. of Food Properties 2017, 20:S131-S140
Biomed Chromatogr.2022, 36(11):e5462.
Plant Cell Physiol.2018, 59(1):128-141
Exp Parasitol.2015, 153:160-4
Environ Toxicol.2019, 34(12):1354-1362
Korean J. Medicinal Crop Sci.2021, 29(6):425-433
Food Engineering Progress2019, 23(3)209-216
Planta Med.2018, 84(6-07):465-474
Biochem Biophys Res Commun. 2011 Jul 8;410(3):489-93.
Antifungal activity of lariciresinol derived from Sambucus williamsii and their membrane-active mechanisms in Candida albicans.[Pubmed:
21679690
]
Lariciresinol is an enterolignan precursor isolated from the herb Sambucus williamsii, a folk medicinal plant used for its therapeutic properties.
METHODS AND RESULTS:
In this study, the antifungal properties and mode of action of Lariciresinol were investigated. Lariciresinol displays potent antifungal properties against several human pathogenic fungal strains without hemolytic effects on human erythrocytes. To understand the antifungal mechanism of action of Lariciresinol, the membrane interactions of Lariciresinol were examined. Fluorescence analysis using the membrane probe 3,3'-diethylthio-dicarbocyanine iodide (DiSC(3)-5) and 1,6-diphenyl-1,3,5-hexatriene (DPH), as well as a flow cytometric analysis with propidium iodide (PI), a membrane-impermeable dye, indicated that Lariciresinol was associated with lipid bilayers and induced membrane permeabilization.
CONCLUSIONS:
Therefore, the present study suggests that Lariciresinol possesses fungicidal activities by disrupting the fungal plasma membrane and therapeutic potential as a novel antifungal agent for the treatment of fungal infectious diseases in humans.
Int J Cancer. 2008 Sep 1;123(5):1196-204.
Dietary lariciresinol attenuates mammary tumor growth and reduces blood vessel density in human MCF-7 breast cancer xenografts and carcinogen-induced mammary tumors in rats.[Pubmed:
18528864
]
Lariciresinol is a dietary lignan that accounts for a significant portion of the total phytoestrogen intake from Western foods. Recent epidemiological studies suggest that high dietary intake of lignans and Lariciresinol is associated with reduced breast cancer risk. However, no causal relationship between Lariciresinol intake and breast cancer development has been established.
METHODS AND RESULTS:
In this study, we investigated for the first time the effects and possible mechanisms of action of Lariciresinol on hormone responsive mammary cancer in vivo in dimethylbenz[a]anthracene induced mammary cancer in rats, and in human MCF-7 breast cancer xenografts in athymic mice. For tumor bearing rats, Lariciresinol (3 or 15 mg/kg of body weight) or vehicle was administered p.o. daily for 9 weeks. For E2-maintained ovariectomized athymic mice bearing orthotopic MCF-7 tumors, control diet (AIN-93G) or Lariciresinol containing diet (AIN-93G supplemented with 20 or 100 mg of Lariciresinol/kg of diet) was administered for 5 weeks. In both models, Lariciresinol administration inhibited the tumor growth and tumor angiogenesis. In MCF-7 cells, enterolactone significantly inhibited the E2-stimulated VEGF secretion. Moreover, in MCF-7 xenografts, Lariciresinol administration enhanced tumor cell apoptosis and increased estrogen receptor beta expression. Lariciresinol and its further metabolites secoisoLariciresinol, enterodiol and enterolactone were found in serum of both rats and athymic mice confirming a similar lignan metabolism pattern as in humans.
CONCLUSIONS:
These findings indicate conceivable importance of dietary lignan Lariciresinol in inhibition of breast cancer development.
J Agric Food Chem. 2013 Dec 18;61(50):12297-306.
Structure-plant growth inhibitory activity relationship of lariciresinol.[Pubmed:
24274795
]

METHODS AND RESULTS:
The syntheses of 55 Lariciresinol derivatives containing derivatives on the 9-position and an aryl group at both 7- and 7'-positions were successful to examine the effect of structure of (-)-Lariciresinol (1) on plant growth regulatory activity. (-)-(7R,8R,8'S)-9-DehydroxyLariciresinol 9 showed activity 2-fold more potent than that of natural (-)-Lariciresinol (1) and -95% growth inhibitory activity to negative control against rye grass root at 1 mM.
CONCLUSIONS:
The derivatives bearing hydrophobic and smaller groups at the 9-position showed higher activity. The importance of 4- and 4'-hydroxy groups and 3- and 3'-small hydrophobic groups on 7- and 7'-phenyl groups for higher activity was also suggested.
J Agric Food Chem. 2011 Dec 28;59(24):13089-95.
Stereoselective syntheses of all stereoisomers of lariciresinol and their plant growth inhibitory activities.[Pubmed:
22066904
]

METHODS AND RESULTS:
All stereoisomers of Lariciresinol were synthesized to examine the effect of stereochemistry on plant growth. Configuration of benzylic 7-positions was constructed through S(N)1 or S(N)2 intramolecular etherification. 8- and 8'-position configurations were established from the starting material except for all cis stereoisomers, the 8-position configurations of which were achieved by employing stereoselective hydroboration. (-)-Lariciresinol and its 7S,8S,8'R stereoisomer inhibited the root growth of Italian ryegrass to 51-55% relative to the negative control, whereas other stereoisomers had less effect.
CONCLUSIONS:
These results demonstrate that the stereochemistry of lignans is one of the important factors influencing their inhibitory activity.