Rhamnocitrin 3-glucoside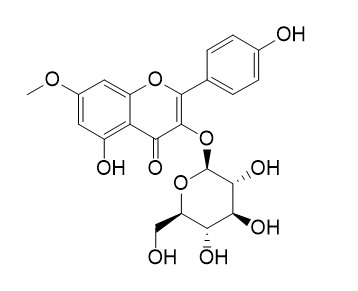 Reference standards.
Inquire / Order: manager@chemfaces.com
Technical Inquiries: service@chemfaces.com
Tel: +86-27-84237783
Fax: +86-27-84254680

Address:
1 Building, No. 83, CheCheng Rd., Wuhan Economic and Technological Development Zone, Wuhan, Hubei 430056, PRC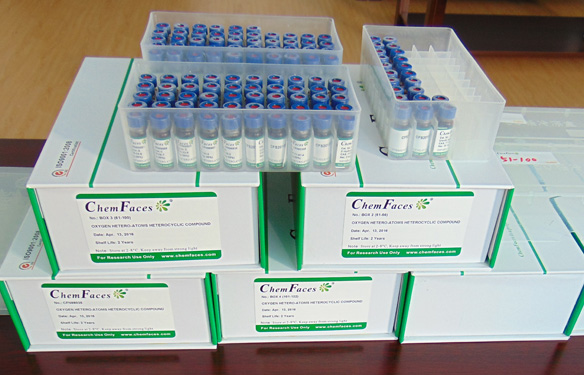 Providing storage is as stated on the product vial and the vial is kept tightly sealed, the product can be stored for up to
24 months(2-8C)
.
Wherever possible, you should prepare and use solutions on the same day. However, if you need to make up stock solutions in advance, we recommend that you store the solution as aliquots in tightly sealed vials at -20C. Generally, these will be useable for up to two weeks. Before use, and prior to opening the vial we recommend that you allow your product to equilibrate to room temperature for at least 1 hour.
Need more advice on solubility, usage and handling? Please email to: service@chemfaces.com
The packaging of the product may have turned upside down during transportation, resulting in the natural compounds adhering to the neck or cap of the vial. take the vial out of its packaging and gently shake to let the compounds fall to the bottom of the vial. for liquid products, centrifuge at 200-500 RPM to gather the liquid at the bottom of the vial. try to avoid loss or contamination during handling.
Food Chem.2019, 275:746-753
Srinagarind Medical Journal2017, 32(1)
ARPN Journal of Eng.& Applied Sci.2016, 2199-2204
J Pharm Biomed Anal.2019, 164:119-127
Biochem Biophys Res Commun.2018, 495(1):1271-1277
International J of Green Pharmacy2019, 13(3)
Nat Prod Sci.2018, 24(3):206
J of Applied Pharmaceutical Science2020, 10(1):077-082
Nat Plants.2016, 3:16205
J Pharm Anal.2016, 6(6):363-373
Molecules, 2017, 22(4):671-.
Effects of Flavonoids and Triterpene Analogues from Leaves of Eleutherococcus sieboldianus (Makino) Koidz. 'Himeukogi' in 3T3-L1 Preadipocytes.[Pubmed:
28441735
]
Eleutherococcus sieboldianus (Makino) Koidz. is a local product from the area in and around Yonezawa City in Yamagata Prefecture, Japan. It has been used as a medicinal plant for a long time.
METHODS AND RESULTS:
We isolated and identified four types of flavonoid glycosides [astragalin (1), isoquercetin (2), rhamnocitrin 3-O-glucoside (Rhamnocitrin 3-glucoside, 3), and nicotiflorin (4)], a triterpene [methyl hederagenin (5)], and three types of triterpene glycosides [δ-hederin (6), echinocystic acid 3-O-arabinoside (7), and cauloside B (8)] from the methanol extract of E. sieboldianus, which regulates lipid accumulation in 3T3-L1 preadipocytes. Among the compounds isolated, 2 and 8 up- and down-regulated lipid accumulation and insulin induced adipocyte differentiation in 3T3-L1 preadipocytes.
CONCLUSIONS:
Compound 2 induced up-regulation of lipid accumulation and decreased adipocyte size, while 8 down-regulated lipid accumulations without decreasing cell size. Additionally, 2 increased adipogenic proteins [peroxisome proliferator-activated receptor γ (PPARγ), CCAAT/enhancer-binding protein alpha (C/EBPα), and fatty-acid-binding protein 4 (FABP4)]. In contrast, 8 decreased the levels of all adipogenic proteins and glucose transporter type 4 (GLUT4), but increased adiponectin.