Rebaudioside F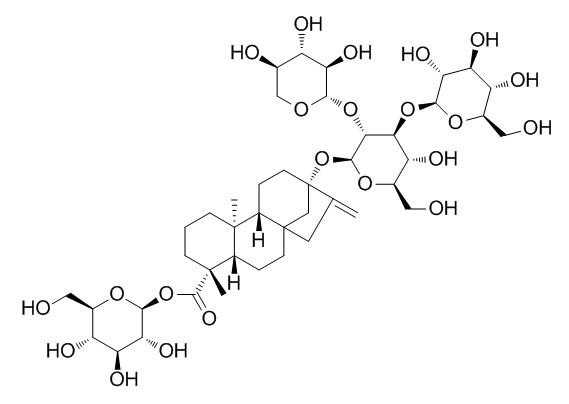 Reference standards.
Inquire / Order: manager@chemfaces.com
Technical Inquiries: service@chemfaces.com
Tel: +86-27-84237783
Fax: +86-27-84254680

Address:
1 Building, No. 83, CheCheng Rd., Wuhan Economic and Technological Development Zone, Wuhan, Hubei 430056, PRC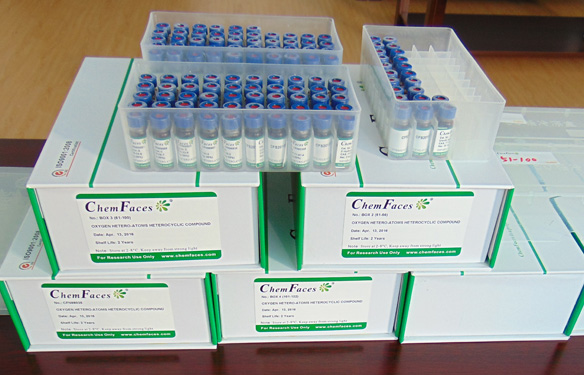 Providing storage is as stated on the product vial and the vial is kept tightly sealed, the product can be stored for up to
24 months(2-8C)
.
Wherever possible, you should prepare and use solutions on the same day. However, if you need to make up stock solutions in advance, we recommend that you store the solution as aliquots in tightly sealed vials at -20C. Generally, these will be useable for up to two weeks. Before use, and prior to opening the vial we recommend that you allow your product to equilibrate to room temperature for at least 1 hour.
Need more advice on solubility, usage and handling? Please email to: service@chemfaces.com
The packaging of the product may have turned upside down during transportation, resulting in the natural compounds adhering to the neck or cap of the vial. take the vial out of its packaging and gently shake to let the compounds fall to the bottom of the vial. for liquid products, centrifuge at 200-500 RPM to gather the liquid at the bottom of the vial. try to avoid loss or contamination during handling.
Sci Rep. 2018, 462(8)
Food Research International2020, 108987
J Cell Mol Med.2021, 25(5):2645-2654.
Drug Dev Res.2020, doi: 10.1002
Pharmacogn J.2022, 14(2):350-357
Nutrients.2022, 14(19):4170.
Korean J Pain.2021, 34(4):405-416.
Biomed Pharmacother.2021, 137:111362.
Dis Markers.2022, 2022:2380879.
J Food Sci Technol.2022, 59(1):212-219.
Phytochemistry. 2002 Feb;59(4):367-70.
Rebaudioside F, a diterpene glycoside from Stevia rebaudiana.[Pubmed:
11830149
]

METHODS AND RESULTS:
The sweet diterpenoid glycoside, Rebaudioside F, was isolated from leaves of a high rebaudioside C producing line of Stevia rebaudiana, and its structure was established by chemical and spectral studies.
FEBS Open Bio. 2016 Aug 30;6(9):937-44.
Gene transcription and steviol glycoside accumulation in Stevia rebaudiana under polyethylene glycol-induced drought stress in greenhouse cultivation.[Pubmed:
27642557
]
Stevia rebaudiana is a sweet herb of the Astraceae family, which is cultivated for the natural sweeteners it contains. The aim of this study was to assess the effect of drought, simulated by the application of polyethylene glycol (5%, 10%, and 15% w/v), on the content of steviol glycosides (SVglys) and transcription levels of six genes involved in the biosynthesis of these natural sweeteners.
METHODS AND RESULTS:
The transcription levels of ent-kaurene synthase, ent-kaurene oxidase, ent-kaurenoic acid hydroxylase, and three UDP-dependent glycosyltransferases, UGT85C2,UGT74G1 and UGT76G1 were downregulated under polyethylene glycol treatment. Polyethylene glycol treatment significantly decreased the amount of stevioside, rebaudioside A, rebaudioside B, rebaudioside C and Rebaudioside F, steviolbioside, dulcoside A, rubusoside, and total SVglys. These results strongly suggest a close relationship of SVglys content with the transcription of genes involved in the SVglys biosynthesis pathway. Comparing the observations of the present study with other reports provided the knowledge that the Stevia response to drought stress can be influenced by different environmental and experimental factors, in addition to intensity of drought stress.
CONCLUSIONS:
In conclusion, these results strongly suggest that polyethylene glycol-induced drought stress has a negative effect on the content of SVglys and transcription of SVglys biosynthetic genes and that this should be investigated further. We recommend that sufficient irrigation of Stevia is required to obtain a high content of SVglys.