Bruceoside A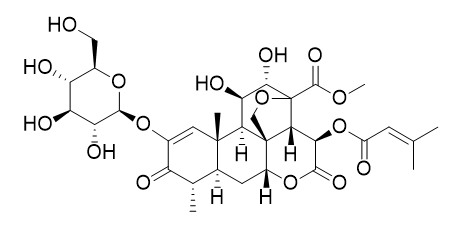 Bruceoside A could be transformed into the potent anticancer component brusatol in vivo, rather than its direct deglycosylated metabolite bruceosin. It significantly inhibited P-388 lymphocytic leukemic cell RNA and protein synthesis in tissue culture.
Inquire / Order: manager@chemfaces.com
Technical Inquiries: service@chemfaces.com
Tel: +86-27-84237783
Fax: +86-27-84254680

Address:
1 Building, No. 83, CheCheng Rd., Wuhan Economic and Technological Development Zone, Wuhan, Hubei 430056, PRC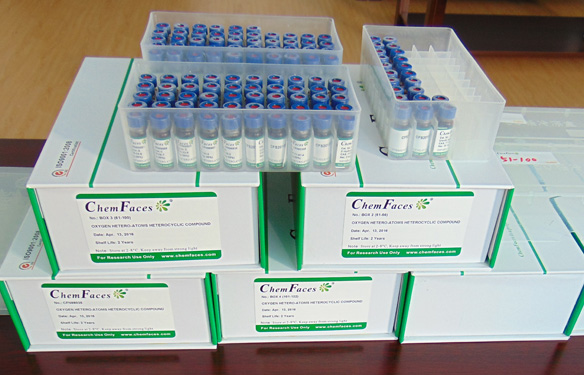 Providing storage is as stated on the product vial and the vial is kept tightly sealed, the product can be stored for up to
24 months(2-8C)
.
Wherever possible, you should prepare and use solutions on the same day. However, if you need to make up stock solutions in advance, we recommend that you store the solution as aliquots in tightly sealed vials at -20C. Generally, these will be useable for up to two weeks. Before use, and prior to opening the vial we recommend that you allow your product to equilibrate to room temperature for at least 1 hour.
Need more advice on solubility, usage and handling? Please email to: service@chemfaces.com
The packaging of the product may have turned upside down during transportation, resulting in the natural compounds adhering to the neck or cap of the vial. take the vial out of its packaging and gently shake to let the compounds fall to the bottom of the vial. for liquid products, centrifuge at 200-500 RPM to gather the liquid at the bottom of the vial. try to avoid loss or contamination during handling.
Biochem Biophys Res Commun.2017, 482(4):1095-1101
J of the Korean Society of Cosmetics and Cosmetology2018, 399-406
Current Traditional Medicine, 2021, 7:326-335(10).
Chemistr of plant2016, 2016021195
Genes (Basel).2021, 12(7):1024.
Molecules.2017, 22(12)
J of Ana. Chem.2019, 74(11):1113-1121
Phytochemistry.2021, 181:112539.
J Ethnopharmacol.2022, 291:115159.
Front Pharmacol.2021, 12:690113.
J Pharm Sci. 1979 Jul;68(7):883-7.
Antitumor agents. XXXIV: Mechanism of action of bruceoside A and brusatol on nucleic acid metabolism of P-388 lymphocytic leukemia cells.[Pubmed:
458610
]
The quassinoids bruceantin, brucein D, brucein E, Bruceoside A, and brusatol significantly inhibited P-388 lymphocytic leukemic cell RNA and protein synthesis in tissue culture. However, DNA synthesis inhibition seemed to correlate more directly with the anti-neoplastic activity of these compounds in the in vivo P-338 survival system.
METHODS AND RESULTS:
In vitro, brusatol and Bruceoside A marginally inhibited 10-day P-388 lymphocytic leukemia DNA polymerase, RNA polymerase, thymidylate synthetase, dihydrofolate reductase, phosphoribosyl pyrophosphate aminotransferase, and cathepsin protease activities. In vivo studies demonstrated similar inhibition and elevated cyclic AMP levels, correlating positively with the antineoplastic activity of individual compounds. Purine synthesis was inhibited drastically by brusatol in vivo, and one key inhibition site in purine synthesis was at phosphoribosyl pyrophosphate aminotransferase, the regulatory enzyme.
CONCLUSIONS:
Histone phosphorylation and ribonucleotide reductase activity also were inhibited marginally by brusatol.
J Pharm Biomed Anal. 2019 Jun 5;170:264-272.
Pharmacokinetic study on bruceoside A revealed the potential role of quassinoid glycosides for the anticancer properties of Fructus Bruceae.[Pubmed:
30947127
]
Bruceoside A, an abundant quassinoid glycoside in Fructus Bruceae, was chosen for the pharmacokinetic study. It is the first case report on the pharmacokinetic study of quassinoid glycosides so far.
METHODS AND RESULTS:
A sensitive, accurate, and repeatable UHPLC-MS/MS method was developed for the determination of Bruceoside A and its major metabolite. The results showed Bruceoside A could be transformed into the potent anticancer component brusatol in vivo, rather than its direct deglycosylated metabolite bruceosin. And the intestinal bacteria were proposed to take a potential role during such transformation.
CONCLUSIONS:
Based on the present study, it could be concluded that the quassinoid glycosides possessing weak activities in vitro could do contribution to the anticancer properties of Fructus Bruceae in vivo via transforming into more active metabolites.
Planta Med. 2002 Aug;68(8):730-3.
Bioactive constituents of the seeds of Brucea javanica.[Pubmed:
12221597
]

METHODS AND RESULTS:
A new quassinoid, yadanziolide S (1), was isolated from the seeds of the traditional Chinese medicinal herb, Brucea javanica, along with ten known compounds, flazin, bruceine D, yadanziolide B, Bruceoside A, yadanziolide S, yadanzigan, glycerol 1,3-bisoleate, azelaic acid, (+/-)-8-hydroxyhexadecanoic acid, and vanillin.
CONCLUSIONS:
Compound 1 is the first quassinoid to have been isolated from B. javanica without a methyleneoxy bridge between C-8 and C-13, and its structure was determined using spectroscopic methods, and confirmed by single-crystal X-ray diffraction. All isolates were evaluated for their potential to induce human promyelocytic leukemia (HL-60) cell differentiation, and to inhibit cyclooxygenase-1 (COX-1), -2 (COX-2), and 7,12-dimethylbenz[a]anthracene (DMBA)-induced lesions in a mouse mammary organ culture model.