Kobusin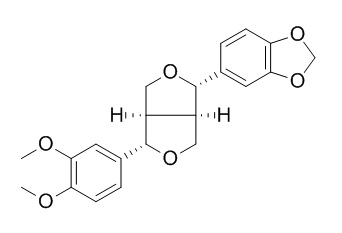 Kobusin, a Calmodulin inhibitor, shows mild antiplasmodial,anti-inflammatory, and cytotoxic activities; it may be beneficial for the treatment of neuro-inflammatory diseases through the inhibition of iNOS expression and peroxynitrite scavenging potential. Kobusin can mildly reduce gastrointestinal motility in mice, it activates CFTR and CaCCgie chloride channel activities in mouse colonic epithelia and shows inhibitory effects toward ANO1/CaCC-mediated short-circuit currents in ANO1/CaCC-expressing FRT cells.
Inquire / Order: manager@chemfaces.com
Technical Inquiries: service@chemfaces.com
Tel: +86-27-84237783
Fax: +86-27-84254680

Address:
1 Building, No. 83, CheCheng Rd., Wuhan Economic and Technological Development Zone, Wuhan, Hubei 430056, PRC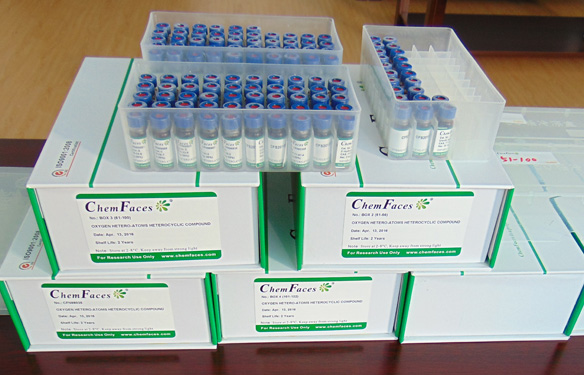 Providing storage is as stated on the product vial and the vial is kept tightly sealed, the product can be stored for up to
24 months(2-8C)
.
Wherever possible, you should prepare and use solutions on the same day. However, if you need to make up stock solutions in advance, we recommend that you store the solution as aliquots in tightly sealed vials at -20C. Generally, these will be useable for up to two weeks. Before use, and prior to opening the vial we recommend that you allow your product to equilibrate to room temperature for at least 1 hour.
Need more advice on solubility, usage and handling? Please email to: service@chemfaces.com
The packaging of the product may have turned upside down during transportation, resulting in the natural compounds adhering to the neck or cap of the vial. take the vial out of its packaging and gently shake to let the compounds fall to the bottom of the vial. for liquid products, centrifuge at 200-500 RPM to gather the liquid at the bottom of the vial. try to avoid loss or contamination during handling.
Int Immunopharmacol. 2020, 83:106403.
Nutrients2020, 12(3):811.
Plant J.2017, 90(3):535-546
Int Immunopharmacol.2019, 71:361-371
J Med Food.2020, 23(6):633-640.
Arch Biochem Biophys.2020, 687:108363.
J of the Society of Cosmetic Scientists of Korea2018, 44(4):407-417
Toxins (Basel).2020, 12(4):210.
Pharmacol Res.2020, 161:105205.
Int J Mol Sci.2018, 19(2)
Molecules. 2016 May 24;21(6).
Bioactive Constituents of Zanthoxylum rhetsa Bark and Its Cytotoxic Potential against B16-F10 Melanoma Cancer and Normal Human Dermal Fibroblast (HDF) Cell Lines.[Pubmed:
27231889
]
Zanthoxylum rhetsa is an aromatic tree, known vernacularly as "Indian Prickly Ash". It has been predominantly used by Indian tribes for the treatment of many infirmities like diabetes, inflammation, rheumatism, toothache and diarrhea.
METHODS AND RESULTS:
In this study, we identified major volatile constituents present in different solvent fractions of Z. rhetsa bark using GC-MS analysis and isolated two tetrahydrofuran lignans (yangambin and Kobusin), a berberine alkaloid (columbamine) and a triterpenoid (lupeol) from the bioactive chloroform fraction. The solvent fractions and purified compounds were tested for their cytotoxic potential against human dermal fibroblasts (HDF) and mouse melanoma (B16-F10) cells, using the MTT assay. All the solvent fractions and purified compounds were found to be non-cytotoxic to HDF cells. However, the chloroform fraction and Kobusin exhibited cytotoxic effect against B16-F10 melanoma cells.
CONCLUSIONS:
The presence of bioactive lignans and alkaloids were suggested to be responsible for the cytotoxic property of Z. rhetsa bark against B16-F10 cells.
J Ethnopharmacol. 2011 Nov 18;138(2):637-40.
Furfuran lignans and a flavone from Artemisia gorgonum Webb and their in vitro activity against Plasmodium falciparum.[Pubmed:
21982788
]

METHODS AND RESULTS:
The chemical composition of the aerial parts of the Cape Verdean endemic shrub Artemisia gorgonum Webb (Asteraceae) was careful investigated, which led to the isolation and identification of six known furfuran lignans: eudesmin (1), magnolin (2), epimagnolin A (3), aschantin (4), Kobusin (5), sesamin (6) and a flavone: artemetin (7). Compounds 1-7 were evaluated in vitro for their cytotoxicity in a screening panel consisting of various mammalian tumor cell lines, for their antimalarial activity against chloroquine-resistant Plasmodium falciparum (FcB1 strain) and for their cytotoxicity against murine normal cells (CFU-GM). While no promising cytotoxicity against human tumor cells were noticed, marginal potency and selectivity was found for compounds 1-5 against murine colon 38. Besides, compounds 2-7 showed mild antiplasmodial activities, 6 and 7 being the most active compounds (IC(50) 3.37 and 3.50 μg/ml respectively) without noticeable toxicity on mammalian normal cells.
CONCLUSIONS:
This is the first report of antiplasmodial activity for furfuran lignans and the first isolation of 1-7 from Artemisia gorgonum.
Phytother Res. 2010 May;24(5):748-53.
Suppression of inducible nitric oxide synthase expression by furfuran lignans from flower buds of Magnolia fargesii in BV-2 microglial cells.[Pubmed:
19943243
]
Activated microglia produces diverse neurotoxic factors such as nitric oxide (NO) and tumor necrosis factor-alpha that serve as apoptotic inducers resulting in various neurodegenerative diseases. The inhibition of microglia-derived NO production by inducible nitric oxide synthase (iNOS) has been reported to be beneficial in retarding neurodegenerative disorders.
METHODS AND RESULTS:
Three active lignans have been isolated from the flower buds of Magnolia fargesii by the bioassay-guided fractionation using lipopolysaccharide (LPS)-activated BV-2 microglial cell culture system. The structures of them were identified as Kobusin (1), aschantin (2) and fargesin (3) by the analyses of spectroscopic data. They inhibited the production of NO by activated microglia. Their IC(50) values were 21.8 +/- 3.7, 14.8 +/- 2.5 and 10.4 +/- 2.8 microg/mL, respectively. They suppressed LPS-induced NF-kappaB activation and the expression of iNOS protein and mRNA. Furthermore, they showed scavenging activity of neurotoxic peroxynitrite that can be produced by NO and superoxide anion.
CONCLUSIONS:
These results imply that lignans from Magnolia fargesii might be beneficial for the treatment of neuro-inflammatory diseases through the inhibition of iNOS expression and peroxynitrite scavenging potential.
Front Plant Sci. 2015 Nov 25;6:1041.
Modulation of Chloride Channel Functions by the Plant Lignan Compounds Kobusin and Eudesmin.[Pubmed:
26635857
]
Plant lignans are diphenolic compounds widely present in vegetables, fruits, and grains. These compounds have been demonstrated to have protective effect against cancer, hypertension and diabetes.
METHODS AND RESULTS:
In the present study, we showed that two lignan compounds, Kobusin and eudesmin, isolated from Magnoliae Flos, could modulate intestinal chloride transport mediated by cystic fibrosis transmembrane conductance regulator (CFTR) and calcium-activated chloride channels (CaCCs). The compounds activated CFTR channel function in both FRT cells and in HT-29 cells. The modulating effects of Kobusin and eudesmin on the activity of CaCCgie (CaCC expressed in gastrointestinal epithelial cells) were also investigated, and the result showed that both compounds could stimulate CaCCgie-mediated short-circuit currents and the stimulation was synergistic with ATP. In ex vivo studies, both compounds activated CFTR and CaCCgie chloride channel activities in mouse colonic epithelia. Remarkably, the compounds showed inhibitory effects toward ANO1/CaCC-mediated short-circuit currents in ANO1/CaCC-expressing FRT cells, with IC50 values of 100 μM for Kobusin and 200 μM for eudesmin. In charcoal transit study, both compounds mildly reduced gastrointestinal motility in mice.
CONCLUSIONS:
Taken together, these results revealed a new kind of activity displayed by the lignan compounds, one that is concerned with the modulation of chloride channel function.
J Nat Prod. 2003 Feb;66(2):221-4.
Calmodulin inhibitors from Leucophyllum ambiguum.[Pubmed:
12608853
]

METHODS AND RESULTS:
Activity-directed fractionation of a CH(2)Cl(2)-MeOH (1:1) extract of Leucophyllum ambiguum led to the isolation of two new lignans designated with the trivial names of 2'-methoxyKobusin (1) and 2'-methoxy-4' '-hydroxydemethoxyKobusin (2). In addition, the known compounds Kobusin (3), 2',2' '-dimethoxysesamin (4), trans-cinnamic acid, apigenin, and apigetrin were obtained. The identification of the novel analogues 1 and 2 was accomplished by spectral methods. The structure of 1 was unequivocally confirmed by X-ray analysis.
CONCLUSIONS:
Compounds 1-4 interacted with bovine-brain calmodulin and inhibited the activation of the calmodulin-dependent enzyme cAMP phosphodiesterase.