(+)-Epipinoresinol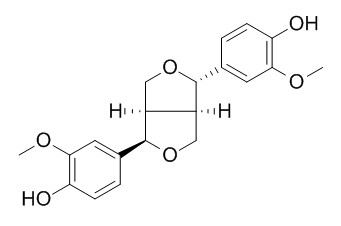 Reference standards.
Inquire / Order: manager@chemfaces.com
Technical Inquiries: service@chemfaces.com
Tel: +86-27-84237783
Fax: +86-27-84254680

Address:
1 Building, No. 83, CheCheng Rd., Wuhan Economic and Technological Development Zone, Wuhan, Hubei 430056, PRC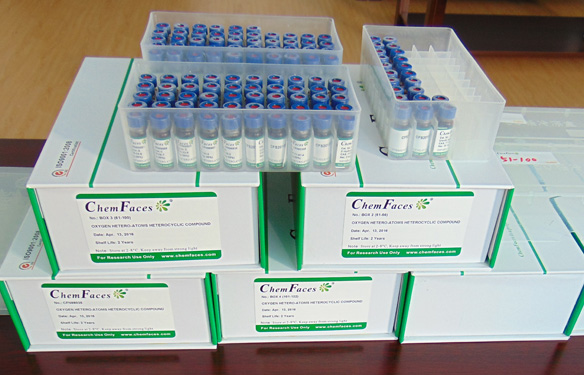 Providing storage is as stated on the product vial and the vial is kept tightly sealed, the product can be stored for up to
24 months(2-8C)
.
Wherever possible, you should prepare and use solutions on the same day. However, if you need to make up stock solutions in advance, we recommend that you store the solution as aliquots in tightly sealed vials at -20C. Generally, these will be useable for up to two weeks. Before use, and prior to opening the vial we recommend that you allow your product to equilibrate to room temperature for at least 1 hour.
Need more advice on solubility, usage and handling? Please email to: service@chemfaces.com
The packaging of the product may have turned upside down during transportation, resulting in the natural compounds adhering to the neck or cap of the vial. take the vial out of its packaging and gently shake to let the compounds fall to the bottom of the vial. for liquid products, centrifuge at 200-500 RPM to gather the liquid at the bottom of the vial. try to avoid loss or contamination during handling.
Pharmacogn Mag.2015, 11:S585-91
Clin Transl Oncol.2019, 10.1007
Evid Based Complement Alternat Med.2016, 2016:4357656
Phytomedicine.2018, 38:45-56
Molecules.2020, 25(7):1625.
American Association for Anatomy2020, doi: 10.1002.
Evid Based Complement Alternat Med.2017, 2017:1583185
J Adv Res.2019, 17:85-94
Pharm Biol.2016, 54(7):1255-62
J Agric Food Chem.2018, 66(1):351-358
Zhongguo Zhong yao za zhi,2013, 38(14):2321-2324.
Chemical constituents from stems of Brucea mollis and their cytotoxic activity.[Reference:
WebLink
]

METHODS AND RESULTS:
Ten compounds were isolated from the stems of Brucea mollis by various chromatographic techniques such as column chromatography on silica gel and Sephadex LH-20, and preparative HPLC, and their structures were elucidated as deacetylated isobrucein B (1), indaquassin X (2), cleomiscosin A (3), cleomiscosin B (4), (+)-lyoniresinol (5), (+)-Epipinoresinol(6), (+)-pinoresinol (7), (+)-syringaresinol (8), 4,5-dihydroblumenol A (9) and adenosine (10) on the basis of spectroscopic data analysiS. All compounds were obtained from this plant for the first time, moreover, compound 1 was a new natural product.
CONCLUSIONS:
Compound 2 showed significant cytotoxic activities against the human cell lines HT-29, HepG2, BGC-823 and SKOV3 with IC50 values of 0.84-3.97 micromol x L(-1).
Frontiers in Pharmacology, 2018, 9:401.
Lignans From Forsythia x Intermedia Leaves and Flowers Attenuate the Pro-inflammatory Function of Leukocytes and Their Interaction With Endothelial Cells.[Reference:
WebLink
]
Taking into account that overactivated leukocytes are an important factor in the development of many chronic diseases, we investigated the activity of phytochemically characterized (HPLC-DAD-MSⁿ) extracts from forsythia leaves and flowers on the pro- and anti-inflammatory functions of leukocytes (effects on IL-1β, IL-8, TNF-α, and TGFβ release) and their adherence to endothelial cells. Using bio-guided fractionation, we isolated the active compounds and determined their biological activity, and we included the positive control quercetin.
METHODS AND RESULTS:
The effect on IL-1β, TNF-α, IL-8, and TGF-α production by leukocytes was measured by enzyme-linked immunosorbent assay (ELISA). The surface expression of adhesion molecules was analyzed with flow cytometry, and the neutrophil attachment to the endothelial cells was assessed fluorimetrically. The effects on p38MAPK, ERK1/2 and JNK phosphorylation were determined using western blots. Leaf extracts had the effect of decreasing TNF-α production in neutrophils and monocyte/macrophage cells. The bio-guided fractionation led to the isolation of the following lignan aglycones: (+)-pinoresinol, (+)-Epipinoresinol, (−)-matairesinol, (+)-phillygenin, and (−)-arctigenin. Only phillygenin was able to stimulate the anti-inflammatory function of macrophages by inducing TGF-β release and IL-10 receptor surface expression. Arctigenin, phillygenin, and a metabolite produced by the gut microbiota, enterolactone, decreased TNF-α and IL-1β production and neutrophil adhesion to endothelial cells, probably by attenuating the p38 and ERK kinase pathways.
CONCLUSIONS:
Forsythia x intermedia is a valuable source of active lignans, which may be potential candidates for treating inflammatory diseases that are associated with the excessive production of cytokines such as TNF-α and IL-1β.
CHEMICAL & PHARMACEUTICAL BULLETIN, 1995, 43(12):2200-2204.
Pharmacologically active components of Todopon Puok (Fagraea racemosa), a medicinal plant from Borneo.[Reference:
WebLink
]

METHODS AND RESULTS:
The lignans of (+)-pinoresinol, (+)-Epipinoresinol, (+)-lariciresinol and (+)-isolariciresinol together with phenols such as syringaldehyde and 7,8-dihydro-7-oxy-coniferyl alcohol were isolated from Todopon Puok (Fagraea racemosa JACK ex WALL.), a medicinal plant from Borneo, using a bioassay of the relaxation effect on norepinephrine (NE)-induced contraction in rat aortic strips. The plant extract also exhibited analgesic properties in the acetic acid-induced writhing and tail pressure tests in mice, with the activity being concentrated in the lignan fraction.
CONCLUSIONS:
(+)-Pinoresinol showed analgesic effect on writhing symptoms in mice which were dose-dependent, and produced local anesthesia in guinea pigs.