Isobavachin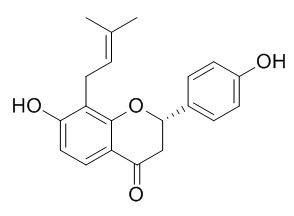 Isobavachin can stimulate osteoblasts proliferation and differentiation; it also can facilitate mouse embryonic stem cells differentiating into neuronal cells, the mechanism involved protein prenylation and, subsequently, phos-ERK activation and the phos-p38 off pathway. Isobavachin possesses estrogen-like activity in MCF-7/BOS cells, it can significantly stimulate the proliferation of MCF-7/BOS cells in a dose-dependent manner. Isobavachin has cytotoxic effects on H4IIE hepatoma and metabolically poorly active C6 glioma cells.
Inquire / Order: manager@chemfaces.com
Technical Inquiries: service@chemfaces.com
Tel: +86-27-84237783
Fax: +86-27-84254680

Address:
1 Building, No. 83, CheCheng Rd., Wuhan Economic and Technological Development Zone, Wuhan, Hubei 430056, PRC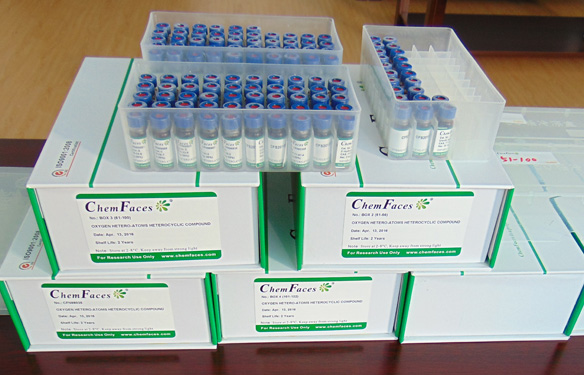 Providing storage is as stated on the product vial and the vial is kept tightly sealed, the product can be stored for up to
24 months(2-8C)
.
Wherever possible, you should prepare and use solutions on the same day. However, if you need to make up stock solutions in advance, we recommend that you store the solution as aliquots in tightly sealed vials at -20C. Generally, these will be useable for up to two weeks. Before use, and prior to opening the vial we recommend that you allow your product to equilibrate to room temperature for at least 1 hour.
Need more advice on solubility, usage and handling? Please email to: service@chemfaces.com
The packaging of the product may have turned upside down during transportation, resulting in the natural compounds adhering to the neck or cap of the vial. take the vial out of its packaging and gently shake to let the compounds fall to the bottom of the vial. for liquid products, centrifuge at 200-500 RPM to gather the liquid at the bottom of the vial. try to avoid loss or contamination during handling.
Sci Rep.2017, 7:467-479
Molecules.2019, 24(12):E2286
Molecules.2019, 24(10):E1926
Molecules.2019, 24(22):E4022
J Mol Recognit.2020, 33(2):e2819
Pak J Pharm Sci.2019, 32(6)
International Food Research Journal2018, 25(6):2560-2571
Oncotarget.2016, 8(51):88386-88400
Nutrients.2018, 10(7)
Chem Biol Interact.2018, 290:44-51
Acta Pharmacol Sin. 2011 Apr;32(4):425-32.
Promoting effects of isobavachin on neurogenesis of mouse embryonic stem cells were associated with protein prenylation.[Pubmed:
21441946
]
Some small molecules can induce mouse embryonic stem (ES) cells to differentiate into neuronal cells. Here, we explored the effect of Isobavachin (IBA), a compound with a prenyl group at position 8 of ring A, on promoting neuronal differentiation and the potential role of its protein prenylation.
METHODS AND RESULTS:
The hanging drop method was employed for embryonic body (EB) formation to mimic embryo development in vivo. The EBs were treated with Isobavachin at a final concentration of 10(-7) mol/L from EB stage (d 4) to d 8+10. Geranylgeranyltransferase I inhibitor GGTI-298 was subsequently used to disrupt protein prenylation. Neuronal subtypes, including neurons and astrocytes, were observed by fluorescence microscopy. Gene and protein expression levels were detected using RT-PCR and Western blot analysis, respectively. With Isobavachin treatment, nestin was highly expressed in the neural progenitors generated from EBs (d 4, d 8+0). EBs then further differentiated into neurons (marked by β-tubulin III) and astrocytes (marked by GFAP), which were both up-regulated in a time-dependent manner on d 8+5 and d 8+10. Co-treatment with GGTI-298 selectively abolished the Isobavachin-induced neuronal differentiation. Moreover, in the MAPK pathway, p38 and JNK phosphorylation were down-regulated, while ERK phosphorylation was up-regulated after Isobavachin treatment at different neuronal differentiation passages.
CONCLUSIONS:
Isobavachin can facilitate mouse ES cells differentiating into neuronal cells. The mechanism involved protein prenylation and, subsequently, phos-ERK activation and the phos-p38 off pathway.
Food Chem Toxicol. 2007 Jan;45(1):119-24.
Prenylation enhances cytotoxicity of apigenin and liquiritigenin in rat H4IIE hepatoma and C6 glioma cells.[Pubmed:
17045382
]
Antioxidative as well as cytotoxic effects of the prenylated flavonoids licoflavone C (8-prenylapigenin) and Isobavachin (8-prenylliquiritigenin) were investigated in comparison to the corresponding non-prenylated flavonoids (apigenin, liquiritigenin) and vitexin (apigenin-C8-glucoside) using metabolically active H4IIE hepatoma and metabolically poorly active C6 glioma cells.
METHODS AND RESULTS:
None of the substances showed radical scavenging activities in the 2,2-diphenyl-1-picrylhydrazyl (DPPH)-assay nor were they effective in protection against H2O2-induced intracellular 2',7'-dichlorodihydrofluorescein (H2DCF) oxidation (fluorescent probe for oxidative stress) in H4IIE and C6 cells. When the intrinsic effects of the substances were investigated, licoflavone C and Isobavachin exerted a pronounced toxicity in both H4IIE (IC50 values of 42+/-5 and 96+/-19 micromol/L) and C6 cells (IC50 values of 37+/-6 and 69+/-3 micromol/L) while the non-prenylated analogues as well as the glycosylated derivate vitexin showed almost no cytotoxic effect up to 250 micromol/L. In H4IIE cells the induction of apoptotic cell death by licoflavone C and icobavachin was detected as an activation of caspase 3/7 (6- and 3.3-fold, respectively).
CONCLUSIONS:
Based on these experiments we suggest that C8-prenylation of a flavonoid enhances the cytotoxicity inducing an apoptotic cell death in H4IIE cells without affecting antioxidative properties.
Arch Pharm (Weinheim). 2007 Jul;340(7):372-6.
Synthesis of four natural prenylflavonoids and their estrogen-like activities.[Pubmed:
17610303
]

METHODS AND RESULTS:
Four prenylflavonoids, bavachin 1, Isobavachin 2, 7,4'-dihydroxy-8-prenylflavone 3, and 8-prenylapigenin 4 were synthesized and recognized for possessing estrogen-like activity in MCF-7/BOS cells, as evaluated by an estrogen-screening assay. All compounds significantly stimulated the proliferation of MCF-7/BOS cells in a dose-dependent manner. Isobavachin 2 showed the most potent activity, while bavachin 1 was the weakest.
CONCLUSIONS:
The estrogenic potency of these compounds is ranked as follows: 2 > 4 > 3 > 1.
Phytomedicine. 2014 Mar 15;21(4):400-5.
Osteoblasts proliferation and differentiation stimulating activities of the main components of Fructus Psoraleae corylifoliae.[Pubmed:
24220018
]
Osteoporosis is a disease of bones that leads to an increased risk of fracture. Fructus of Psoralea corylifolia L. (scurfpea fruit) is commonly utilized for treating bone fractures and joint diseases for thousands of years in China. This study was aimed to screen active principles, which might have the potency to stimulate osteoblasts proliferation and differentiation from scurfpea fruit.
METHODS AND RESULTS:
A HPLC method was established to analyze the main components in scurfpea fruit. Totally 11 compounds have been identified by comparing their retention time with correspondent standard substances. The MTT and ALP methods were utilized for the assay of osteoblasts proliferation and differentiation activity. Icariin, a prenylated flavonoid glycoside was treated as the positive control. Bavachin and Isobavachin significantly stimulated cell proliferation, while bakuchiol exhibited stronger effect to enhance osteoblasts differentiation. All these compounds were found with a characterized structure that in each of their molecule backbones, a prenylated side chain was attached.
CONCLUSIONS:
These results lead to a hypothesis that prenyl group might be crucial to exhibit the activity. The structure-effect relationship of these compounds with prenyl group in mouse primary calvarial osteoblasts needs to be explored in further research.