Bavachinin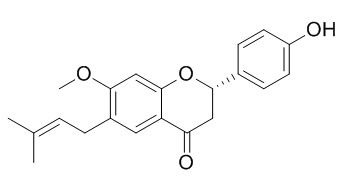 Bavachinin is a novel natural pan-PPAR agonist , it shows stronger activities with PPAR-γ than with PPAR-α and PPAR-β/δ (EC50 = 0.74 μmol/l, 4.00 μmol/l and 8.07 μmol/l in 293T cells, respectively). Bavachinin possesses anti-asthma, anti-angiogenic , anti-inflammatory, antipyretic and analgesic properties, it also exhibits glucose-lowering properties without inducing weight gain and hepatotoxicity.
Inquire / Order: manager@chemfaces.com
Technical Inquiries: service@chemfaces.com
Tel: +86-27-84237783
Fax: +86-27-84254680

Address:
1 Building, No. 83, CheCheng Rd., Wuhan Economic and Technological Development Zone, Wuhan, Hubei 430056, PRC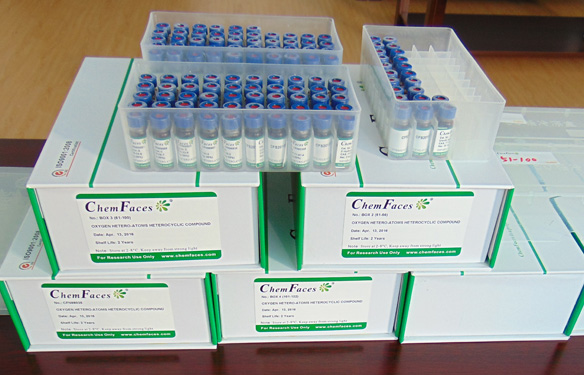 Providing storage is as stated on the product vial and the vial is kept tightly sealed, the product can be stored for up to
24 months(2-8C)
.
Wherever possible, you should prepare and use solutions on the same day. However, if you need to make up stock solutions in advance, we recommend that you store the solution as aliquots in tightly sealed vials at -20C. Generally, these will be useable for up to two weeks. Before use, and prior to opening the vial we recommend that you allow your product to equilibrate to room temperature for at least 1 hour.
Need more advice on solubility, usage and handling? Please email to: service@chemfaces.com
The packaging of the product may have turned upside down during transportation, resulting in the natural compounds adhering to the neck or cap of the vial. take the vial out of its packaging and gently shake to let the compounds fall to the bottom of the vial. for liquid products, centrifuge at 200-500 RPM to gather the liquid at the bottom of the vial. try to avoid loss or contamination during handling.
Exp Ther Med.2019, 18(6):4388-4396
Acta Pharmaceutica Hungarica2016, 86:35-40
Hum Exp Toxicol.2017, 36(11):1169-1176
Journal of Apiculture2019, 34(2):131-136
BMC Microbiol.2019, 19(1):78
Molecules.2020, 25(3):734
Antioxidants (Basel).2020, 9(2):E99
J Ethnopharmacol.2019, 241:112025
African J. Agricultural Research 2017, 12(13):1164-1168
Korean J Dent Mater.2018, 45(2):139-146
Indian J. Exp. Biol., 1978, 16(11):1216-7.
Antiinflamatory, antipyretic & analgesic properties of bavachinin-a flavanone isolated from seeds of Psoralea corylifolia Linn. (Babchi).[Pubmed:
312274
]
Antiinflamatory, antipyretic & analgesic properties of Bavachinin-a flavanone isolated from seeds of Psoralea corylifolia Linn. (Babchi).
Eur J Pharmacol. 2012 Sep 15;691(1-3):28-37.
Anti-angiogenic and anti-tumor activity of Bavachinin by targeting hypoxia-inducible factor-1α.[Pubmed:
22760073
]
Hypoxia-inducible factor-1 (HIF-1) consists of two subunits, the HIF-1β, which is constitutively expressed, and HIF-1α, which is oxygen-responsive. HIF-1α is over-expressed in response to hypoxia, increasing transcriptional activity linked to tumor progression, angiogenesis, metastasis, and invasion. This study aimed to demonstrate that the natural compound, Bavachinin, has potent anti-angiogenic activity in vitro and in vivo.
METHODS AND RESULTS:
Bavachinin inhibited increases in HIF-1α activity in human KB carcinoma (HeLa cell derivative) and human HOS osteosarcoma cells under hypoxia in a concentration-dependent manner, probably by enhancing the interaction between von Hippel-Lindau (VHL) and HIF-1α. Furthermore, Bavachinin decreased transcription of genes associated with angiogenesis and energy metabolism that are regulated by HIF-1, such as vascular endothelial growth factors (VEGF), Glut 1 and Hexokinase 2. Bavachinin also inhibited tube formation in human umbilical vein endothelial cells (HUVECs) as well as in vitro migration of KB cells. In vivo studies showed that injecting Bavachinin thrice weekly for four weeks significantly reduced tumor volume and CD31 expression in nude mice with KB xenografts.
CONCLUSIONS:
These data indicate that Bavachinin could be used as a therapeutic agent for inhibiting tumor angiogenesis.
Diabetologia. 2016 Jun;59(6):1276-86.
Bavachinin, as a novel natural pan-PPAR agonist, exhibits unique synergistic effects with synthetic PPAR-γ and PPAR-α agonists on carbohydrate and lipid metabolism in db/db and diet-induced obese mice.[Pubmed:
26983922
]

METHODS AND RESULTS:
Bavachinin (BVC, a novel natural pan-PPAR agonist from the fruit of the traditional Chinese glucose-lowering herb malaytea scurfpea) exhibited glucose-lowering properties without inducing weight gain and hepatotoxicity. Importantly, BVC synergised with thiazolidinediones, which are synthetic PPAR-γ agonists, and fibrates, which are PPAR-α agonists, to induce PPAR transcriptional activity, as well as to lower glucose and triacylglycerol levels in db/db mice. We further found that BVC occupies a novel alternative binding site in addition to the canonical site of synthetic agonists of PPAR, and that the synthetic PPAR-γ agonist rosiglitazone can block BVC binding to this canonical site but not to the alternative site.
CONCLUSIONS:
This is the first report of a synergistic glucose- and lipid-lowering effect of BVC and synthetic agonists induced by unique binding with PPAR-γ or -α. This combination may improve the efficacy and decrease the toxicity of marketed drugs for use as adjunctive therapy to treat the metabolic syndrome.
Int Immunopharmacol. 2014 Apr;19(2):399-404.
Effect of Bavachinin and its derivatives on T cell differentiation.[Pubmed:
24508059
]
Bavachinin, which can be isolated from the Chinese herb Fructus Psoraleae, has the potential as a potent anti-asthma drug. However, the extremely low water solubility of Bavachinin limits its application.
METHODS AND RESULTS:
In this study, two new derivatives of Bavachinin, i.e., compounds A and B, whose water solubility is better than that of Bavachinin, were synthesized via biotransformation. A comparative investigation was then performed on the effects of these two new derivatives, along with Bavachinin, on T cell differentiation. The results showed that they have different effects. Bavachinin and compound B inhibited green fluorescent protein (GFP) production from the T cells of IL-4-GFP-enhanced transcript (4GET) mice, whereas compound A did not. The effect was mainly attributed to the inhibition of GATA-3 protein production. Bavachinin and compound B can inhibit the production of GATA-3 mRNA, but they showed different effects on the production of T-bet mRNA. Compound B increased the production of T-bet mRNA, whereas Bavachinin did not.
CONCLUSIONS:
The results will be very useful for optimizing Bavachinin so that potent anti-allergic drugs can be developed. The structure-activity relationship of Th2 was revealed based on the difference between Bavachinin and compound B. This finding can enrich the database of preliminary drug screening from their chemical structures.
Bioorg Med Chem Lett. 2015 Jun 15;25(12):2579-83.
Separation and peroxisome proliferator-activated receptor-γ agonist activity evaluation of synthetic racemic bavachinin enantiomers.[Pubmed:
25978962
]
Bavachinin, isolated from Psoralea corylifolia seeds, has been reported to demonstrate peroxisome proliferator-activated receptor-γ (PPAR-γ) agonist activity. However, isolated Bavachinin is actually a mixture of S and R configurations, with an enantiomeric excess value of approximately 24.3%. For further study on the structure-activity relationships of Bavachinin, investigating the PPAR-γ agonist activity of the two enantiomers is crucial.
METHODS AND RESULTS:
Considering the limited availability, racemic Bavachinin was prepared in this study using chemical synthesis. The enantiomers of racemic Bavachinin were then separated using supercritical fluid chromatography. This concise strategy yielded (S)- and (R)-Bavachinin in optical purity as high as ⩾97.5%. The PPAR-γ agonist activity of the two enantiomers was evaluated using a time-resolved fluorescence resonance energy transfer-based competitive binding assay method; IC50 values of (S)- and (R)-Bavachinin were 616.7 and 471.2 nM, respectively. The interaction between the compounds and PPAR-γ was further explored using a molecular docking method.
CONCLUSIONS:
This study suggests that (S)- and (R)-Bavachinin demonstrate similar PPAR-γ agonist activities.