8-Prenylnaringenin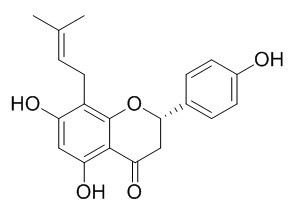 8-Prenylnaringenin is a phytoestrogen with high estrogenic activity, it shows more potent effects on promoting osteoblastic bone formation and inhibiting osteoclastic bone resorption by ERα instead of ERβ than the two classic phytoestrogens: genistein and daidzein. 8-Prenylnaringenin at all assayed doses (0.001-20 µM) presumably improves mitochondrial function, whereas a high dose of XN (5 µM) worsens the functionality of this organelle.
Inquire / Order: manager@chemfaces.com
Technical Inquiries: service@chemfaces.com
Tel: +86-27-84237783
Fax: +86-27-84254680

Address:
1 Building, No. 83, CheCheng Rd., Wuhan Economic and Technological Development Zone, Wuhan, Hubei 430056, PRC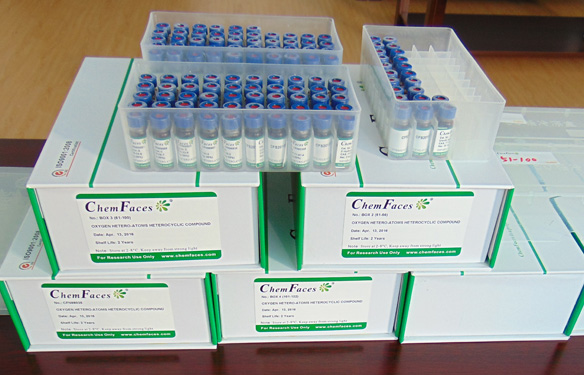 Providing storage is as stated on the product vial and the vial is kept tightly sealed, the product can be stored for up to
24 months(2-8C)
.
Wherever possible, you should prepare and use solutions on the same day. However, if you need to make up stock solutions in advance, we recommend that you store the solution as aliquots in tightly sealed vials at -20C. Generally, these will be useable for up to two weeks. Before use, and prior to opening the vial we recommend that you allow your product to equilibrate to room temperature for at least 1 hour.
Need more advice on solubility, usage and handling? Please email to: service@chemfaces.com
The packaging of the product may have turned upside down during transportation, resulting in the natural compounds adhering to the neck or cap of the vial. take the vial out of its packaging and gently shake to let the compounds fall to the bottom of the vial. for liquid products, centrifuge at 200-500 RPM to gather the liquid at the bottom of the vial. try to avoid loss or contamination during handling.
Molecules.2018, 23(3):E615
Molecules.2019, 24(20):3755
Food Chem.2016, 191:81-90
J Pharm Biomed Anal.2019, 172:268-277
BMC Complement Altern Med.2019, 19(1):325
Chem Pharm Bull (Tokyo).2019, 67(11):1242-1247
J Nat Prod.2018, 81(4):966-975
APMIS.2019, 127(10):688-695
Korean Journal of Pharmacognosy2018, 49(3):270-277
J Pharm Anal.2016, 6(6):363-373
Strahlenther Onkol. 2015 May;191(5):429-36.
8-prenylnaringenin and tamoxifen inhibit the shedding of irradiated epithelial cells and increase the latency period of radiation-induced oral mucositis : cell culture and murine model.[Pubmed:
25432325
]
The major component in the pathogenesis of oral radiation-induced mucositis is progressive epithelial hypoplasia and eventual ulceration. Irradiation inhibits cell proliferation, while cell loss at the surface continues. We conceived to slow down this desquamation by increasing intercellular adhesion, regulated by the E-cadherin/catenin complex. We investigated if 8-Prenylnaringenin (8-PN) or tamoxifen (TAM) decrease the shedding of irradiated human buccal epithelial cells in vitro and thus delay the ulcerative phase of radiation-induced mucositis in vivo.
METHODS AND RESULTS:
In vitro, aggregates of buccal epithelial cells were irradiated and cultured in suspension for 11 days. 8-PN or TAM were investigated regarding their effect on cell shedding. In vivo, the lower tongue surface of mice was irradiated with graded single doses of 25 kV X-rays. The incidence, latency, and duration of the resulting mucosal ulcerations were analyzed after topical treatment with 8-PN, TAM or solvent. 8-PN or TAM prevented the volume reduction of the irradiated cell aggregates during the incubation period. This was the result of a higher residual cell number in the treated versus the untreated irradiated aggregates. In vivo, topical treatment with 8-PN or TAM significantly increased the latency of mucositis from 10.9 to 12.1 and 12.4 days respectively, while the ulcer incidence was unchanged.
CONCLUSIONS:
8-PN and TAM prevent volume reduction of irradiated cell aggregates in suspension culture. In the tongues of mice, these compounds increase the latency period. This suggests a role for these compounds for the amelioration of radiation-induced mucositis in the treatment of head and neck tumors.
Planta Med. 2015 Mar;81(4):305-11.
Neurodifferentiating potential of 8-prenylnaringenin and related compounds in neural precursor cells and correlation with estrogen-like activity.[Pubmed:
25714726
]
Neurodegenerative diseases are an increasing burden for our ageing societies; there is an as yet unmet need for the development of effective therapies. Neurogenesis, i.e., the generation of new neurons in the adult brain from neural stem cells, has received increasing attention since it offers the potential for endogenous brain repair and functional regeneration. Adult neurogenesis is partially under the control of sex hormones such as estradiol, and boosting neurogenesis with estradiol in animals correlates with cognitive improvement. 8-Prenylnaringenin imitates as highly potent phytoestrogen the effects of estradiol.
METHODS AND RESULTS:
Here, we studied the potential of 8-Prenylnaringenin, 6-prenylnaringenin, and related compounds on differentiation induction in vitro using neural precursor cells transiently transfected with a doublecortin promoter luciferase construct, which was recently shown to indicate neuronal fate and differentiation. The flavanones 8-Prenylnaringenin and 6-prenylnaringenin showed slight activity in this assay but significant activity by immunostaining. Although the estrogen-like activities of 8-Prenylnaringenin and 6-prenylnaringenin are very different, the activity in differentiation induction is similar. Interestingly, also some prenylflavonoids with extended prenyl groups, e.g., a geranyl group, showed increased differentiation activity, while estrogen-like activity is decreased.
CONCLUSIONS:
This allows the conclusion that estrogen-like activity of prenylflavanones does not correlate directly with the activity of differentiation induction in neural precursor cells.
J Cell Biochem. 2013 Dec;114(12):2785-94.
Effect of xanthohumol and 8-prenylnaringenin on MCF-7 breast cancer cells oxidative stress and mitochondrial complexes expression.[Pubmed:
23836544
]
Xanthohumol (XN) and 8-Prenylnaringenin (8PN) are hop (Humulus lupulus L.) polyphenols studied for their chemopreventive effects on certain cancer types. The breast cancer line MCF-7 was treated with doses ranging from 0.001 to 20 µM of XN or 8PN in order to assess the effects on cell viability and oxidative stress.
METHODS AND RESULTS:
Hoechst 33342 was used to measure cell viability and reactive oxygen species (ROS) production was determined by 2',7'-dichlorofluorescein diacetate. Catalase, superoxide dismutase, and glutathione reductase enzymatic activities were determined and protein expression of sirtuin1, sirtuin3, and oxidative phosphorylation system (OXPHOS) were done by Western blot. Treatments XN 0.01, 8PN 0.01, and 8PN 1 µM led to a decrease in ROS production along with an increase of OXPHOS and sirtuin expression; in contrast, XN 5 µM gave rise to an increase of ROS production accompanied by a decrease in OXPHOS and sirtuin expression.
CONCLUSIONS:
These results suggest that XN in low dose (0.01 µM) and 8PN at all assayed doses (0.001-20 µM) presumably improve mitochondrial function, whereas a high dose of XN (5 µM) worsens the functionality of this organelle.
Food Sci Nutr. 2014 Jul;2(4):341-50.
Effects and mechanisms of 8-prenylnaringenin on osteoblast MC3T3-E1 and osteoclast-like cells RAW264.7.[Pubmed:
25473491
]
8-Prenylnaringenin (8-PN) is a phytoestrogen with the highest estrogenic activity. The objective of the present study was to confirm the superiority of 8-PN on bone metabolisms and the estrogen receptor (ER) subtype mediating effects of 8-PN.
METHODS AND RESULTS:
The osteoblast MC3T3-E1 and osteoclast-like cell line RAW264.7 were treated with 17β-estradiol (10(-8) mol/L), genistein (10(-5) mol/L), daidzein (10(-5) mol/L), 8-PN (10(-5) mol/L) alone or in the presence of ERα antagonist MPP (10(-7) mol/L) and ERβ antagonist PTHPP (1.5 × 10(-7) mol/L). It has been found that 8-PN did not affect osteoblast proliferation, and that 8-PN increased alkaline phosphatase (ALP) activity, osteocalcin (OCN) concentrations, and the mineralized nodules. 8-PN inhibited RAW264.7 differentiating into osteoclasts and reduced the pit area of bone resorption. 8-PN could also inhibit the protein and mRNA expression of receptor activator of nuclear factor-κB ligand (RANKL) in osteoblasts, and conversely promote the expression of osteoprotegerin (OPG). These effects of 8-PN were mainly inhibited not by PTHPP but by MPP and they were weaker than estrogen's effects but stronger than those of genistein and daidzein.
CONCLUSIONS:
In conclusion, the effects of 8-PN on promoting osteoblastic bone formation and inhibiting osteoclastic bone resorption were mediated by ERα instead of ERβ and the efficacy was more potent than that of the two classic phytoestrogens: genistein and daidzein.