Indigo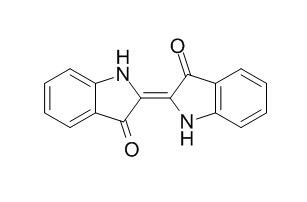 Indigo and indirubin are potent aryl hydrocarbon receptor ligands present in human urine, the endogenous levels and potencies of indirubin and indigo are such that they activate aryl hydrocarbon receptor (AhR) -mediated signaling mechanisms in vivo . Indigo participates in isolating oxygenase genes, indigo carmine angiography provides visual information on foot perfusion, using indigo dye and synergistic halide additives can inhibit mild steel corrosion in sulphuric acid.
Inquire / Order: manager@chemfaces.com
Technical Inquiries: service@chemfaces.com
Tel: +86-27-84237783
Fax: +86-27-84254680

Address:
1 Building, No. 83, CheCheng Rd., Wuhan Economic and Technological Development Zone, Wuhan, Hubei 430056, PRC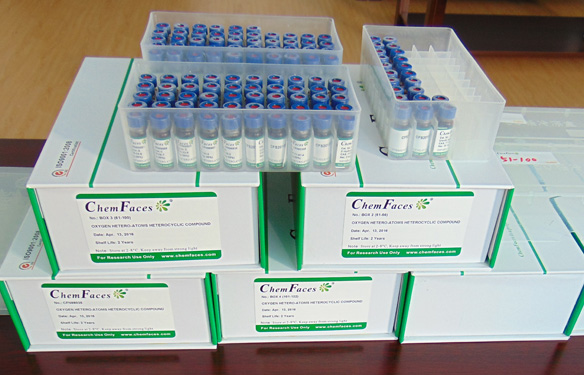 Providing storage is as stated on the product vial and the vial is kept tightly sealed, the product can be stored for up to
24 months(2-8C)
.
Wherever possible, you should prepare and use solutions on the same day. However, if you need to make up stock solutions in advance, we recommend that you store the solution as aliquots in tightly sealed vials at -20C. Generally, these will be useable for up to two weeks. Before use, and prior to opening the vial we recommend that you allow your product to equilibrate to room temperature for at least 1 hour.
Need more advice on solubility, usage and handling? Please email to: service@chemfaces.com
The packaging of the product may have turned upside down during transportation, resulting in the natural compounds adhering to the neck or cap of the vial. take the vial out of its packaging and gently shake to let the compounds fall to the bottom of the vial. for liquid products, centrifuge at 200-500 RPM to gather the liquid at the bottom of the vial. try to avoid loss or contamination during handling.
Molecules.2016, 21(6)
Cell Mol Biol(Noisy-le-grand)2019, 65(7):77-83
J Ethnopharmacol.2021, 267:113615.
Planta Med.2019, 85(9-10):766-773
Preprints2017, 2017120176
J Agric Food Chem.2020, 68(43):12164-12172.
Exp Biol Med (Maywood).2019, 244(18):1665-1679
Biochem Biophys Res Commun.2017, 482(4):1095-1101
Molecules. 2013, 18(11):14105-21
Food Funct.2020, 10.1039
Appl Microbiol Biotechnol. 2015 May;99(10):4453-70.
Isolation of oxygenase genes for indigo-forming activity from an artificially polluted soil metagenome by functional screening using Pseudomonas putida strains as hosts.[Pubmed:
25573469
]
Metagenomes contain the DNA from many microorganisms, both culturable and non-culturable, and are a potential resource of novel genes.
METHODS AND RESULTS:
In this study, a 5.2-Gb metagenomic DNA library was constructed from a soil sample (artificially polluted with four aromatic compounds, i.e., biphenyl, phenanthrene, carbazole, and 3-chlorobenzoate) in Escherichia coli by using a broad-host-range cosmid vector. The resultant library was introduced into naphthalene-degrading Pseudomonas putida-derived strains having deficiencies in their naphthalene dioxygenase components, and Indigo-forming clones on the indole-containing agar plates were screened. Cosmids isolated from 29 positive clones were classified by their various properties (original screening hosts, hosts showing Indigo-forming activity, and digestion patterns with restriction enzymes), and six representative cosmids were chosen. Sequencing and in vitro transposon mutagenesis of the six cosmids resulted in the identification of genes encoding putative class B and D flavoprotein monooxygenases, a multicomponent hydroxylase, and a reductase that were responsible for the Indigo-forming activity in the host cells.
CONCLUSIONS:
Among them, the genes encoding the multicomponent hydroxylase were demonstrated to be involved in phenol degradation. Furthermore, two genes encoding ring-cleavage dioxygenases were also found adjacent to the genes responsible for the Indigo formation, and their functions were experimentally confirmed.
J. Biol. Chem., 2001, 276(34):31475-8.
Indirubin and Indigo Are Potent Aryl Hydrocarbon Receptor Ligands Present in Human Urine.[Pubmed:
11425848
]
Aryl hydrocarbon receptor (AhR) is a ligand-activated transcription factor that regulates genes involved in xenobiotic metabolism, cellular proliferation, and differentiation. Numerous xenobiotic and biological compounds are known to interact with AhR, but it remains an orphan receptor, because its physiological ligand is unknown.
METHODS AND RESULTS:
We identified AhR ligands in human urine using a yeast AhR signaling assay and then characterized their properties. Two ligands, indirubin and Indigo, were both present at average concentrations of approximately 0.2 nm in the urine of normal donors. Indirubin was also detected in fetal bovine serum and contributed half of the total AhR ligand activity. The activities of indirubin and Indigo were comparable with or more potent than that of the archetypal ligand, 2,3,7,8-tetrachlorodibenzo-p-dioxin, in yeast AhR activation assays.
CONCLUSIONS:
We suggest that the endogenous levels and potencies of indirubin and Indigo are such that they activate AhR-mediated signaling mechanisms in vivo.
J Endovasc Ther. 2015 Apr 17.
Use of Indigo Carmine Angiography to Qualitatively Assess Adequate Distal Perfusion After Endovascular Revascularization in Critical Limb Ischemia.[Pubmed:
25887729
]
To report a novel technique to visualize the efficacy of revascularization in critical limb ischemia patients with ischemic foot ulcers.
METHODS AND RESULTS:
An 80-year-old man was admitted with nonhealing ulcers on his left second toe and lateral border of the foot owing to in-stent restenosis of the left popliteal artery. After dilation of the popliteal in-stent restenosis, below-the-knee angiography revealed that the anterior tibial artery (ATA) was occluded, the posterior tibial artery was hypoplastic, and the peroneal artery was enlarged, with 2 plantar arteries. To evaluate the foot circulation before performing additional procedures, a 4-F multipurpose catheter was advanced into the peroneal artery, and 5 mL of Indigo carmine was injected. Immediately, the patient's second toe and lateral border ulcers were dyed blue. We concluded that sufficient blood flow had been obtained to the ulcerated area by balloon angioplasty alone, so the procedure was terminated. The ulcers completely healed at 1 month.
CONCLUSIONS:
Indigo carmine angiography provides visual information on foot perfusion, yielding new insights into microcirculation and helping to determine the effectiveness of treatment and procedure endpoint.
Mater. Chem. Phys., 2004, 84(2-3): 363-8.
Inhibition of mild steel corrosion in sulphuric acid using indigo dye and synergistic halide additives[Reference:
WebLink
]
Gravimetric method was used to study the inhibitory properties of Indigo dye during corrosion of mild steel in aerated sulphuric acid solutions at 30-50°C. The effect of addition of halide salts KCl, KBr and KI was also investigated. The corrosion rates in all systems studied increased with rise in temperature. The inhibition efficiency of Indigo dye increased with concentration and synergistically increased on addition of halide salts. Temperature studies revealed increased inhibition efficiency at higher temperatures, which is suggestive of chemisorption mechanism. The inhibitor adsorption characteristics were approximated by Frumkins isotherm and Flory-Huggins isotherm. Activation energy for Fe dissolution in sulphuric acid was observed to reduce from 54.6kJmol-1 in the uninhibited system to 34.9kJmol-1 in the inhibited system.