Lumichrome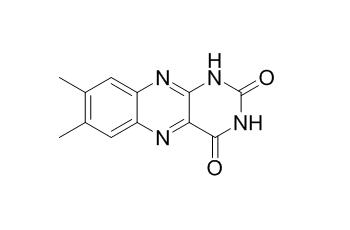 Lumichrome is a derivative of Riboflavin, a vitamin with a key role in maintaining cellular function and health in human and animals. Lumichrome shows photosensitizing effects on the generation of volatiles in soy milk.
Inquire / Order: manager@chemfaces.com
Technical Inquiries: service@chemfaces.com
Tel: +86-27-84237783
Fax: +86-27-84254680

Address:
1 Building, No. 83, CheCheng Rd., Wuhan Economic and Technological Development Zone, Wuhan, Hubei 430056, PRC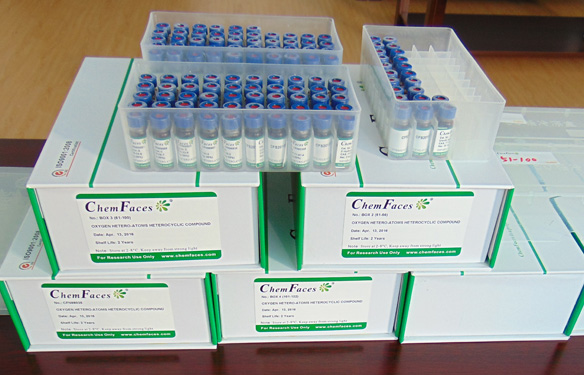 Providing storage is as stated on the product vial and the vial is kept tightly sealed, the product can be stored for up to
24 months(2-8C)
.
Wherever possible, you should prepare and use solutions on the same day. However, if you need to make up stock solutions in advance, we recommend that you store the solution as aliquots in tightly sealed vials at -20C. Generally, these will be useable for up to two weeks. Before use, and prior to opening the vial we recommend that you allow your product to equilibrate to room temperature for at least 1 hour.
Need more advice on solubility, usage and handling? Please email to: service@chemfaces.com
The packaging of the product may have turned upside down during transportation, resulting in the natural compounds adhering to the neck or cap of the vial. take the vial out of its packaging and gently shake to let the compounds fall to the bottom of the vial. for liquid products, centrifuge at 200-500 RPM to gather the liquid at the bottom of the vial. try to avoid loss or contamination during handling.
Mol Pharm.2017, 14(9):3164-3177
Chemistry of Plant Materials.2019, 215-222
Molecules.2019, 24(24),4583
World J Mens Health.2019, 10.5534
J Pharmaceut Biomed2020, 178:112894
Fitoterapia.2018, 124:92-102
Sci Rep.2016, 6:25094
Molecules.2019, 24(17):E3127
Mediators Inflamm.2016, 2016:7216912
Chemistr of plant2016, 2016021195
J Agric Food Chem. 2006 Mar 22;54(6):2359-64.
Photosensitizing effect of riboflavin, lumiflavin, and lumichrome on the generation of volatiles in soy milk.[Pubmed:
16536619
]

METHODS AND RESULTS:
Lumichrome and lumiflavin were formed from riboflavin under light. pH had a significant influence on the formation of Lumichrome and lumiflavin from riboflavin. Lumichrome was the only major product from riboflavin under neutral or acidic pH values. Lumiflavin was also formed from riboflavin in basic pH. The maximum concentration of lumiflavin from 100 microM riboflavin at pH 8.5 was 30.9 microM, and it was reached after 2 h of exposure at 1500 lux. The maximum concentration of Lumichrome formed from 100 microM riboflavin at pH 4.5, 6.5, or 8.5 was 79.9, 58.7, and 73.1 microM, respectively, after 8, 6, or 2 h of light exposure. The formation of Lumichrome and lumiflavin from riboflavin was due to the type I mechanism of the riboflavin photosensitized reaction. Singlet oxygen was also involved in the photosensitized degradation of lumiflavin and Lumichrome. The reaction rates of riboflavin, lumiflavin, and Lumichrome with singlet oxygen were 9.66 x 10(8), 8.58 x 10(8), and 8.21 x 10(8) M(-1) s(-1), respectively. The headspace oxygen depletion and headspace volatile formation were significant in soy milk containing Lumichrome or lumiflavin under light (p < 0.05) and were insignificant (p > 0.05) in the dark.
CONCLUSIONS:
Ascorbic acid could inhibit the total volatile changes of soy milk under light. Soy milk should be protected from light to prevent the photodegradation of riboflavin and the oxidation of soy milk.
Zhongguo Zhong Yao Za Zhi. 2016 Sep;41(18):3361-3365.
Studies on chemical constituents of Isodon excisoides.[Pubmed:
28925118
]

METHODS AND RESULTS:
The chemical constituents of the water extraction of the aerial parts of Isodon excisoides were investigated by various chromatographic methods including D-101 macroporous adsorptive resins, silica gel, Sephadex LH-20, MCI and semi-preparative HPLC. As a result, six compounds were separated and purified.By analyses of the HR-ESI-MS, 1D and 2D NMR spectra, their structures were determined as 3-O-β-D-allopyranosyl-1-octen-3-ol(1), blumenolA (2), Lumichrome (3), loliolide(4), cirsiliol(5) and pedalitin(6).
CONCLUSIONS:
Compound 1 was a new compound, and compounds 2-4 were isolated from this plant for the first time.