Allantoin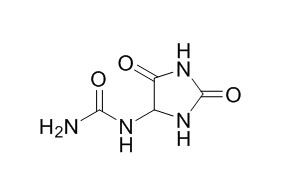 Allantoin, as I-1R agonist, has the potential to develop as a new therapeutic agent for hypertension. Allantoin has memory-enhancing, anti-oxidative and anti-inflammatory activities; it can enhance the antifungal activity of Nanoencapsulation. Allantoin is a skin conditioning agent that promotes healthy skin, stimulates new and healthy tissue growth. Allantoin mediates PI3K-Akt-GSK-3β signal pathway.
Inquire / Order: manager@chemfaces.com
Technical Inquiries: service@chemfaces.com
Tel: +86-27-84237783
Fax: +86-27-84254680

Address:
1 Building, No. 83, CheCheng Rd., Wuhan Economic and Technological Development Zone, Wuhan, Hubei 430056, PRC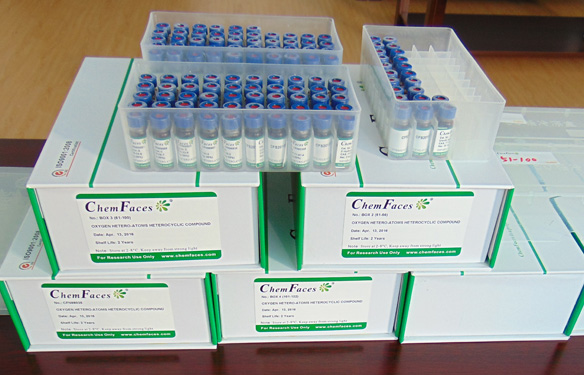 Providing storage is as stated on the product vial and the vial is kept tightly sealed, the product can be stored for up to
24 months(2-8C)
.
Wherever possible, you should prepare and use solutions on the same day. However, if you need to make up stock solutions in advance, we recommend that you store the solution as aliquots in tightly sealed vials at -20C. Generally, these will be useable for up to two weeks. Before use, and prior to opening the vial we recommend that you allow your product to equilibrate to room temperature for at least 1 hour.
Need more advice on solubility, usage and handling? Please email to: service@chemfaces.com
The packaging of the product may have turned upside down during transportation, resulting in the natural compounds adhering to the neck or cap of the vial. take the vial out of its packaging and gently shake to let the compounds fall to the bottom of the vial. for liquid products, centrifuge at 200-500 RPM to gather the liquid at the bottom of the vial. try to avoid loss or contamination during handling.
J Bone Miner Res.2017, 32(12):2415-2430
Int J Mol Sci.2018, 19(9):E2601
Acta Agriculturae Scandinavica2015, 381-383
Food Research International2020, 108987
Biomol Ther (Seoul).2019, 10.4062
J Ethnopharmacol.2019, 244:112074
Int J Mol Med.2015, 35(5):1237-45
Pharmacognosy Magazine2017, 13(52):868-874
Molecules.2019, 24(6):E1177
Food Engineering Progress2019, 23(3)209-216
Pharmazie. 2015 Mar;70(3):155-64.
Solid lipid nanoparticles containing copaiba oil and allantoin: development and role of nanoencapsulation on the antifungal activity.[Pubmed:
25980176
]
The aim of this work was to develop solid lipid nanoparticles (SLN) containing copaiba oil with and without Allantoin (NCOA, NCO, respectively) and to evaluate their antifungal activity.
METHODS AND RESULTS:
The dynamic light scattering analysis showed z-average diameters (intensity) between 118.63 ± 8.89 nm for the nanoparticles with both copaiba oil and Allantoin and 126.06 ± 9.84nm for the nanoparticles with just copaiba oil. The D[4,3] determined by laser diffraction showed similar results of 123 ± 1.73 nm for the nanoparticles with copaiba oil and Allantoin and 130 ± 3.6 nm for the nanoparticles with copaiba oil alone. Nanoparticle tracking analysis demonstrated that both suspensions had monomodal profiles and consequently, the nanoparticle populations were homogeneous. This analysis also corroborated the results of dynamic light scattering and laser diffraction, exhibiting a smaller mean diameter for the nanoparticles with copaiba oil and Allantoin (143 nm) than for the nanoparticles with copaiba oil (204 nm). The nanoparticles with copaiba oil and the nanoparticles with copaiba oil and Allantoin presented a MIC90 of 500 μg/mL and 250 μg/mL, respectively, against C. krusei. The MIC90 values were 500 μg/mL (nanoparticles with copaiba oil) and 1.95 μg/mL (nanoparticles with copaiba oil and Allantoin) against T. rubrum. Against M. canis, the nanoparticles with copaiba oil and Allantoin had a MIC9 of 1.95 μg/mL.
CONCLUSIONS:
In conclusion, nanoencapsulation improved the antifungal activity of copaiba oil, which was enhanced by the presence of Allantoin. The MICs obtained are comparable to those of commercial products and can represent promising therapeutics for cutaneous infections caused by yeasts and dermatophytes.
Food Chem Toxicol. 2014 Feb;64:210-6.
Effects of allantoin on cognitive function and hippocampal neurogenesis.[Pubmed:
24296131
]
Allantoin is contained in Nelumbo nucifera (lotus) and a well-known cosmetic ingredient reported to have anti-oxidative and anti-inflammatory activities. In the present study, we investigated whether Allantoin affects cognitive function in mice.
METHODS AND RESULTS:
The subchronic administration of Allantoin (1, 3 or 10 mg/kg, for 7 days) significantly increased the latency time measured during the passive avoidance task in scopolamine-induced cholinergic blockade and normal naïve mice. Allantoin treatment (3 or 10 mg/kg, for 7 days) also increased the expression levels of phosphorylated phosphatidylinositide 3-kinase (PI3K), phosphorylated protein kinase B (Akt) and phosphorylated glycogen synthase kinase-3β (GSK-3β). Doublecortin and 5-bromo-2-deoxyuridine immunostaining revealed that Allantoin significantly increased the neuronal cell proliferation of immature neurons in the hippocampal dentate gyrus region. In conclusion, Allantoin has memory-enhancing effects, and these effects may be partly mediated by the PI3K-Akt-GSK-3β signal pathway.
METHODS AND RESULTS:
These findings suggest that Allantoin has therapeutic potential for the cognitive dysfunctions observed in Alzheimer's disease.
Plant Cell Environ. 2014 Apr;37(4):1022-36.
The purine metabolite allantoin enhances abiotic stress tolerance through synergistic activation of abscisic acid metabolism.[Pubmed:
24182190
]
Purine catabolism is regarded as a housekeeping function that remobilizes nitrogen for plant growth and development. However, emerging evidence suggests that certain purine metabolites might contribute to stress protection of plants.
METHODS AND RESULTS:
Here, we show that in Arabidopsis, the intermediary metabolite Allantoin plays a role in abiotic stress tolerance via activation of abscisic acid (ABA) metabolism. The aln loss-of-function of ALN, encoding Allantoinase, results in increased Allantoin accumulation, genome-wide up-regulation of stress-related genes and enhanced tolerance to drought-shock and osmotic stress in aln mutant seedlings. This phenotype is not caused by a general response to purine catabolism inhibition, but rather results from a specific effect of Allantoin. Allantoin activates ABA production both through increased transcription of NCED3, encoding a key enzyme in ABA biosynthesis, and through post-translational activation via high-molecular-weight complex formation of BG1, a β-glucosidase hydrolysing glucose-conjugated ABA. Exogenous application of Allantoin to wild-type plants also activates the two ABA-producing pathways that lead to ABA accumulation and stress-responsive gene expression, but this effect is abrogated in ABA-deficient and BG1-knockout mutants.
CONCLUSIONS:
We propose that purine catabolism functions not only in nitrogen metabolism, but also in stress tolerance by influencing ABA production, which is mediated by the possible regulatory action of Allantoin.
Biomed Res Int. 2014;2014:690135.
Antihypertensive action of allantoin in animals.[Pubmed:
24745022
]
The agonists of imidazoline I-1 receptors (I-1R) are widely used to lower blood pressure. It has been indicated that guanidinium derivatives show an ability to activate imidazoline receptors. Also, Allantoin has a chemical stricture similar to guanidinium derivatives.
METHODS AND RESULTS:
Thus, it is of special interest to characterize the effect of Allantoin on I-1R. In conscious male spontaneous hypertensive rats (SHRs), mean blood pressure (MBP) was recorded using the tail-cuff method. Furthermore, the hemodynamic analyses in catheterized rats were applied to measure the actions of Allantoin in vivo. Allantoin decreased blood pressures in SHRs at 30 minutes, as the most effective time. Also, this antihypertensive action was shown in a dose-dependent manner from SHRs treated with Allantoin. Moreover, in anesthetized rats, Allantoin inhibited cardiac contractility and heart rate as showing in hemodynamic dP/dt max significantly. Also, the peripheral blood flow was markedly increased by Allantoin. Both actions were diminished by efaroxan at the dose sufficient to block I-1R.
CONCLUSIONS:
Thus, we suggest that Allantoin, as I-1R agonist, has the potential to develop as a new therapeutic agent for hypertension in the future.