Hannokinol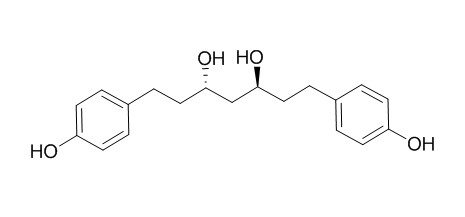 (+)-Hannokinol and MESO-hannokinol can significantly inhibit lipopolysaccharide-induced nitric oxide production in BV2 microglial cells at concentrations ranging from 1 microM to 100 microM.
Inquire / Order: manager@chemfaces.com
Technical Inquiries: service@chemfaces.com
Tel: +86-27-84237783
Fax: +86-27-84254680

Address:
1 Building, No. 83, CheCheng Rd., Wuhan Economic and Technological Development Zone, Wuhan, Hubei 430056, PRC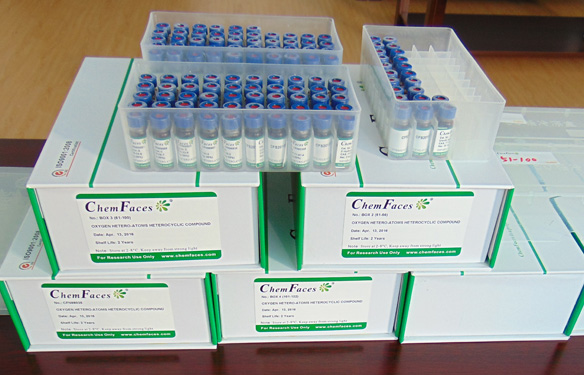 Providing storage is as stated on the product vial and the vial is kept tightly sealed, the product can be stored for up to
24 months(2-8C)
.
Wherever possible, you should prepare and use solutions on the same day. However, if you need to make up stock solutions in advance, we recommend that you store the solution as aliquots in tightly sealed vials at -20C. Generally, these will be useable for up to two weeks. Before use, and prior to opening the vial we recommend that you allow your product to equilibrate to room temperature for at least 1 hour.
Need more advice on solubility, usage and handling? Please email to: service@chemfaces.com
The packaging of the product may have turned upside down during transportation, resulting in the natural compounds adhering to the neck or cap of the vial. take the vial out of its packaging and gently shake to let the compounds fall to the bottom of the vial. for liquid products, centrifuge at 200-500 RPM to gather the liquid at the bottom of the vial. try to avoid loss or contamination during handling.
Oncotarget.2017, 8(64):108006-108019
Biosci. Rep.2020, 10.1024
Neurochem Int.2018, 121:114-124
Proc Natl Acad Sci USA.2016, 113(30):E4407-1
Phytomedicine.2019, 61:152813
Anal Bioanal Chem.2018, 410(5):1561-1569
Phytother Res.2019, 33(5):1490-1500
Mol Pharm.2018, 15(8):3285-3296
Universidade Estadual Paulista2017, 11449
Research on Crops.2017, 18(2)
Planta Med. 2008 Jun;74(8):867-9.
Inhibitory constituents of lipopolysaccharide-induced nitric oxide production in BV2 microglia isolated from Amomum tsao-ko.[Pubmed:
18523923
]
A methanolic extract of the fruits of AMOMUM TSAO-KO (Zingiberaceae) significantly attenuated nitric oxide production in lipopolysaccharide-simulated BV2 microglia.
METHODS AND RESULTS:
Two new bicyclic nonanes characterized as 6,7-dihydroxy-indan-4-carbaldehyde ( 1) and 6-hydroxy-indan-4-carbaldehyde ( 2) were isolated with the eleven known compounds 6,7-dihydroxy-3,7-dimethyloct-2-enoic acid ( 3), tsaokoin ( 4), isotsaokoin ( 5), 8-oxogeraniol ( 6), P-menth-1-ene-5,6-diol ( 7), 3alpha-hydroxycarvotagenone ( 8), tsaokoarylone ( 9), 1,7-bis(4-hydroxy-3-methoxyphenyl)-4,6-heptadien-3one ( 10), (+)-Hannokinol ( 11), MESO-Hannokinol ( 12) and hannokinin ( 13), from the fruits of A. TSAO-KO using bioactivity-guided fractionation.
CONCLUSIONS:
All thirteen compounds significantly inhibited lipopolysaccharide-induced nitric oxide production in BV2 microglial cells at concentrations ranging from 1 microM to 100 microM.
Chinese Journal of Experimental Traditional Medical Formulae, 2015 , 21 (3) :37-40.
Identification of Chemical Constituents Occurring in Leaves of Alpinia officinarum[Reference:
WebLink
]
The current study aimed to identify the chemical constituents occurring in the leaves of Alpinia officinarum.
METHODS AND RESULTS:
The collected leaves of A. officinarum were dried in an electric thermostatic drying oven at 40° C overnight. The freshly dried leaves were smashed using a universal high-speed smashing machine and then sieved manually by an 80 mesh. The resulting fine powders and residue were mixed evenly. Twelve flavonoids were chrysin,pinocembrin,tectochrysin,apigenin,galangin,3-methylgalangin,acacetin,kaempferol,kaempferide,quercetin,isorhamnetin and rutin,respectively. Four diarylheptanoids included yakuchinone A,oxyphyllacinol,hexahydrocurcumin and Hannokinol.
CONCLUSIONS:
Sixteen chemicals were identified using LC-MS / MS and some unknown diarylheptanoids need to be identified in the future.