Scutellarein-7-O-glucoside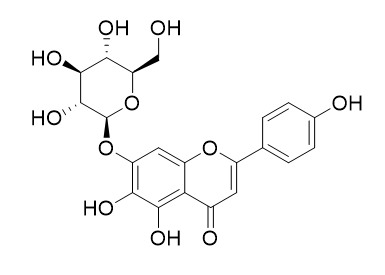 Scutellarein-7-O-glucoside inhibites MMP-2 activity.
Inquire / Order: manager@chemfaces.com
Technical Inquiries: service@chemfaces.com
Tel: +86-27-84237783
Fax: +86-27-84254680

Address:
1 Building, No. 83, CheCheng Rd., Wuhan Economic and Technological Development Zone, Wuhan, Hubei 430056, PRC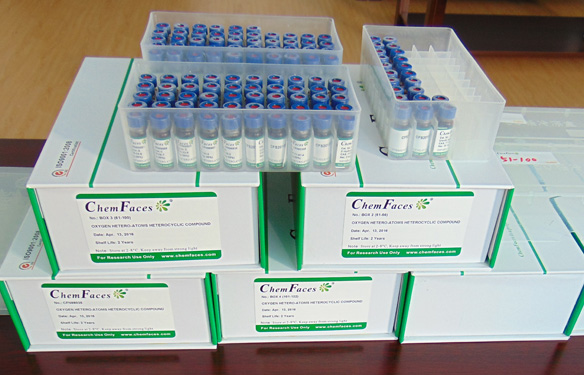 Providing storage is as stated on the product vial and the vial is kept tightly sealed, the product can be stored for up to
24 months(2-8C)
.
Wherever possible, you should prepare and use solutions on the same day. However, if you need to make up stock solutions in advance, we recommend that you store the solution as aliquots in tightly sealed vials at -20C. Generally, these will be useable for up to two weeks. Before use, and prior to opening the vial we recommend that you allow your product to equilibrate to room temperature for at least 1 hour.
Need more advice on solubility, usage and handling? Please email to: service@chemfaces.com
The packaging of the product may have turned upside down during transportation, resulting in the natural compounds adhering to the neck or cap of the vial. take the vial out of its packaging and gently shake to let the compounds fall to the bottom of the vial. for liquid products, centrifuge at 200-500 RPM to gather the liquid at the bottom of the vial. try to avoid loss or contamination during handling.
Cell Signal.2022, 99:110433.
Foods.2021, 10(11):2754.
Int J Mol Sci.2021, 22(16):8604.
Anticancer Res.2020, 40(10):5529-5538.
Cell.2022, 185(23):4298-4316.e21.
Plants (Basel).2021, 10(5):951.
Am J Chin Med.2016, 44(6):1255-1271
Int J Mol Sci.2020, 21(8):2790.
Korean Journal of Pharmacognosy2018, 49(4):349-361
Toxicological Research2020, doi: 10.1007.
Microb Cell Fact. 2016 Aug 4;15(1):134.
Engineering Saccharomyces cerevisiae with the deletion of endogenous glucosidases for the production of flavonoid glucosides.[Pubmed:
27491546
]
Glycosylation of flavonoids is a promising approach to improve the pharmacokinetic properties and biological activities of flavonoids. Recently, many efforts such as enzymatic biocatalysis and the engineered Escherichia coli biotransformation have increased the production of flavonoid glucosides. However, the low yield of flavonoid glucosides can not meet the increasing demand for human medical and dietary needs. Saccharomyces cerevisiae is a generally regarded as safe (GRAS) organism that has several attractive characteristics as a metabolic engineering platform for the production of flavonoid glucosides. However, endogenous glucosidases of S. cerevisiae as a whole-cell biocatalyst reversibly hydrolyse the glucosidic bond and hinder the biosynthesis of the desired products. In this study, a model flavonoid, scutellarein, was used to exploit how to enhance the production of flavonoid glucosides in the engineered S. cerevisiae.
METHODS AND RESULTS:
To produce flavonoid glucosides, three flavonoid glucosyltransferases (SbGTs) from Scutellaria baicalensis Georgi were successfully expressed in E. coli, and their biochemical characterizations were identified. In addition, to synthesize the flavonoid glucosides in whole-cell S. cerevisiae, SbGT34 was selected for constructing the engineering yeast. Three glucosidase genes (EXG1, SPR1, YIR007W) were knocked out using homologous integration, and the EXG1 gene was determined to be the decisive gene of S. cerevisiae in the process of hydrolysing flavonoid glucosides. To further enhance the potential glycosylation activity of S. cerevisiae, two genes encoding phosphoglucomutase and UTP-glucose-1-phosphate uridylyltransferase involved in the synthetic system of uridine diphosphate glucose were over-expressed in S. cerevisiae. Consequently, approximately 4.8 g (1.2 g/L) of Scutellarein-7-O-glucoside (S7G) was produced in 4 L of medium after 54 h of incubation in a 10-L fermenter while being supplied with ~3.5 g of scutellarein.
CONCLUSIONS:
The engineered yeast harbouring SbGT with a deletion of glucosidases produced more flavonoid glucosides than strains without a deletion of glucosidases. This platform without glucosidase activity could be used to modify a wide range of valued plant secondary metabolites and to explore of their biological functions using whole-cell S. cerevisiae as a biocatalyst.
Phytother Res. 2014 Sep;28(9):1399-405.
The influence of selected flavonoids from the leaves of Cirsium palustre (L.) Scop. on collagen expression in human skin fibroblasts.[Pubmed:
24643916
]
Ten flavonoids belonging to the subclasses of flavones, flavanones and aurones were isolated from methanolic extract of Cirsium palustre leaves after multistep chromatographic separation. Their structures were elucidated with spectroscopic methods.
METHODS AND RESULTS:
All compounds, except for luteolin 7-O-glucoside, were isolated for the first time. Four compounds-eriodictyol 7-O-glucoside (6), 6-hydroxyluteolin 7-O-glucoside (11), Scutellarein-7-O-glucoside (12) and pedalitin (14)-were tested for their effect on collagen expression in normal human dermal fibroblasts. Among them, compound 11 at 40 μM and compound 14, at all concentrations used (1, 20, 40 μM), significantly enhanced the level of total collagen secreted into the medium. Furthermore, compound 11 significantly stimulated type I collagen expression, whereas compound 14 activated type I and III collagen expression at the mRNA level, depending on concentration. MMP-2 activity was inhibited by all study compounds, with the greatest effect recorded with compound 14 at 20 μM. The lack of effect on collagen content in the medium of compound 6- and compound 12-treated cells, besides an increase in COL1A1 and COL1A2 expression, might be caused by diminished expression of HSP47 gene, resulting in decreased procollagen secretion.
CONCLUSIONS:
Future study of compounds 11 and 14 for their potential therapeutic use in conditions connected with collagen biosynthesis deficiency is required.
Nat Prod Commun. 2015 Mar;10(3):403-5.
Foliar flavonoids from Tanacetum vulgare var. boreale and their geographical variation.[Pubmed:
25924515
]

METHODS AND RESULTS:
Foliar flavonoids of Tanacetum vulgare var. boreale were isolated. Eight flavonoid glycosides, 7-O-glucosides of apigenin, luteolin, scutellarein and 6- hydroxyluteolin, and 7-O-glucuronides of apigenin, luteolin, chrysoeriol and eriodictyol were identified. Moreover, eight flavonoid aglycones, apigenin, luteolin, hispidulin, nepetin, eupatilin, jaceosidin, pectolinarigenin and axillarin were also isolated and identified. The flavonoid composition of two varieties of T. vulgare, i.e. var. boreale and var. vulgare, were compared. All samples of var. boreale and one sample of var. vulgare had the same flavonoid pattern, and could be distinguished from almost all the samples of var. vulgare.
CONCLUSIONS:
Thus, the occurrence of chemotypes, which are characterized by either the presence or absence of Scutellarein-7-O-glucoside, eriodictyol 7-O-glucuronide and pectolinarigenin was shown in T. vulgare sensu lato.