Licoflavanone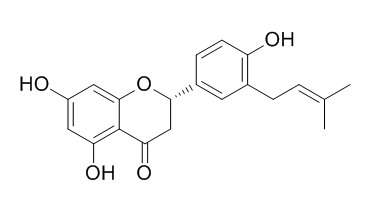 Licoflavanone exhibits antioxidant and anti-inflammatory activities,it markedly decreases pro-inflammatory cytokines and cyclooxygenase 2/inducible nitric oxide synthase (COX-2/iNOS) expression levels.
Inquire / Order: manager@chemfaces.com
Technical Inquiries: service@chemfaces.com
Tel: +86-27-84237783
Fax: +86-27-84254680

Address:
1 Building, No. 83, CheCheng Rd., Wuhan Economic and Technological Development Zone, Wuhan, Hubei 430056, PRC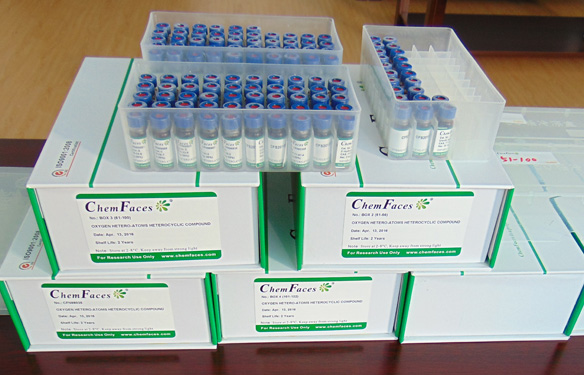 Providing storage is as stated on the product vial and the vial is kept tightly sealed, the product can be stored for up to
24 months(2-8C)
.
Wherever possible, you should prepare and use solutions on the same day. However, if you need to make up stock solutions in advance, we recommend that you store the solution as aliquots in tightly sealed vials at -20C. Generally, these will be useable for up to two weeks. Before use, and prior to opening the vial we recommend that you allow your product to equilibrate to room temperature for at least 1 hour.
Need more advice on solubility, usage and handling? Please email to: service@chemfaces.com
The packaging of the product may have turned upside down during transportation, resulting in the natural compounds adhering to the neck or cap of the vial. take the vial out of its packaging and gently shake to let the compounds fall to the bottom of the vial. for liquid products, centrifuge at 200-500 RPM to gather the liquid at the bottom of the vial. try to avoid loss or contamination during handling.
J Sep Sci.2020, 201901140
Anesth Pain Med (Seoul).2020, 15(4):478-485.
Applied Biological Chemistry 2021, 64(75)
J Agric Food Chem.2020, 68(43):12164-12172.
Int J Mol Sci.2019, 20(3):E651
Genes Genomics.2020, 10.1007
Food Science and Biotechnology2022, 10.1007.
Food Research2021, 5(1):65-71
Biomed Pharmacother.2021, 144:112300.
Journal of Food Composition and Analysis2021, 100:103905.
Antioxidants (Basel). 2019 Jun 20;8(6). pii: E186.
Antioxidant and Anti-Inflammatory Activities of Flavanones from Glycyrrhiza glabra L. (licorice) Leaf Phytocomplexes: Identification of Licoflavanone as a Modulator of NF-kB/MAPK Pathway.[Pubmed:
31226797
]
Inflammation represents an adaptive response generated by injuries or harmful stimuli. Natural remedies represent an interesting alternative to traditional therapies, involving several biochemical pathways. Besides, the valorization of agrochemical wastes nowadays seems to be a feasible way to reduce the health spending and improve the accessibility at bioactive natural compounds.
METHODS AND RESULTS:
In this context, the chemical composition of three Glycyrrhiza glabra L. (licorice) leaf extracts, obtained through maceration or ultrasound-assisted method (fresh and dried leaves) was investigated. A guided fractionation obtained three main components: pinocembrin, glabranin and Licoflavanone. All the extracts showed similar antioxidant properties, evaluated by 2,2'-diphenyl-1-picrylhydrazyl (DPPH) or 2,2'-azino-bis(3-ethylbenzothiazoline-6-sulfonic acid) Diammonium Salt (ABTS) assay, while, among the isolated compounds, Licoflavanone exhibited the best antioxidant activity. The anti-inflammatory activity of the extracts and the purified compounds was investigated in lipopolysaccharide (LPS)-stimulated RAW 264.7 murine macrophages. Extract C and Licoflavanone showed a good anti-inflammatory activity without affecting cell viability, as they decreased nitrite levels even when used at 12.5 μg/mL (p < 0.005) and 50 μM concentration (p < 0.001), respectively.
CONCLUSIONS:
Interestingly, Licoflavanone markedly decreased pro-inflammatory cytokines and cyclooxygenase 2/inducible nitric oxide synthase (COX-2/iNOS) expression levels (p < 0.001). A modulation of nuclear factor kappa B/mitogen-activated protein kinases (NF-kB/MAPK) pathway underlay such behavior, highlighting the potential of this natural compound as a new scaffold in anti-inflammatory drug research.
Phytochemistry (Oxford), 1996, 42(3):701-704.
Flavonoid variation in the leaves of Glycyrrhiza glabra.[Reference:
WebLink
]

METHODS AND RESULTS:
Genistein, pinocembrin, prunetin, 6-prenylnaringenin, Licoflavanone and wighteone were isolated from the leaves of Glycyrrhiza glabra collected on the west coast of Anatolia, whereas lupiwighteone was found only in the leaves of G. glabra growing in middle or east Anatolia.
CONCLUSIONS:
The G. glabra plants growing in different areas of Turkey could be classified into two types according to the occurrence of lupiwighteone in the leaf.