Ginsenoside Rk1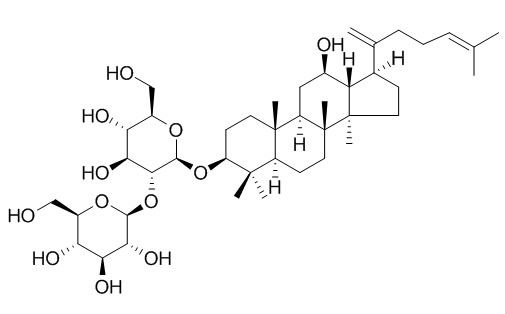 Ginsenoside Rk1, one of the main elements of Sung Ginseng, has been confirmed as a new endothelial barrier enhancer recently and has anti-cancer activity, the mechanism involves coordination between inhibition of telomerase activity and induction of apoptosis.
Inquire / Order: manager@chemfaces.com
Technical Inquiries: service@chemfaces.com
Tel: +86-27-84237783
Fax: +86-27-84254680

Address:
1 Building, No. 83, CheCheng Rd., Wuhan Economic and Technological Development Zone, Wuhan, Hubei 430056, PRC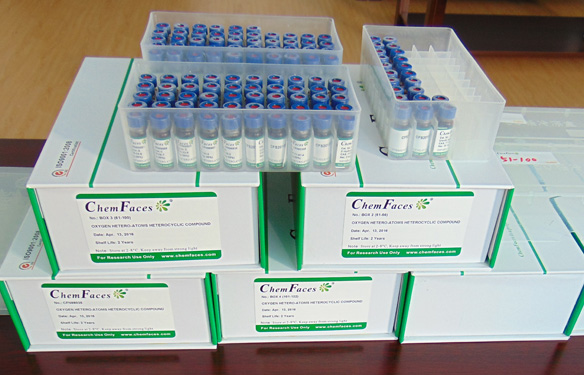 Providing storage is as stated on the product vial and the vial is kept tightly sealed, the product can be stored for up to
24 months(2-8C)
.
Wherever possible, you should prepare and use solutions on the same day. However, if you need to make up stock solutions in advance, we recommend that you store the solution as aliquots in tightly sealed vials at -20C. Generally, these will be useable for up to two weeks. Before use, and prior to opening the vial we recommend that you allow your product to equilibrate to room temperature for at least 1 hour.
Need more advice on solubility, usage and handling? Please email to: service@chemfaces.com
The packaging of the product may have turned upside down during transportation, resulting in the natural compounds adhering to the neck or cap of the vial. take the vial out of its packaging and gently shake to let the compounds fall to the bottom of the vial. for liquid products, centrifuge at 200-500 RPM to gather the liquid at the bottom of the vial. try to avoid loss or contamination during handling.
J Ethnopharmacol.2019, 228:132-141
J Pharm Biomed Anal.2019, 172:268-277
Phytomedicine.2017, 24:77-86
FASEB J.2019, 33(2):2026-2036
Chem Biol Interact.2018, 283:59-74
Appl Biol Chem2019, 62:46
Phytochemistry Letters2015, 243-247
Appl Biochem Biotechnol.2020, 190(2):732-744
Chin. Med.J.Res. Prac.2017, 31(4)
Journal of Physiology & Pathology in Korean Medicine.2018, 32(2): 106-112
Arch Pharm Res. 2012 Mar;35(4):717-22.
Induction of apoptosis by ginsenoside Rk1 in SK-MEL-2-human melanoma.[Pubmed:
22553065
]
Ginsenosides are active compounds isolated from Panax ginseng Meyer. Among these ginsenosides, less polar ginsenosides such as ginsenoside Rg3 and ginsenoside Rh2 have been demonstrated to have tumor inhibitory effects because of their cytotoxicity.
METHODS AND RESULTS:
In this study, we evaluated the apoptotic effects of Ginsenoside Rk1 in SK-MEL-2 human melanoma. Ginsenoside Rk1 isolated from red ginseng is one of the novel ginsenosides that shows strong cytotoxicity compared to ginsenoside Rg3 in dose- and time-dependent manners. The results of DNA fragmentation, 4',6-diamidino-2-phenylindole staining, and flow cytometric analysis are corroborated that Ginsenoside Rk1 induced apoptosis in SK-MEL-2 cells. Western blot analysis revealed up-regulation of Fas, FasL, and Bax protein expression and down-regulation of procaspase-8, procaspase-3, mutant p53 and Bcl-2 protein expression.
CONCLUSIONS:
These findings suggest that Ginsenoside Rk1 might be a promising compound to induce apoptosis through both extrinsic and intrinsic pathways in SK-MEL-2 cells.
Biol Pharm Bull. 2008 May;31(5):826-30.
Anti-tumor activity of the ginsenoside Rk1 in human hepatocellular carcinoma cells through inhibition of telomerase activity and induction of apoptosis.[Pubmed:
18451501
]
The Ginsenoside Rk1 is one of major components of heat-processed Panax ginseng C. A. MEYER, Sun Ginseng (SG).
METHODS AND RESULTS:
Here, we investigated the mechanisms underlying the anti-tumor activity of Ginsenoside Rk1 in human hepatocellular carcinoma HepG2 cells in vitro. Rk1 markedly inhibited telomerase activity and cell growth along with significant morphological change. The expression levels of telomerase reverse transcriptase (hTERT) and c-Myc mRNA were obviously decreased with Ginsenoside Rk1 treatment, while that of telomerase RNA (hTR) was not. Furthermore, Ginsenoside Rk1 induced apoptosis through activation of caspases-8 and -3. However, Fas-associated death domain (FADD) expression decreased with Ginsenoside Rk1 treatment, though it was known that the signaling cascade of FADD was associated with caspase-8 activity. Interestingly, activation of extracellular-regulated kinase (ERK) increased with Ginsenoside Rk1 treatment.
CONCLUSIONS:
In conclusion, these results represent the first identification of the biological activity of Ginsenoside Rk1 against HepG2 cell growth and show that the mechanism underlying the anti-tumor activity of Ginsenoside Rk1 involves coordination between inhibition of telomerase activity and induction of apoptosis.
Biosci Biotechnol Biochem. 2009 Oct;73(10):2183-9.
Autophagy inhibition enhances apoptosis induced by ginsenoside Rk1 in hepatocellular carcinoma cells.[Pubmed:
19809182
]
Our previous study indicated that Ginsenoside Rk1 has anti-tumor activity and that its mode of action in HepG2 cells treated for 48 h involves coordinated inhibition of telomerase and induction of apoptosis.
METHODS AND RESULTS:
In the present study, we found that Rk1 induces both G(1) phase arrest and autophagy, but not apoptosis, at an earlier stage of treatment. A 24-h incubation of HepG2cells with Rk1 induced G(1) phase arrest. Rk1-induced autophagy was documented by the conversion of microtubule associated protein light chain 3 (LC3)-I to LC3-II, an autophagosome marker, and monodansylcadaverine (MDC) incorporation into autolysosomes. Combination of Rk1 with an autophagy inhibitor, such as bafilomycin A1 or beclin 1 siRNA, enhanced the anti-tumor effect of Rk1. These results imply that autophagy functions as a survival mechanism in HepG2 cells against Rk1-induced apoptosis.
CONCLUSIONS:
Taken together, our results support the use of autophagy inhibitors in combination with Rk1 as an effective anti-cancer regimen in HepG2 cells.
Bioorg Med Chem Lett. 2010 Dec 1;20(23):7102-5.
Cholesterol-derived novel anti-apoptotic agents on the structural basis of ginsenoside Rk1.[Pubmed:
20971002
]
Design and synthesis of cholesterol-derived anti-apoptotic agents were described.
METHODS AND RESULTS:
The synthesized cholesterol analogs designed on the structural basis of Ginsenoside Rk1 inhibited the undesirable apoptosis of human endothelial cells, which are induced by a vascular injury. In particular, analogue 1 possessing 4,6-di-O-acetyl-2,3-dideoxyhex-2-enopyran linked to hydroxyl group of cholesterol exhibited the most effective anti-apoptotic activities at both 5 and 10 μg/ml.