Ginsenoside Rk3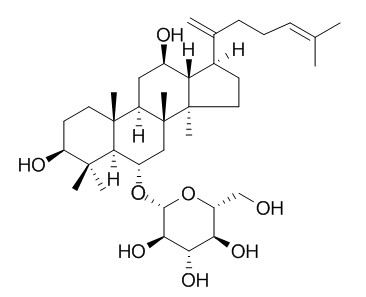 Ginsenoside Rk3 is often used as a major ingredient of the compound preparation for ischemic heart diseases, it could have a role in treating inflammatory diseases. Ginsenoside Rk3 significantly inhibits TNF-α-induced NF-κB transcriptional activity, with an IC50 of 14.24±1.30 μM in HepG2 cells.
Inquire / Order: manager@chemfaces.com
Technical Inquiries: service@chemfaces.com
Tel: +86-27-84237783
Fax: +86-27-84254680

Address:
1 Building, No. 83, CheCheng Rd., Wuhan Economic and Technological Development Zone, Wuhan, Hubei 430056, PRC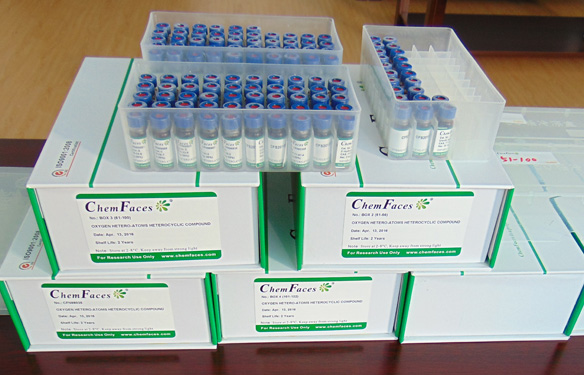 Providing storage is as stated on the product vial and the vial is kept tightly sealed, the product can be stored for up to
24 months(2-8C)
.
Wherever possible, you should prepare and use solutions on the same day. However, if you need to make up stock solutions in advance, we recommend that you store the solution as aliquots in tightly sealed vials at -20C. Generally, these will be useable for up to two weeks. Before use, and prior to opening the vial we recommend that you allow your product to equilibrate to room temperature for at least 1 hour.
Need more advice on solubility, usage and handling? Please email to: service@chemfaces.com
The packaging of the product may have turned upside down during transportation, resulting in the natural compounds adhering to the neck or cap of the vial. take the vial out of its packaging and gently shake to let the compounds fall to the bottom of the vial. for liquid products, centrifuge at 200-500 RPM to gather the liquid at the bottom of the vial. try to avoid loss or contamination during handling.
Evid Based Complement Alternat Med.2018, 2018:1073509
Natural Product Communications2020, doi: 10.1177.
Scientific World Journal.2014, 2014:654193
Plant Cell Tiss Org2017, 479-486
Drug Chem Toxicol.2020, 1-12.
Nutrients.2017, 10(1)
APMIS.2019, 127(10):688-695
Int J Mol Sci.2020, 21(9):3392.
Environ Toxicol Pharmacol.2019, 66:109-115
Acta Chromatographica2016, 29(3)
Evid Based Complement Alternat Med. 2013;2013:690190.
Ginsenoside RK3 Prevents Hypoxia-Reoxygenation Induced Apoptosis in H9c2 Cardiomyocytes via AKT and MAPK Pathway.[Pubmed:
23935671
]
Cardiac hypertrophy is a thickening of the heart muscle that is associated with cardiovascular diseases such as hypertension and myocardial infarction. It occurs initially as an adaptive process against increased workloads and often leads to sudden arrhythmic deaths. Studies suggest that the lethal arrhythmia is attributed to hypertrophy-induced destabilization of cardiac electrical activity, especially the prolongation of the action potential. The reduced activity of Ito is demonstrated to be responsible for the ionic mechanism of prolonged action potential duration and arrhythmogeneity. Isosteviol (STV), a derivative of stevioside, plays a protective role in a variety of stress-induced cardiac diseases.
METHODS AND RESULTS:
Here we report effects of STV on rat ISO-induced hypertrophic cardiomyocytes. STV alleviated ISO-induced hypertrophy of cardiomyocytes by decreasing cell area of hypertrophied cardiomyocytes. STV application prevented the prolongation of action potential which was prominent in hypertrophied cells.
CONCLUSIONS:
The decrease and increase of current densities for Ito and ICaL observed in hypertrophied myocytes were both prevented by STV application. In addition, the results of qRT-PCR suggested that the changes of electrophysiological activity of Ito and ICaL are correlated to the alterations of the mRNA transcription level.
Biol Pharm Bull. 2011;34(6):898-900.
Anti-complementary ginsenosides isolated from processed ginseng.[Pubmed:
21628891
]

METHODS AND RESULTS:
As part of an ongoing search for immunomodulatory components aimed at the anti-complementary effect, ginsenosides isolated from processed ginseng were found to have inhibitory activity on complement activation through classical pathways. Activity-guided fractionation was used to isolate four ginsenosides, namely ginsenoside Rg₆, F₄, Rk₃, and Rh₄. Ginsenoside Rk₃ and Rh₄ had a 3 fold higher inhibition activity than rosmarinic acid which was used as a positive control while ginsenoside Rg₆ and F₄ showed only mild effects similar to that of the positive control.
CONCLUSIONS:
The results suggest that the activity of the corresponding ginsenosides may be increased by the glycosyl moiety at the C₆ position rather than the double bond conformation at C₂₀, and ginsenoside Rk₃ and Rh₄ could have a role in treating inflammatory diseases.