Margaritene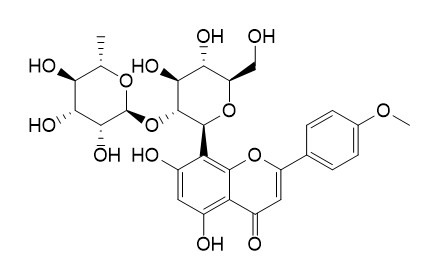 Margaritene, isomargaritene, and fortunellin could reduce lipid content by inhibiting adipogenesis.
Antioxidants.
Inquire / Order: manager@chemfaces.com
Technical Inquiries: service@chemfaces.com
Tel: +86-27-84237783
Fax: +86-27-84254680

Address:
1 Building, No. 83, CheCheng Rd., Wuhan Economic and Technological Development Zone, Wuhan, Hubei 430056, PRC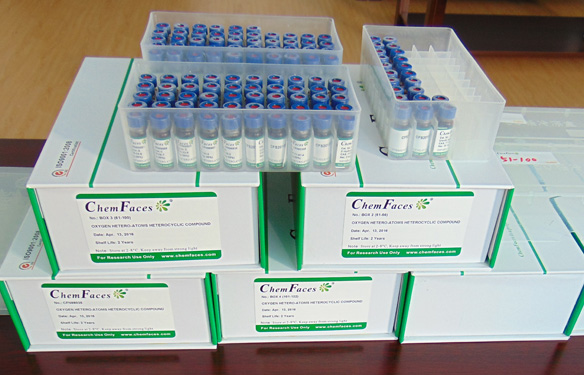 Providing storage is as stated on the product vial and the vial is kept tightly sealed, the product can be stored for up to
24 months(2-8C)
.
Wherever possible, you should prepare and use solutions on the same day. However, if you need to make up stock solutions in advance, we recommend that you store the solution as aliquots in tightly sealed vials at -20C. Generally, these will be useable for up to two weeks. Before use, and prior to opening the vial we recommend that you allow your product to equilibrate to room temperature for at least 1 hour.
Need more advice on solubility, usage and handling? Please email to: service@chemfaces.com
The packaging of the product may have turned upside down during transportation, resulting in the natural compounds adhering to the neck or cap of the vial. take the vial out of its packaging and gently shake to let the compounds fall to the bottom of the vial. for liquid products, centrifuge at 200-500 RPM to gather the liquid at the bottom of the vial. try to avoid loss or contamination during handling.
Vietnam Journal of Science2022, 64(2), 69-75.
Food Chem.2020, 313:126079
Curr Res Virol Sci.2022, 3:100019.
Phytomedicine.2021, 83:153483.
Biochem Biophys Res Commun.2021, 534:802-807.
Molecules.2020 ,25(16):3697.
Journal of Food Hygiene and Safety2019, 34(5):413-420
Pharmaceuticals (Basel).2022, 15(5):591.
Internoational J of Toxicology2020, 10.1177.
Pharmacognosy Magazine2018, 14(56):418-424
Food Chem . 2015 Mar 15;171:356-63.
Drying effect on flavonoid composition and antioxidant activity of immature kumquat[Pubmed:
25308680
]
A seven flavonoids in hot water extract of immature kumquat (Citrus japonica var. margarita) were identified and quantified (mg/100g fresh fruit): 3',5'-di-C-β-glucopyranosylphloretin (DGPP, 285.9 ± 2.9 mg/100g), acacetin 8-C-neohesperidoside (Margaritene, 136.2 ± 2.6 mg/100g), acacetin 6-C-neohesperidoside (isoMargaritene, 119.1 ± 1.8 mg/100g), fortunellin (acacetin 7-O-neohesperidoside, 28.5 ± 0.7 mg/100g), apigenin 8-C-neohesperidoside (16.9 ± 0.1mg/100g), poncirin (isosakuranetin 7-O-neohesperidoside, 5.1 ± 0.1mg/100g), and rhoifolin (apigenin 7-O-neohesperidoside, 2.0 ± 0.1mg/100g). When immature kumquat was dried at 110 and 130°C for 0.5h, the antioxidant activity, total phenolic content and identified flavonoids increased. The UV absorbance of browning products of immature kumquat dried at 130°C for 1.5h increased dramatically, while the identified flavonoids decreased. Therefore, it was concluded that drying below 130°C for 1.0 h, could release phenolic compounds, which resulted in the increasing antioxidant activity. Drying at 130°C for 1.5h, it might be due to the effect of formed browning products.