Epimagnolin A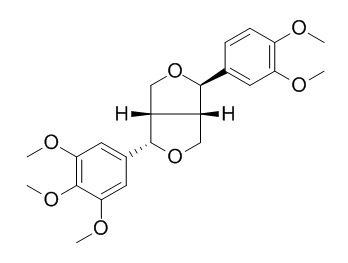 Epimagnolin A affects the transport activity of ABCB1(a major transmembrane efflux pump belonging to the ABC transporter superfamily), it also exhibits growth inhibitory activity against larvae of Drosophila melanogaster.
Inquire / Order: manager@chemfaces.com
Technical Inquiries: service@chemfaces.com
Tel: +86-27-84237783
Fax: +86-27-84254680

Address:
1 Building, No. 83, CheCheng Rd., Wuhan Economic and Technological Development Zone, Wuhan, Hubei 430056, PRC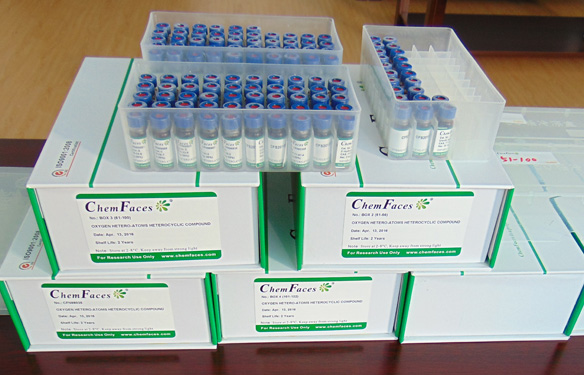 Providing storage is as stated on the product vial and the vial is kept tightly sealed, the product can be stored for up to
24 months(2-8C)
.
Wherever possible, you should prepare and use solutions on the same day. However, if you need to make up stock solutions in advance, we recommend that you store the solution as aliquots in tightly sealed vials at -20C. Generally, these will be useable for up to two weeks. Before use, and prior to opening the vial we recommend that you allow your product to equilibrate to room temperature for at least 1 hour.
Need more advice on solubility, usage and handling? Please email to: service@chemfaces.com
The packaging of the product may have turned upside down during transportation, resulting in the natural compounds adhering to the neck or cap of the vial. take the vial out of its packaging and gently shake to let the compounds fall to the bottom of the vial. for liquid products, centrifuge at 200-500 RPM to gather the liquid at the bottom of the vial. try to avoid loss or contamination during handling.
Braz J Med Biol Res. 2016, 49(7)
J Ethnopharmacol.2018, 210:88-94
Asian Journal of Chemistry2014, 26(8):2425
Biochem Biophys Res Commun.2018, 495(1):1271-1277
Applied Biological Chemistry2020, 63:33(2020)
Sci Rep.2019, 9(1):4646
Mol Med Rep.2014, 9(5):1653-9
Oncotarget.2017, 9(3):4161-4172
Korean J Acupunct2020, 37:104-121
Bioorg Med Chem.2020, 28(12):115553.
Phytochemistry, 1994, 35(00):611–613.
An insect growth inhibitory lignan from flower buds of Magnolia fargesii.[Reference:
WebLink
]
Bioassay-guided isolation afforded a new lignan, (+)-Epimagnolin A, from the flower buds of Magnolia fargesii. This lignan exhibited growth inhibitory activity against larvae of Drosophila melanogaster. The structure of a new lignan was determined on the basis of spectral methods.
Planta Med 2016; 82(S 01): S1-S381.
Preparation of epimagnolin A, a tetrahydrofurofuranoid lignan from Magnolia sp., and evaluation of anti-drug-resistance activity.[Reference:
WebLink
]
Herbal products have been used to treat or prevent health problems for a long time. Although the biological effects of these products have been reported, their safety still remains to be elucidated. Therefore, studies are required to ensure their safe use. Among the herbal products listed in the Korean, Chinese, and Japanese Pharmacopoeias, Shin-i (Xin-yi/Flos magnoliae), dried flower buds of Magnolia fargesii or M. flos are one of the most commonly used traditional herbs for the treatment of allergic rhinitis, emphysema, headache, nasal congestion, and sinusitis. Tetrahydrofurofuranoid lignans, such as aschantin, dimethoxyaschantin, dimethylliroresinol, dimethylpinoresinol, Epimagnolin A, fargesin, and magnolin extracted from Shin-i have effects, such as anti-angiogenic, anti-allergic, anti-diabetic, anti-inflammatory, anti-microbial, and anti-rheumatoid arthritis. Among them, the pharmacokinetics of Epimagnolin A and magnolin have been reported, but not their molecular mechanisms.
METHODS AND RESULTS:
We examined the possibility of interaction between Epimagnolin A and human multidrug resistance protein ABCB1, a major transmembrane efflux pump belonging to the ABC transporter superfamily. In the calcein and ATPase assay [1], Epimagnolin A inhibited the extrusion of calcein by Flp-In-293/ABCB1 cells and stimulated the ATPase activity of ABCB1, respectively, in a concentration-dependent manner. It showed saturation kinetics between compound-stimulated ATPase activity and compound concentration, suggesting Michaelis-Menten kinetics similar to control drug, verapamil. The Km and Vmax values were calculated from Hanes-Woolf plots; epimagnolin, Km = 42.9 ± 7.53µM and Vmax = 156 ± 15.0µM and verapamil, Km = 12.3 ± 4.79µM and Vmax = 109 ± 3.18µM. In the MTT assay, the sensitivities of the Flp-In-293/ABCB1 cells to anti-cancer drugs were enhanced in the presence of 10µM Epimagnolin A.
CONCLUSIONS:
The present study results indicate that Epimagnolin A affects the transport activity of ABCB1.
J Sep Sci. 2007 Oct;30(15):2370-81.
Isolation and purification of lignans from Magnolia biondii Pamp by isocratic reversed-phase two-dimensional liquid chromatography following microwave-assisted extraction.[Pubmed:
17628872
]
The dried flower buds of Magnolia biondii Pamp are one of the most widely used medicinal plants officially listed in the Chinese Pharmacopoeia.
METHODS AND RESULTS:
A 2-D column-switching system without sample loop trapping, where two columns were switched directly via a six-port two-position switching valve, was successfully applied for the first time to the isolation and purification of five lignans including pinoresinol dimethyl ether, magnolin, epi-magnolin A, fargesin, and demethoxyaschantin from M. biondii Pamp after microwave-assisted extraction. The introduction of the six-port switching valve instead of sample loop assured 100% recovery from the first dimension to the second, and the injection volumes of the second dimension could reach 12 mL.
CONCLUSIONS:
In this mode of operation, the solvent consumption of the 2-D approach was less than 30% that of conventional gradient methods with even larger sample size. The simultaneous operations of the two dimensions allowed the cycle time to be less than 16 min, compared to 90 min in the gradient elution single-dimension mode of operation. All of the five lignans were isolated at high purities of over 99% with approximately 95% recoveries.