Emodin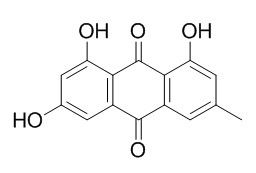 Emodin has neuroprotective and antidepressant activity, can up-regulate GR and BDNF levels in hippocampus; it also has significant anti-neoplastic activity against bladder cancer cells and myeloid leukemia, by suppressing tumor necrosis factor-alpha (TNF-α), interleukin-6 (IL-6), iNOS and COX-2 expression. Emodin has protective effects, may be related to the inhibition of CCL5 expression and subsequent cell stress/inflammatory events possibly mediated by activation of MAPK signaling pathways.
Inquire / Order: manager@chemfaces.com
Technical Inquiries: service@chemfaces.com
Tel: +86-27-84237783
Fax: +86-27-84254680

Address:
1 Building, No. 83, CheCheng Rd., Wuhan Economic and Technological Development Zone, Wuhan, Hubei 430056, PRC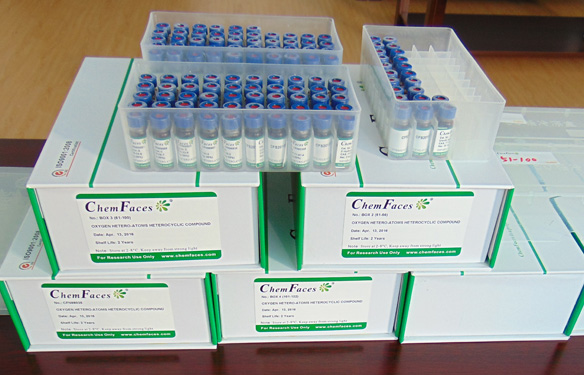 Providing storage is as stated on the product vial and the vial is kept tightly sealed, the product can be stored for up to
24 months(2-8C)
.
Wherever possible, you should prepare and use solutions on the same day. However, if you need to make up stock solutions in advance, we recommend that you store the solution as aliquots in tightly sealed vials at -20C. Generally, these will be useable for up to two weeks. Before use, and prior to opening the vial we recommend that you allow your product to equilibrate to room temperature for at least 1 hour.
Need more advice on solubility, usage and handling? Please email to: service@chemfaces.com
The packaging of the product may have turned upside down during transportation, resulting in the natural compounds adhering to the neck or cap of the vial. take the vial out of its packaging and gently shake to let the compounds fall to the bottom of the vial. for liquid products, centrifuge at 200-500 RPM to gather the liquid at the bottom of the vial. try to avoid loss or contamination during handling.
Phytochem Anal.2016, 27(5):296-303
JPC-Journal of Planar Chromatography 2017, 30(2)
Aquaculture2017, 481:94-102
Plant Cell Tiss Org2020, 1-16
Journal of Functional Foods2017, 30:30-38
Int J Mol Sci. 2014, 15(5):8443-57
J Agric Food Chem.2017, 65(13):2670-2676
Front Immunol.2018, 9:2091
University of Limpopo2016, 1777
Biomed Pharmacother.2019, 116:108987
Biochem Pharmacol. 2015 Mar 1;94(1):39-45.
Protection of vascular endothelial cells from high glucose-induced cytotoxicity by emodin.[Pubmed:
25619422
]
Induction of endothelial cytotoxicity by hyperglycemia in diabetes has been widely accepted. Emodin is a natural anthraquinone in rhubarb used for treatment of diabetes, but its mechanism of action is not fully understood. This study aimed to examine the potential beneficial effects of Emodin on endothelial cytotoxicity caused by high glucose milieu.
METHODS AND RESULTS:
Culture of human umbilical vein endothelial cells (HUVECs) with high concentrations of glucose resulted in damage to the cells, leading to decreased formazan products by 14-27%, reduced DNA contents by 12-19%, and increased hypodiploid apoptosis by 40-109%. These adverse effects of high glucose could be prevented to a large extent by co-culture with 3 μM of Emodin which per se did not affect HUVECs viability. In addition, CCL5 expression of HUVECs cultured in high glucose medium was significantly elevated at both mRNA and protein levels, an effect abolished after treatment with Emodin. Moreover, the enhanced adhesion of monocytes to HUVECs (2.1-2.2 fold over control) and elevated chemotaxis activities (2.3-2.4 fold over control) in HUVECs cultured in high glucose medium were completely reversed by Emodin. Emodin also suppressed activation of p38 MAPK and ERK1/2 due to high glucose.
CONCLUSIONS:
Our data demonstrated that endothelial cytotoxicity occurred clearly when HUVECs were exposed to high glucose milieu and Emodin was able to alleviate the impairments. The protective effects of Emodin might be related to the inhibition of CCL5 expression and subsequent cell stress/inflammatory events possibly mediated by activation of MAPK signaling pathways.
Int J Oncol. 2014 Nov;45(5):2076-84.
Emodin enhances ATRA-induced differentiation and induces apoptosis in acute myeloid leukemia cells.[Pubmed:
25174432
]
Emodin, an extracted natural compound from the root and rhizome of Rheum palmatum L, has been shown to have multiple biological activities including anticancer functions in previous studies.
METHODS AND RESULTS:
In this study, we investigated the anti-leukemic activity of Emodin alone or Emodin in the presence all-trans retinoic acid (ATRA) in acute myeloid leukemia (AML) cells and the potential signaling pathway involved. We demonstrated that Emodin could significantly enhance the sensitivity to ATRA and present additive differentiation-inducing effects in AML cell line NB4 cells and, especially, in NB4-derived ATRA-resistant MR2 cells. Further study showed that increasing dose of Emodin could effectively induce growth inhibition and apoptotic effects in both cell lines as well as in primary leukemic cells from AML patients. Moreover, the apoptotic induction in AML cells was associated with the activation of caspase cascades involving caspase-9, caspase-3, and poly(ADP-ribose) polymerase (PARP) cleavage. In addition, leukemic cell response to Emodin stimuli in vitro was observed through the decreased expression levels of Bcl-2 and retinoic acid receptor α (RARα). Importantly, Emodin was demonstrated as a new inhibitor of PI3K/Akt in AML cells, even in primary AML cells. It inhibited Akt phosphoration (p-Akt) at Ser473 as efficiently as mTOR at Ser2448.
CONCLUSIONS:
Consistently, it exerted suppression effects on the phosphoration of mTOR downstream targets, 4E-BP1 and p70S6K. Taken together, these findings indicate that Emodin might be developed as a promising anti-leukemic agent to improve the patient outcome in AML.
Fitoterapia. 2014 Oct;98:1-10.
Emodin opposes chronic unpredictable mild stress induced depressive-like behavior in mice by upregulating the levels of hippocampal glucocorticoid receptor and brain-derived neurotrophic factor.[Pubmed:
24932776
]
Emodin, the major active component of Rhubarb, has shown neuroprotective activity. This study is attempted to investigate whether Emodin possesses beneficial effects on chronic unpredictable mild stress (CUMS)-induced behavioral deficits (depression-like behaviors) and explore the possible mechanisms.
METHODS AND RESULTS:
ICR mice were subjected to chronic unpredictable mild stress for 42 consecutive days. Then, Emodin and fluoxetine (positive control drug) were administered for 21 consecutive days at the last three weeks of CUMS procedure. The classical behavioral tests: open field test (OFT), sucrose preference test (SPT), tail suspension test (TST) and forced swimming test (FST) were applied to evaluate the antidepressant effects of Emodin. Then plasma corticosterone concentration, hippocampal glucocorticoid receptor (GR) and brain-derived neurotrophic factor (BDNF) levels were tested to probe the mechanisms. Our results indicated that 6 weeks of CUMS exposure induced significant depression-like behavior, with high, plasma corticosterone concentration and low hippocampal GR and BDNF expression levels. Whereas, chronic Emodin (20, 40 and 80 mg/kg) treatments reversed the behavioral deficiency induced by CUMS exposure. Treatment with Emodin normalized the change of plasma corticosterone level, which demonstrated that Emodin could partially restore CUMS-induced HPA axis impairments. Besides, hippocampal GR (mRNA and protein) and BDNF (mRNA) expressions were also up-regulated after Emodin treatments.
CONCLUSIONS:
In conclusion, Emodin remarkably improved depression-like behavior in CUMS mice and its antidepressant activity is mediated, at least in part, by the up-regulating GR and BDNF levels in hippocampus.
Mol Carcinog. 2015 Mar;54(3):167-77.
Emodin modulates epigenetic modifications and suppresses bladder carcinoma cell growth.[Pubmed:
24115089
]
We investigated whether a natural product, Emodin, has the ability to reverse these two epigenetic modifications and inhibit bladder cancer cell growth.
METHODS AND RESULTS:
Emodin significantly inhibited the cell growth of four bladder cancer cell lines in a dose- and time-dependent manner. Emodin treatment did not induce specific cell cycle arrest, but it altered epigenetic modifications. Emodin treatment resulted in the suppression of pH3Ser10 and increased H3K27me3, contributing to gene silencing in bladder cancer cells. Microarray analysis demonstrated that oncogenic genes including fatty acid binding protein 4 (FABP4) and fibroblast growth factor binding protein 1 (HBP17), RGS4, tissue inhibitor of metalloproteinase 3 (TIMP3), WNT5b, URB, and collagen, type VIII, alpha 1 (COL8A1) responsible for proliferation, survival, inflammation, and carcinogenesis were significantly repressed by Emodin. The ChIP assays also showed that Emodin increased H3K27me3 but decreased pH3Ser10 modifications on the promoters of repressed genes, which indicate that Emodin reverses the cancer epigenetics towards normal epigenetic situations.
CONCLUSIONS:
In conclusion, our work demonstrates the significant anti-neoplastic activity of Emodin on bladder cancer cells and elucidates the novel mechanisms of Emodin-mediated epigenetic modulation of target genes. Our study warrants further investigation of Emodin as an effective therapeutic or preventive agent for bladder cancer.
Int Immunopharmacol. 2014 Aug;21(2):354-60.
Emodin inhibits LPS-induced inflammatory response by activating PPAR-γ in mouse mammary epithelial cells.[Pubmed:
24874440
]
Emodin, an anthraquinone derivative isolated from the rhizomes of Rheum palmatum, has been reported to have a protective effect against lipopolysaccharide (LPS)-induced mastitis. However, the underlying molecular mechanisms are not well understood.
METHODS AND RESULTS:
The aim of this study was to investigate the molecular mechanisms of Emodin in modifying lipopolysaccharide (LPS)-induced signaling pathways in mouse mammary epithelial cells (MEC). The pro-inflammatory cytokines were determined by ELISA. Nuclear factor-κB (NF-κB), inhibitory kappa B (IκBα) protein, p38, extracellular signal-regulated kinase (ERK), c-Jun N-terminal kinase (JNK) and PPAR-γ were determined by Western blotting. The results showed that Emodin suppressed tumor necrosis factor-alpha (TNF-α), interleukin-6 (IL-6), iNOS and COX-2 expression. We also found that Emodin inhibited LPS-induced NF-κB activation, IκBα degradation, phosphorylation of ERK, JNK and P38. Furthermore, Emodin could activate PPAR-γ and the anti-inflammatory effects of Emodin can be reversed by GW9662, a specific antagonist for PPAR-γ.
CONCLUSIONS:
In conclusion, our results demonstrate that Emodin activates PPAR-γ, thereby attenuating LPS-induced inflammatory response.