Dipsacoside B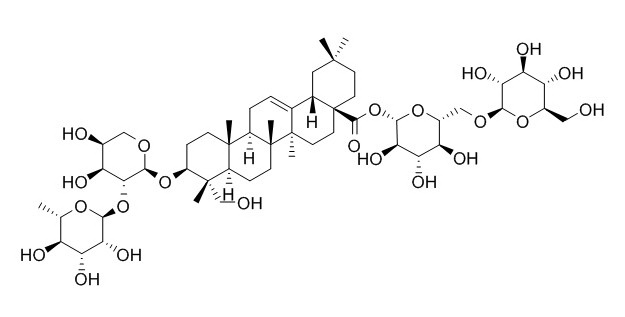 Dipsacoside B shows strong antimicrobial activity (MIC values 1.80-2.50 μg/mL).

Inquire / Order: manager@chemfaces.com
Technical Inquiries: service@chemfaces.com
Tel: +86-27-84237783
Fax: +86-27-84254680

Address:
1 Building, No. 83, CheCheng Rd., Wuhan Economic and Technological Development Zone, Wuhan, Hubei 430056, PRC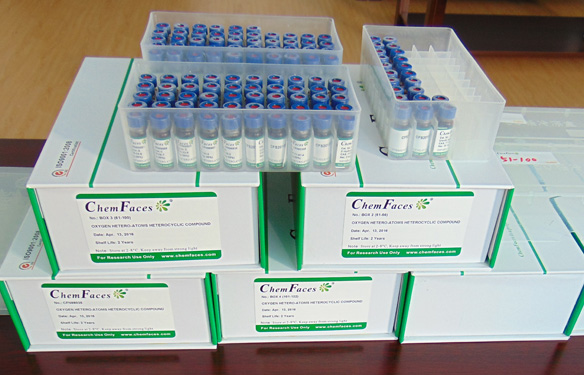 Providing storage is as stated on the product vial and the vial is kept tightly sealed, the product can be stored for up to
24 months(2-8C)
.
Wherever possible, you should prepare and use solutions on the same day. However, if you need to make up stock solutions in advance, we recommend that you store the solution as aliquots in tightly sealed vials at -20C. Generally, these will be useable for up to two weeks. Before use, and prior to opening the vial we recommend that you allow your product to equilibrate to room temperature for at least 1 hour.
Need more advice on solubility, usage and handling? Please email to: service@chemfaces.com
The packaging of the product may have turned upside down during transportation, resulting in the natural compounds adhering to the neck or cap of the vial. take the vial out of its packaging and gently shake to let the compounds fall to the bottom of the vial. for liquid products, centrifuge at 200-500 RPM to gather the liquid at the bottom of the vial. try to avoid loss or contamination during handling.
Chemistry of Vegetable Raw Materials2019, 3:119-127
Pathogens.2018, 7(3):E62
J Sci Food Agric.2017, 97(5):1656-1662
Appl Microbiol Biotechnol.2018, 102(12):5105-5120
Front Pharmacol.2019, 10:1355
J Chromatogr B Analyt Technol Biomed Life Sci.2019, 1124:323-330
Chem Biol Interact.2019, 298:1-7
Med Sci Monit.2019, 25:9499-9508
Journal of Functional Foods2019, 52:430-441
J Med Food.2016, 19(12):1155-1165
Planta Med. 2009 Feb;75(2):163-7.
Biologically active triterpenoids from Cephalaria ambrosioides.[Pubmed:
19152225
]

METHODS AND RESULTS:
The roots of Cephalaria ambrosioides yielded a new triterpene, 6alpha-hydroxyhederagenic acid ( 1), in addition to the known triterpene hederagenic acid ( 2) and four corresponding saponins, leontoside A (or akeboside Stb) ( 3), kalopanax saponin A (or alpha-hederin) ( 4), saponin PG (or sapindoside B) ( 5), and Dipsacoside B ( 6). Their structures have been elucidated on the basis of their spectral data (MS, 1 D and 2 D NMR) and by some chemical transformations. The extract and all isolated compounds were evaluated for their antimicrobial, molluscicidal and IN VITRO cytotoxic activities.
CONCLUSIONS:
All compounds showed strong antimicrobial activity (MIC values 1.80 - 2.50 microg/mL), with 5 and 6 exhibiting activities comparable to those of standard antibiotics. Moreover, compounds 3 - 5 were active against all assayed cancer cell lines, whereas compounds 3 and 4 exhibited higher activities against Biomphalaria Glabrata snails, with minimum inhibitory concentrations of 5.4 and 6.2 microg/mL, respectively.
Zhongguo Zhong Yao Za Zhi. 2013 Mar;38(5):762-7.
Research on quality standards of zhuang medicine Lonicerae dasystylae flos[Pubmed:
23724691
]
To establish quality standard of Zhuang medicine Lonicera dasystyla, and provide scientific basis for the quality control of L. dasystyla.
METHODS AND RESULTS:
Characteristics of materia medica, microscopic features, TLC indentification, inspection, extractum and determination of chlorogenic acid, macranthoidin B, Dipsacoside B were carried out through the experience, microscopic, physical and chemical methods, respectively. The standard of quality control was formulated thereafter. The characteristics of materia medica, microscopic features, TLC indentification were specified, the average contents of water, total ash, acid-insoluble ash, alcohol-soluble extracts, chlorogenic acid were 11.6%, 6.6%, 0.2% , 24.4%, 1.16%, respectively, the total amount of macranthoidin B and Dipsacoside B was 3.13%. Quality standard of L. dasystyla was proposed according to experimental results.
CONCLUSIONS:
The quality of L. dasystyla can be controlled effectively with the quality standard.