Deapi-platycoside E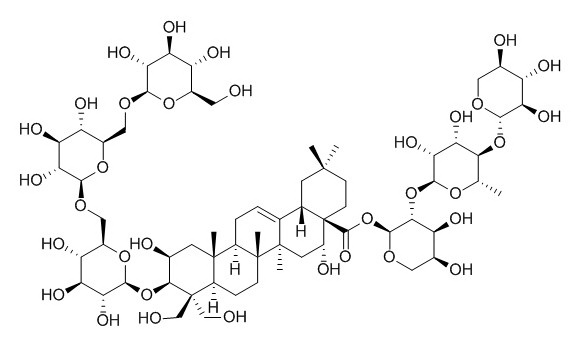 Deapi-platycoside E may have anti-inflammatory effects.
Inquire / Order: manager@chemfaces.com
Technical Inquiries: service@chemfaces.com
Tel: +86-27-84237783
Fax: +86-27-84254680

Address:
1 Building, No. 83, CheCheng Rd., Wuhan Economic and Technological Development Zone, Wuhan, Hubei 430056, PRC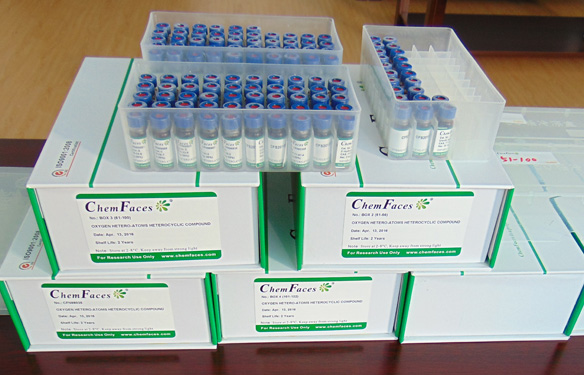 Providing storage is as stated on the product vial and the vial is kept tightly sealed, the product can be stored for up to
24 months(2-8C)
.
Wherever possible, you should prepare and use solutions on the same day. However, if you need to make up stock solutions in advance, we recommend that you store the solution as aliquots in tightly sealed vials at -20C. Generally, these will be useable for up to two weeks. Before use, and prior to opening the vial we recommend that you allow your product to equilibrate to room temperature for at least 1 hour.
Need more advice on solubility, usage and handling? Please email to: service@chemfaces.com
The packaging of the product may have turned upside down during transportation, resulting in the natural compounds adhering to the neck or cap of the vial. take the vial out of its packaging and gently shake to let the compounds fall to the bottom of the vial. for liquid products, centrifuge at 200-500 RPM to gather the liquid at the bottom of the vial. try to avoid loss or contamination during handling.
Indian J Pharm Sci.2022, 84(3):144-151
Nutrients.2018, 10(12):E1998
Fitoterapia.2018, 124:92-102
J Nat Med.2017, 71(4):745-756
Oxid Med Cell Longev.2020, 2020:8887251.
J. Soc. Cosmet. Sci. Korea2021, 47(1):57-63
Phytochemistry Letters2017, 449-455
Food Chem.2019, 276:768-775
Evid Based Complement Alternat Med.2018, 2018:4580627
Journal of Functional Foods2019, 52:430-441
Natural Product Sciences, 2008, 14(4):274-280.
Compositional analysis of major saponins and anti-inflammatory activitiy of steam-processed platycodi radix under pressure.[Reference:
WebLink
]
Platycosides are the saponins in Platycodi Radix and they have several beneficial effects such as anti-inflammatory and anti-obesity activities. This study was designed to determine the changes in the saponin composition in Platycodi Radix (platycosides) after being processed under steam and pressure and to investigate the anti-inflammatory effects of their extracts.
METHODS AND RESULTS:
The change of the platycoside compositions was investigated after 1, 2, 3, 6 and 9h heat processing of Platycodi Radices by using HPLC coupled with an evaporative light scattering detection (ELSD) system. After heat treatment (125 °C, 1, 2, 3, 6 and 9 h), the contents of several platycosides such as platycoside E, platycodin D3, platycodin D, polygalacin D, and platycodin A decreased as the processing time was longer. While the total contents of the saponins decreased, the contents of deapi-forms of Deapi-platycoside E, deapi-platycodin D3, and deapi-platycodin D increased relatively. These results indicate that the linkage between apiose and xylose located at C-28 is labile to heat and pressure. The LPS-induced iNOS inhibitory activities of the samples treated for 1 and 2 hours were enhanced and after then, the activities were reduced.
CONCLUSIONS:
These results suggested that heat treatment of the samples affect the content of the total saponins and the saponin content may be the important criteria representing the anti-inflammatory activity.
Journal of Separation Science, 2014, 37(1-2):61-68.
Glycosylated platycosides: identification by enzymatic hydrolysis and structural determination by LC-MS/MS.[Reference:
WebLink
]

METHODS AND RESULTS:
In this study, enzymatic hydrolysis and chemometric methods were utilized to discriminate glycosylated platycosides in the extract of Platycodi Radix by LC-MS. Laminarinase, whose enzymatic activity was evaluated using gentiobiose and laminaritriose, was a suitable enzyme to identify the glycosylated platycosides. The laminarinase produced deapi-platycodin D and platycodin D from the isolated Deapi-platycoside E and platycoside E through the loss of two glucose units by enzymatic reaction, respectively. After hydrolyzing a crude extract by laminarinase, the reconstructed total ion chromatogram generated by a chemometric technique sorted peaks of deglycosylated platycosides easily. Structural information of the glycosylated isomers was revealed through fragment ions generated by the sodiated C0β ion corresponding to reduced disaccharides in the positive MS(4) spectra.
CONCLUSIONS:
Characteristic fragment ions of Glc-(1→6)-Glc moieties were observed through ring cleavages of (0,2)A0β, (0,3)A0β, and (0,4)A0β, whereas Glc-(1→3)-Glc moieties produced only (0,3)A0β ions. Lithium-adducted platycosides allowed more detailed structural analysis of glycosidic bond cleavage corresponding to Y1β and B1β in addition to ring cleavage.